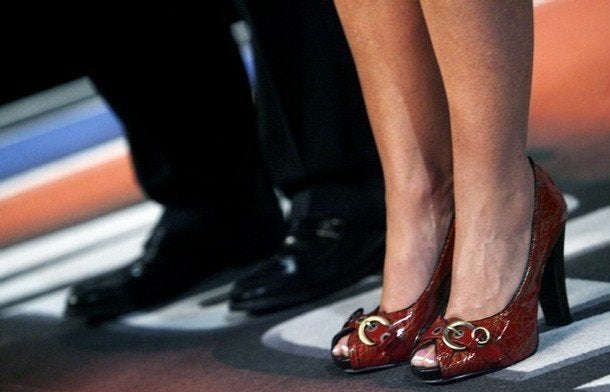 Spring is my favorite hunting season: mules, slingbacks and peep-toes, but I roam the store aisles to no avail. Size five shoes are increasingly elusive prey. I'm told more shoe manufacturers are starting their lines at size 6 and have dropped size 5 completely. For people like me, it's a dark night of the sole.
It's challenging to keep my jealousy in check at the other huntresses who easily choose among a slew of size 7 sandals. Or those who can take their pick of dress pumps in size 8. Me? I'm reduced to scanning boxes, any boxes, for the magical number - 5, 5, 5 - ooh! Here's one! But it's a patent leather dominatrix number with a five-inch heel. Keep looking - 5, 5, 5 - ooh, something in a boot! An Eskimo mukluk in cheap black vinyl is not my style. What exactly is the profile of a size 5 shoe wearer? According to what I find, it's either sky-high stilettos or ballerina slippers.
It's enough to whine out loud, "Why do they hate me?"
Often women tell me, " I wish my feet were smaller. You have such dainty feet."
Yeah? Well, that and $12.95 can't buy me a pair of Huaraches.
Why does the shoe industry believe any feet smaller than size 6 are not deserving of shoes?
Employees of three different stores all gave me basically the same answers.
"Size five isn't that common and shoe companies lose money, so they focus on more popular sizes, starting with six. Some are even beginning their lines at size 6-1/2 now."
"Women's feet are getting larger. Size 8 is the average. Manufacturers have moved away from size 5 and are making more in sizes 11 and 12."
Ouch. Just throw me barefoot into the La Brea tar pits.
The sympathetic clerk suggests I shop in the children's section. I'm 54 years old and my arched eyebrow tells her I've already tried that. But for good measure, I add, "I don't like shoes with little butterflies on the side. I don't want to wear sneakers that light up."

Internet shoe shopping increases my chances for success, but the discrimination is still glaring. Zappos is a popular on-line shoe resource. When I search for "dress shoes " in my size, there are 2,846 choices. But size 8 offers 9,052. When I separate out wearable low-heeled possibilities vs the chaff of multi-colored bondage platforms, the percentage is still lower for me. About 376 selections compared to 713 choices in higher sizes.
Oh! Can someone spell class action l-a-w-s-u-i-t?
My husband is amused at my predicament.
"Suze, your feet are so small why even bother having any?" he chuckles.
But David's not laughing when he goes into our closet and sees two shoe racks and a storage bin devoted to micro footwear.
"What are you complaining about? Look at all these shoes!" he rails.
Obviously, the guy isn't listening. I'm being phased out like analog TV.
My "stash" is not frivolous vanity it's survival. I'm storing up against apocalyptic days. Sure, today I'm strolling around in Cole Haan but then, boom! It's the end of an age and all my choices vanish in a rapture of Size 5 shoes. I'm left behind to hop around in bare tootsies.
Some things - oversized shoulder pads and Speedos - should face extinction. But size 5 shoes? My sole cries out at the injustice.