Soojeong Son and Ginny Leise -- aka SJ And Ginny -- are two comedians who are extremely comfortable with the uncomfortable.
The Internet officially woke to the duo's magic last year, when their video "Drive-by Street Harassment" garnered over two million views on YouTube. In it, SJ can be seen relentlessly catcalling random dudes on the street, reversing the typical man-harasses-woman scenario, which, in reality, is anything but funny. All the while camera-in-hand Ginny zooms in behind the scenes to catch the men's reactions. Quips like "I love that c**k" are followed by comically gleeful expressions on the faces of the unsuspecting male victims. So much for teaching men a lesson about the experience of street harassment.
Some men were perplexed, maybe even slightly perturbed, but for the most part, most of SJ's targets were, well, amused. The fact that One Direction's "What Makes You Beautiful" blares in the background makes the witty social experiment all the more funny. "The lesson here is that ... no one learned anything," Ginny irreverently muses at the end of the video. Cue more One Direction.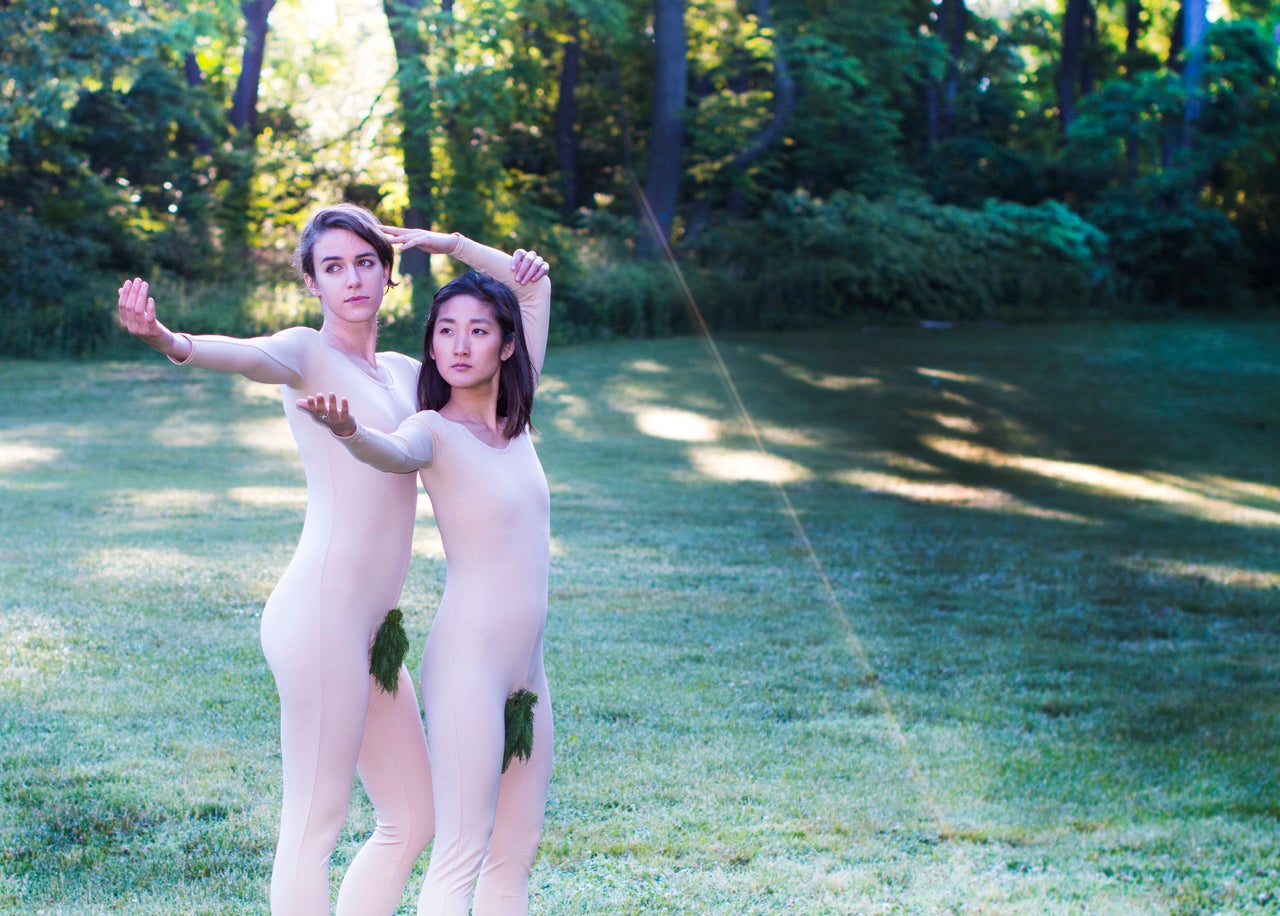 When The Huffington Post asked SJ and Ginny, who've been performing together since 2012, to define their style of comedy, the two provided a list of appropriate adjectives: personal, vulnerable, DIY, cartoony, feminist, absurdist. "RAGE + TEARS + WRITINGONSATURDAYNIGHT = comedy," SJ outlined in our spirited email interview.
The equation makes sense, not only as the premise for "Drive-by Street Harassment," but as the working mantra behind their previous live show, "The Shame Game," and their upcoming show, "Great Gig," which opens in New York City this week. SJ and Ginny are masters at transforming their own anger into material for cleverly written and sharply performed comedy -- frequently the kinds of stand-up and skits that reflect on what it means to be a woman today.
Tell me about how you two got your start in comedy? What brought you together as a duo?
Ginny: We started working together as duo after I asked SJ to come on board as my co-host for "The Shame Game." Back before SJ, those were the dark days of "The Shame Game." It was completely unrecognizable from what the show grew to be. I hated being up there alone and I knew SJ had just quit her day job to focus on acting so I proposed to her with a straw wrapper ring and said, "Will you be my co-host?" She said yes and thank God, because she brought so much vision and ambition to the table and we've been working together even since.
SJ: It was 2012. Lots of improv at the PIT. Lots of shows at the Triple Crown Ale House basement (which didn't have a fire escape) with our indie improv team Das Buttverk. Then we started hosting "The Shame Game" at Union Hall with some majorly complicated and ridiculous bits 'n sketches. One time I came on stage by shooting whipped cream out of my vagina.
How would you describe your style of comedy -- either separately or together? Do you subscribe to labels like absurdist, feminist, slapstick, cringe, observational, topical? (I'm definitely looking at a Wikipedia entry on comedy now.)
Ginny: LOL. Hmmm, I'd say our duo style is personal and vulnerable packaged in a cartoony, DIY aesthetic. TAKE THAT WIKIPEDIA. I love saying something devastating with a shit eating grin. Definitely feminist. Personally, I feel like I've gone through a huge feminist awakening ever since we started "The Shame Game" last year. It's as if the more you start thinking and talking about issues that affect you because you are a woman, the more and more you find yourself thinking and wanting to talk about how being a woman in the world is nonstop ... challenging ... haha. "Challenging" sounds like corporate double speak and I LIKE IT! Is the HuffPost HR department hiring? I can clearly talk the talk. There is a lot of opportunities for growth with how women are treated!
SJ: I would say absurdist, for sure. In our latest web series, "H.O.G.," Ginny plays a loofah who preaches about climate change and I play a hardwood floor who's sick of getting walked over all day. Feminist? Uh-doy. I totally agree with Ginny -- we've gone through a feminist awakening personally and in our comedy. We couldn't help but create content that highlights women's issues because that's what we find funny! Mansplaining? Statement necklaces? Infantilized girl bands in bras and adult diapers? I mean, COME ON! We also like to talk a lot about race. Cuz white people be cray.
For "The Shame Game," Ginny explained in a past interview that it was important that each of the topics you covered were "real." And, SJ, you mentioned that you would often cry during brainstorms. How did you decide on the topics? Do you have any favorite performances that come to mind?
Ginny: We always start writing with what is going on in our lives, what has us down, frustrated, infuriated. I've found that comedy is the safest and most satisfying place to channel all of my rage (of which I have A LOT. A surplus, really. I recently joined a kickboxing gym for the same reason. I always leave class exhausted and full of joke ideas).
Favorite performances: For first show ever at the Union Hall our topic was "privilege" and we both felt so terrified leading up the show. But goddamn was that a good one.
SJ: RAGE + TEARS + WRITINGONSATURDAYNIGHT = comedy. Sounds dangerous but it works.
Fave performances: One of our first "Shame Game" shows, we did a contemporary dance where a giant bedbug and a giant herpes battle each other for the title of "being the worst thing ever." The bedbug won. We worked so hard on this comedic dance and the audience loved it. I knew right after that that Ginny and I were destined for each other.
Your video, "Drive-by Street Harassment," went pretty viral last year. What kinds of reactions did you two experience? Was it your intent to create a massively popular video?
Ginny: We were shocked and thrilled! At that point, if we got a couple hundred views on a video we considered it a huge success so hitting a million over a weekend was bizarre and addicting.
What makes me really happy about the process of making that video was that we had zero idea it would play out the way it did. From the way the men reacted to how the video caught on, everything was a surprise. We almost didn't make it! I was scared but SJ was determined.
SJ: We definitely did not intend on it becoming so popular, but now we understand why it did. I think watching something like street harassment, which is NOT funny, made into something QUITE funny makes women feel that their voices are heard. This was a true example of the "RAGE + TEARS + WRITINGONSATURDAYNIGHT = comedy" equation working quite nicely. Though almost all men liked my "pick-up lines" (I guess threatening to destroy someones genitals is sexy?), there was this one guy on Madison Ave. who was very offended and upset by my interrupting his life when I said "dat ass" -- and I was like, "Ummm exactly."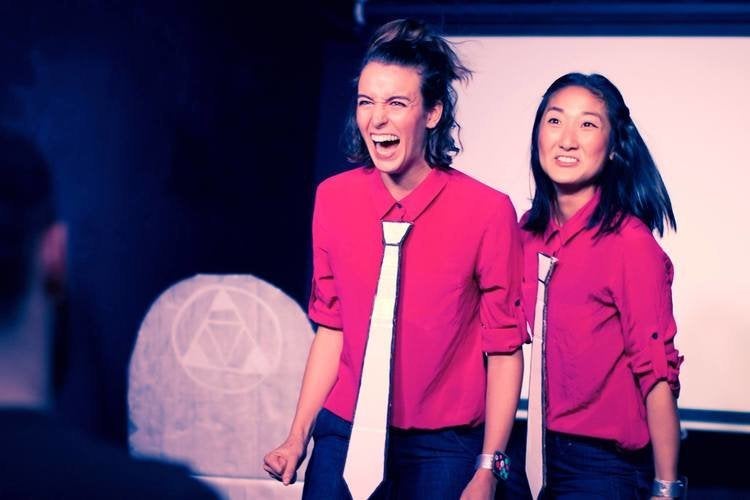 "Great Gig: A Corporate Training for Business" is, according to The PIT's site, going to teach us about "success in acting, business, acting-business and business-business." What made you want to tackle corporate training? Will this be based on personal experience? (And, will you be wearing matching button-downs and ties?)
Ginny: When we sat down to write the show we really wanted to tackle THE acting industry and it's more fucked up and exploitive aspects. "Corporate Training" was our ass-backwards way in. Our characters are both actors who are so delusional they think everybody can apply acting-business to regular-business or as they refer to it "business-business."
SJ brings more corporate experience to the table than me because I mastered in underemployment, aka Philosophy.
OH YES THERE WILL BE MATCHING OUTFITS. We love matching outfits on stage and off stage. One time we wore matching outfits to business meeting and they were terrified and we loved that.
SJ: What is life without matching button-downs and ties?
I think many of us have been to training workshops with their companies, right? Sometimes it can be quite cult-like. Do this. Do that. Join us. Get promoted. Be happy. Donate. Feel good. Give us more money. Oh yeah, and sell these knives. Especially for actors, there are lots of scams out there that try to capitalize on people wanting to become "successful" so we wanted to make fun of this and how it can apply to people across all industries.
As younger comedians in NYC, do you feel like you are a part of larger community? Can you recommend other comedians you work with or admire that your fans should check out?
Ginny: The comedy community in NYC is huge right now. Massive. Which is awesome because there are so many great people to look up to and work with. The downside of it being huge is the community feels decentralized. It's impossible to know everyone/everything and that can make you feel isolated. The #FOMO is real. One time we wrote a show about FOMO. Cried a lot while writing that one.
As for recommendations, I'd say first and foremost our "Great Gig" directing duo Marina Tempelsman and Nicco Aeed aka Marina & Nicco. They are writing partners and they are brilliant, prolific and suspiciously kind. I just saw a show by Ana Fabrega at Ars Nova and it slayed me. I don't know her IRL but she's getting a motherfucking shout-out anyway! John Early, Jacqueline Novak and Janelle James are all the tits, too.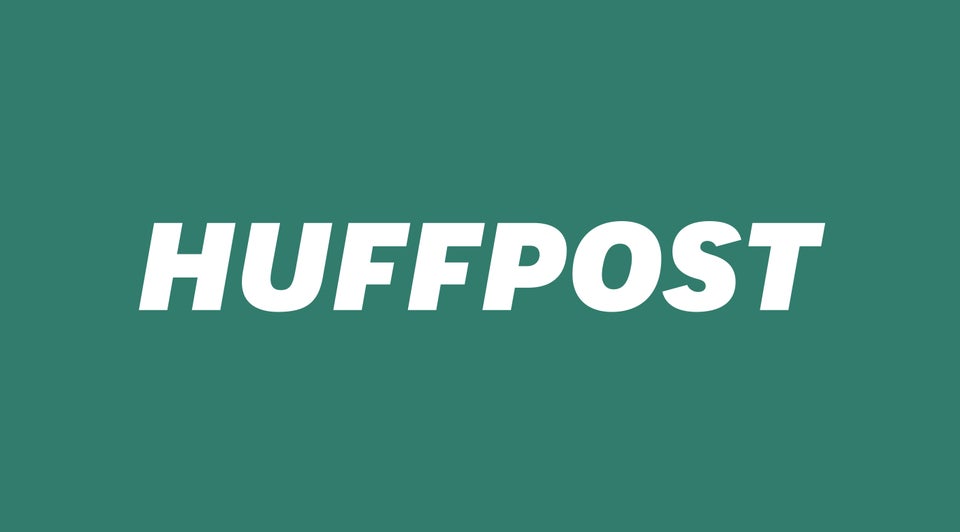 The 50 Funniest Tweets From Women In 2015
Related
Popular in the Community