I've often wished I liked winter just a little bit more.
I live for July and August in Seattle. I love long summer days, when I can trail run or row in daylight before work. I delight in bike commuting in shorts and t-shirt, feeling the sunshine on my face. In July and August, I can comfortably play tennis on outdoor courts long into the evening. Summertime is simply the best.
Winter, on the other hand, has long been something I've merely endured. The darkness, cold and damp, dreary days don't cater to the outdoor activities I love. Unlike my ski-crazy friends, I've never rejoiced at the first snowfall in the Cascades.
This year, I decided, was time to do something about my attitude toward winter. I'd learn a sport that requires snow to complement all of my warm weather favorites. (Side note: I did grow up downhill skiing, but feel I currently lack the passion to make the price of lift tickets worthwhile.)
My fiancé, Charlie, has been talking about getting me into skate skiing since I met him. He reasoned that the sport is similar to going on a long distance run through the woods, only you're on snow. And since I already knew how to roller blade, ice skate, and downhill ski, he figured I'd pick it up fairly quickly. Skate skis are shorter than classic cross country skis, and instead of moving in a lateral back and forth motion, you push off to the side. Basically, envision ice skating on snow.
Though we talked about the need to go skate skiing at length last year, I never motivated. (Let's face it: Learning something completely new is always a little bit hard! It's easy to keep putting it off.) It took planning a four-day trip to Washington's Methow Valley over New Year's weekend to get me on skis. We were going to stay in a house in Winthrop, smack in the middle of skate skiing paradise. The Methow boasts 120 miles of groomed Nordic ski trails, available practically from our rental home's front door. I decided I needed to get on skate skis at least once before the trip so I could actually cover some ground by the time I got out there.
The week before Christmas, I picked up a pair of rental skate skis at REI and Charlie and I headed up to the Iron Horse Trail, a flat, groomed trail at Snoqualmie Pass. My first session involved limited movement and some frustration. Like surfing, I could see how it could become addictive and delightful once you got the motion down. The first time out, however, seemed a bit of a grind.
Charlie coached me on pushing off with bent legs and trusting my balance on one leg to shift my weight from side to side. He took away my poles for the initial lesson, reminding me of when I learned to downhill ski without poles as a kid. The technique worked, as it forced me to focus on using my leg muscles to propel myself forward, gliding from side to side
To be perfectly honest, I didn't feel entirely sold on skate skiing after that initial session. I found some enjoyment in it, but could have easily turned in my rentals and happily returned to the sports I could do well. But I knew that my fiancé wanted to be able to ski together -- and heck, I'd talked him into a six-day, 120-mile running stage race in Colorado last summer. If he was willing to try ultra running on my behalf, I should persist on the skate skiing front. I gritted my teeth and picked up a pair of my own skis at Second Ascent in Ballard. I was committed.
Charlie insisted that I'd begin to really get the hang of it in Winthrop, when we'd go out at least once a day. Though I wasn't certain at first, it turned out he was right. I became less concerned with balance and basic survival, and began to love the feeling of skating along. The trails in the Methow provided endless exploration for us. We enjoyed being out in the snow so much, we covered 30 kilometers both Saturday and Sunday of New Year's weekend. (That is, I skied 30K -- Charlie went much farther, as he tacked on a number of speedy out and backs so as to not wait for his slower fiancée on the trail.)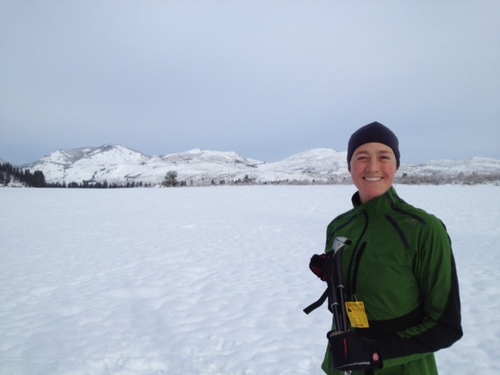 I've got many miles to go before I actually become good at skate skiing, or reasonably fast. But now that I'm proficient, I'm actually excited to head up to the mountain passes on weekends and enjoy a new wintertime sport. Two hours of skate skiing provides the kind of muscular workout and cardio exercise that I'd find on a summer trail run, and it doesn't carry the same impact as running to muscles and joints. It seems the perfect cross training tool for any cyclist, runner, rower or other distance athlete.
And, best of all, it makes me hate winter just a little bit less.

For more by Heidi Dietrich, click here.
For more on fitness, click here.