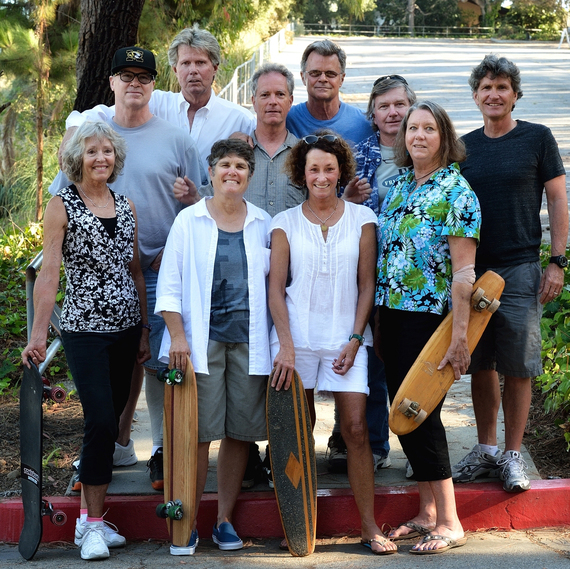 Left to right men (back), women (front): Terry Keller, Tod Burton, Peter Burg, Tim Keller, Ric Burgess, Don Burgess, Donna (Cash) Harris, Wendy (Bearer) Bull, Suzi (Rowland) Levin, Colleen (Boyd) Turner
When I first got the call that we were going to be in a "then and now" skateboarding documentary, I was delighted, curious and totally freaked out. How was I ever going to skateboard in my 60s like I did in the '60s? As it turned out, the production of Skateboarding's First Wave was a delightful experience for all involved which resulted in a high-quality, very entertaining film contribution to the history of skateboarding.
In 2013, Tim Keller, the former 14-year-old leader of the Palisades Skateboard Team in Los Angeles, California (one of the top teams in the country in the '60s), wrote an article about the team and the beginnings of skateboarding called Skateboarding's First Wave: A Palisades Story. This led then 9-year-old Donny of the team -- now Don Burgess, not so little, a grandfather, and an Academy Award-nominated cinematographer (Forrest Gump) -- to look for some vintage skateboarding footage that his father had taken of the group. When he found it, Tim and Don called for a reunion to do a short documentary comparing the "back in the day" shoots with footage and interviews of us fifty to sixty somethings on our skateboards today.
Come "game day" for the filming, I showed up with all of my safety gear, but none of the other team members were wearing any. I'd already made one trip to the emergency room during my first practice session and was determined not to have to go back. Although no one told me not to use the protective gear, unfortunately, I let myself feel peer-pressured into leaving it in my car. Most cautiously, I decided to take the hill sideways in the slowest possible way. Yet within seconds, my board flew out from under me, and I was flat on the asphalt with a horrific-looking bloody elbow.
I refused to go to the emergency room even though I probably needed at least five stitches and had some kind of minor fracture. My injuries would heal, but when would I ever get another chance to be in a skateboarding movie? Director Don compassionately had his crew film me doing simple kick turns on a flat surface so I could still appear in the movie. Fearing another tumble and in pain, I was so cautious that I looked positively geriatric. The exhales of onlookers were audible when I finished without incident. "That's a wrap!" never sounded so good. Why, oh why had I stopped going to yoga class? It did so much for my balance.
Looking back, it's hard to believe what we did on those boards as kids. What was exhilarating then now looks downright scary to me. We didn't realize at the time that we were being pioneers. We just loved skateboarding, and the more difficult the challenge, the more we liked it!
The reunion party was a hoot! We shared all of the old stories -- at least, what we senior citizens could still remember. We had a lot to catch up on, since most of us hadn't seen each other since high school. I learned a number of important details from the others that I had forgotten from my youth -- some of which I didn't want to remember -- and a lot about the twists and turns of our lives. There were those who didn't make it, who had died or succumbed to drug abuse and other life challenges. We knew we were the lucky ones.
Not only did the documentary juxtapose the old and modern footage of our team effectively, but it also creatively incorporated skateboarding cuts from other films, television commercials, and popular shows at the time like What's My Line?, Shindig!, and ABC's Wide World of Sports. The musical soundtrack was even composed by one of the team members, singer and songwriter Peter Burg. My children and in-laws joined me at the premiere, and we were very impressed with how well it turned out. It is now being shown at various forums like the Newport Film Festival, and the feedback has been wonderful!
Without exaggeration, I was the worst current-day skater of the bunch. That 50-year break took quite a toll on me. I could not skateboard in my sixties like I did in the Sixties, at least not without more preparation, but the others could. I don't know how they managed to hop back on their boards so skillfully with little practice and end up with no more than one skinned knee in the bunch. Yet despite the cuts and bruises, I am very glad I participated. The ordeal also gave me a jump-start for my new fitness program of pedometer-motivated walking, weight training, and swimming. I've even gone back to yoga. Maybe one day I'll provide a comeback story for septuagenarians (if I can remember how to spell it)!
Most importantly, our team came to appreciate the bond we had from those days. We helped to invent a sport -- no small challenge and contribution. And girls had so few sporting options then. Skateboarding represented a way to compete when other avenues were closed. We gave each other the courage to reject the idea that girls didn't belong on a skateboard as there were so few of us in our community. And this courage about where we belonged transferred to other arenas throughout our lives. Thankfully, the boys encouraged us, and they grew up to be rather impressive gentlemen -- hardly the skateboarder stereotype.
While I have no interest in ever doing a half-pipe (a modern skateboarding ramp), when it comes time to autograph the vintage skateboarding cards that have yet to be invented, I'll be ready. And getting back in shape has become my top priority of late. After all, who else will teach my granddaughter how to skateboard if I don't?
Skateboarding's First Wave is showing at Dances With Films in Hollywood, California, on June 2, 2015, at 2:45 p.m. and at Palisades High School in Pacific Palisades, California, on June 13 at 2 p.m.
Calling all HuffPost superfans!
Sign up for membership to become a founding member and help shape HuffPost's next chapter