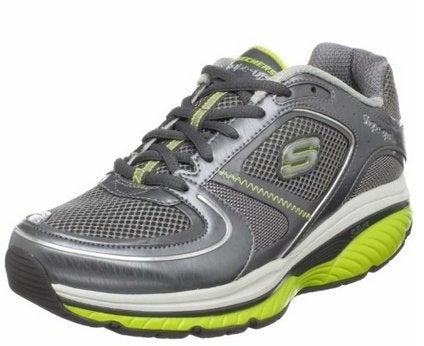 In the world of too-good-to-be-true fitness claims, this one might just take the cake: can lacing up a humble pair of shoes really impart the curves of Kim Kardashian?
The answer (no shocker here) is, of course, no. But that's the claim that Skechers made with their Shape-Ups shoes, with fit celeb endorsements from Kardashian, Brooke Burke and more.
According to Skechers, the shoes allegedly rev up workouts with a "rocking" sole designed to throw the body off balance and force the wearer to "use more energy with every step," the Associated Press reported.
The company claimed: "Four clinical studies in the U.S. and Japan show that Shape-ups increase muscle activity and energy consumption over standard fitness shoes!" Unfortunately, further investigation revealed that these studies were not peer reviewed and didn't display the rigorous science required to make health claims by the Federal Trade Commission.
The sneakers, which carried a $100-plus price tag, have been questioned on their efficacy, along with their other "toning shoe" counterparts. And on Wednesday, Skechers was delivered a $40 million dollar reality check -- the amount they'll have to pay out to settle charges from the Federal Trade Commission for making unfounded claims, says the AP.
According to an MSN report:
"The FTC's message, for Skechers and other national advertisers, is to shape up your substantiation or tone down your claims," said David Vladeck, director of the agency's consumer protection bureau. For millions of consumers, he said, "the only thing that got a workout was their wallet."
And Skechers aren't the only shoes to have their fitness claims stamped out. Last year, Reebok reached a $25 million settlement with the commission over its EasyTone and RunTone shoes.
But why don't these shoes work, anyway?
"While the rocker bottom design does put you off balance, one of the wonderful things about the human body is that we have an enormous adaptive capability," Cedric Bryant, Ph.D., chief science officer for the American Council on Exercise, tells the Huffington Post. "It's one of those things where perception becomes reality in a lot of the users' minds ... But when you actually objectively measure what's happening from a physiological standpoint, there really is no difference in those shoes compared to traditional running shoes."
In 2010, ACE commissioned a study with exercise scientists from the University of Wisconsin, La Crosse to evaluate the effectiveness of Shape-Ups, as well as MBT: Masai Barefoot Technology shoes and Reebok EasyTone sneakers. In two trials, the researchers tested exercise responses to walking and muscle activation in both the toning shoes and plain-old athletic sneakers. The difference? None.
"Across the board, none of the toning shoes showed statistically significant increases in either exercise response or muscle activation during any of the treadmill trials," the researchers wrote in their report. "There is simply no evidence to support the claims that these shoes will help wearers exercise more intensely, burn more calories or improve muscle strength and tone."
While some loyalists claimed to feel sore after wearing the shaping shoes (that must mean they work, right?), it turns out a little discomfort doesn't prove a thing.
"Do you feel different when you're wearing these shoes? Of course you do because you're walking on probably an inch worth of cushioning," John Porcari, Ph.D., program director of the Clinical Exercise Physiology Program at the University of Wisconsin, La Crosse, said in the report. "They feel different, and that's why when people first wear them they're probably going to be sore because you're using different muscles. But if you wear any sort of abnormal shoes that you're not used to wearing, your muscles are going to get sore. Is that going to translate into toning your butt, hamstrings and calves? Nope. Your body is just going to get used to it."
In fact, these types of rocker soles could actually do some harm, says Jackie Sutera, a New York City podiatrist. While they can be helpful for people with certain conditions, such as arthritis, they certainly won't tone you rear and reduce cellulite, and they might actually hurt your feet. Sutera has seen cases of tendonitis, stress fractures and sprains in her office from the overuse of toning shoes.
Instead, she recommends sticking with classic sneakers, choosing a pair to match your activity (running and walking shoes for, you guessed it, running and walking, and specialized pairs for specific sports like basketball or tennis). It's also important, she explains, to evaluate your arch to figure out the right type of support. Someone with a high arch will need more cushioning, for instance, while someone with a flat foot will need a more rigid shoe with motion control.
If there's a positive side of toning shoes, Bryant says it's that the aggressive marketing might have encouraged more people to get up and get moving -- and that's never a bad thing. But a pair of sneakers won't be your weight loss magic bullet. If you really want to do something to rev up your walk, he suggests pumping your arms more vigorously, adding hills to your route or wearing a weighted vest, instead.
Related