Animal lovers are demanding that an Indonesia zoo be closed after widely circulated video clips of captive sun bears show them so emaciated that their ribs poke from their chests. At one point a bear eats its own feces.
The video clips, taken last year at the Bandung Zoo by the Scorpion Wildlife Trade Monitoring Group, show the animals frantically begging for food from zoo patrons, who toss snacks into their pit. The same zoo came under fire last year after the death of a Sumatran elephant, which is a critically endangered species. The wildlife group revisited the zoo again early this month and determined that the bears were in an even more dire situation than last year.
"The bears ate their own dung. This happened because they are very, very hungry," Gunung Gea, director of the Indonesian wildlife group, told Agence France-Presse. "The bears' enclosure was dirty, and visitors were free to give them whatever they wanted. They were throwing in junk food."
Warning: This post contains images that may be disturbing to some readers.
One outraged viewer of the clips on YouTube said the animals "need to be removed and placed in proper reputable rescue wildlife sanctuaries, and this monstrosity of a zoo needs to be closed."
On Friday, Siti Nurbaya, the nation's minister of environment and forestry, told Scorpion that she had sent an investigative team to the zoo, and would discuss what action to take on Monday. The team included a veterinarian tasked with checking each of the bears.
The sun bear, native to Southeast Asian tropical forests and swamps, is the smallest of all bear species. But the animals are noticeably underweight, said the Scorpion spokesman. The global population is believed to have declined more than 30 percent in the past three generations. The species is now classified as "vulnerable" by the International Union for Conservation of Nature. Much of the bears' native habitat has been destroyed by deforestation.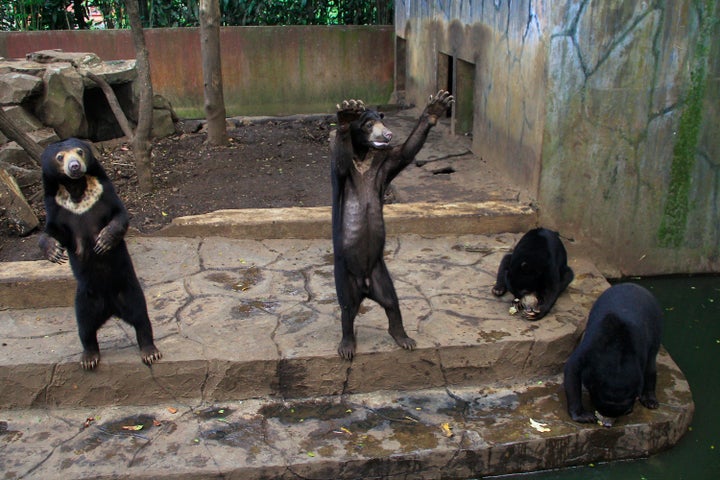 A Care2 petition has collected more than 74,000 signatures demanding the zoo be shut down. The petition also asks signers to boycott Indonesia as a travel destination and boycott its products until the country assures better treatment of its zoo animals.
A Bandung Zoo spokesman denied that the bears are mistreated or are malnourished. "The animals here have enough food supplies," a representative for zoo director Yayasan Margasatwa Tamansari told the Jakarta Post. "Does being thin mean being unhealthy or not having enough food? On the other hand, looking fat does not mean an animal is healthy."
Several Indonesian zoos have been sharply criticized for years for animal mistreatment. Hundreds of animals have died in the most notorious zoo in the city of Surabaya, where the venue has been dubbed the "death zoo."
Popular in the Community