While some may consider the constant snowfall lately to be a source of frustration, skiers and snowboarders have been smiling from ear-to-ear over the fresh pow, especially after a slow start to the season.
Colorado too has been getting some love from Mother Nature lately, making it a great time to hit the slopes. Even those of us who don't find the sport of sliding off hilltops something to be desired, are finding lots of reasons to head for the hills. The key to making everyone happy is in finding a mountain that can cater to all.
Two great and very different destinations to consider are Copper Mountain and Steamboat Ski Resort, especially if traveling with kids in tow.
The Copper Mountain experience
Located 75 miles from Denver, the village and trails of the Copper Mountain resort cover about 2,465 acres and is an official U.S. Ski team training venue. The base elevation is 9,712 feet, so make sure to give yourself a day to acclimate before taking on the slopes.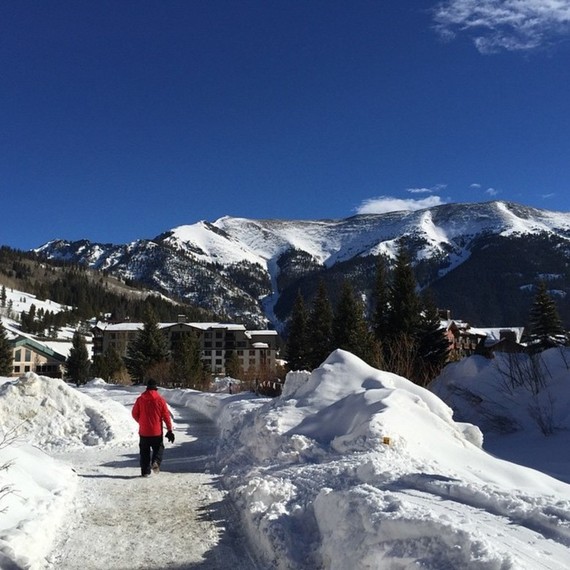 Image courtesy of Girl Gone Travel
Although there are plenty of out-of-towners who frequent this area, Copper is a local's mountain. Talk to almost any Colorado native and they will tell you stories about learning to ski here and spending a good portion of their childhood here. The affection so many have for Copper is contagious.
A lot of it has to do with accessibility and the down-to-earth vibe. Ski lift prices aren't astronomical and skiers love the diversity of the 126 runs and the overall size of this more intimate mountain.
With over three villages to cover, there is a lot to do, so much so that a non-skier will find many ways to spend their time, whether at the spa, tubing, ziplining, snowshoeing, or improving on your aerial freestyle moves at Woodward Copper.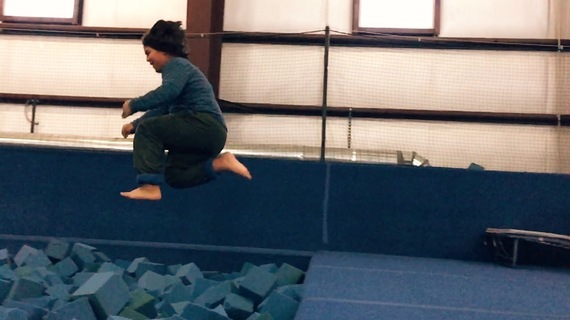 Everybody jump! (Image courtesy of Girl Gone Travel)
The Steamboat Ski Resort experience
People will say that those who visit Steamboat really, really want to be there because of the time it takes to get there. As far as ski resorts go, Steamboat is off the beaten path, but as flights into Hayden Airport are added regularly, more people are finding it easier to plan their trips there.
This larger-scale ski resort area, with 165 runs and covering over 2,900 acres, makes for great fun-filled vacations. People in the surrounding farm area call it the city and it offers as much as any great city would.
The outdoor activities seem endless, though non-skiers will delight in the shopping, restaurants, gondola rides (especially at night) and the jaw-dropping views while snowshoeing.
Families will enjoy the ski school, the tubing, the family-friendly events, and spacious lodging options, while couples will enjoy the luxury dining options, romantic sleigh rides, and scenic helicopter tours.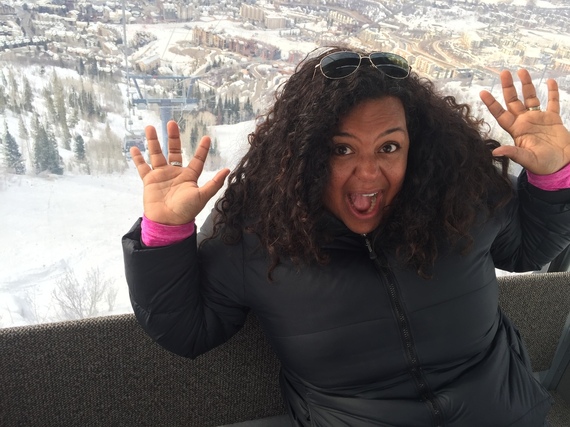 There's no shame in riding the gondola just for the thrill of it. (Image courtesy of Girl Gone Travel)
There are great places to discover off-resort as well. Try horseback riding through the beautiful trails in the Mt. Zirkel Wilderness with my guide Ray, the owner of Del's Triangle 3 Ranch, a true-to-the-bone cowboy and wonderful storyteller.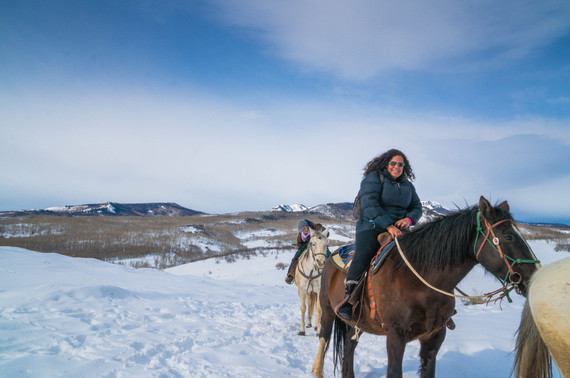 Image courtesy of Girl Gone Travel
Dinner at Laundry is an experience worth sharing, with tapas-style dishes and creative drink creations that make a perfect ending to a fun mountain day. I recommend you pair their Fiery Margarita with the Chicken and Dumplings dish. It's like a warm hug from the culinary gods.