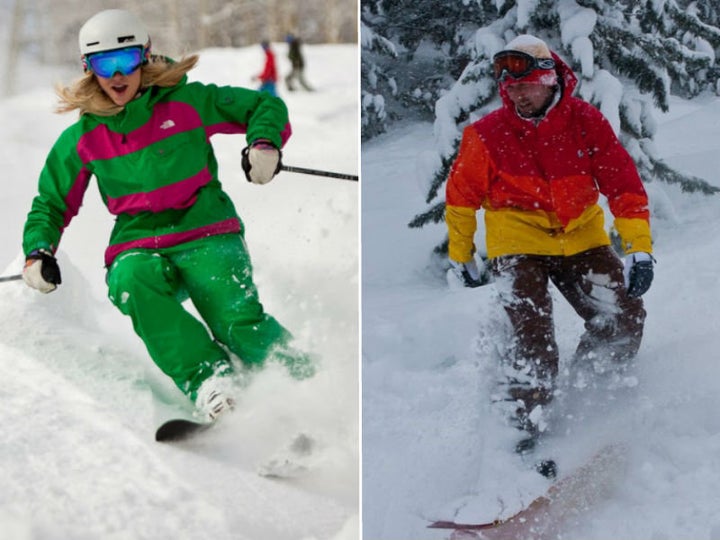 The snowboard vs. ski divide is largely a cultural one. From a fitness standpoint, both activities are regarded as great core workouts that require balance, flexibility and strength. But there's new evidence that skiers and boarders are using their bodies very differently -- as evidenced by the divergent injuries the athletes get. So who was more likely to get injured overall?
"Injury rates in snowboarders have fluctuated over time but currently remain higher than in skiers," wrote the researchers in their study, published in the American Journal of Sports Medicine. "Wrist, shoulder, and ankle injuries are more common among snowboarders, while knee ligament injuries are more common in skiers. Injured snowboarders were significantly younger, less experienced, and more likely to be female than injured skiers or snowboard control participants."
So there you have it: the most accident prone of all are inexperienced female snowboarders, according to the data.
Researchers from the University of Vermont College of Medicine in Burlington looked at skiing and snowboard injury records at a resort in Vermont over 18 seasons, between 1988 and 2006. That was a total 2,260 non-serious injuries per 2,088 snowboarders and 9,465 injuries among 8,645 skiers.
Wrist injuries accounted for more than a quarter of all snowboarding injuries (28 percent), compared to just 3 percent of skiing injuries. On the other hand, 17 percent of skiing injuries were ACL sprains, while less than two percent of snowboard injuries were related to ACL. Interestingly, children were most likely to suffer from cuts on their hands and feet. Overall, snowboarders had a higher incidence of injury -- a rate of 345 mean days between injuries (MDBI) compared to 400 MDBI among skiiers.
So what's more likely to make a skier or snowboarder get injured? Wrote the Los Angeles Times:
The American Orthopaedic Society for Sports Medicine reports that being active for periods without resting, using improper or faulty equipment, being dehydrated, skiing or snowboarding above what's comfortable for your ability and not properly adjusting to the altitude can all contribute to getting hurt.
Tell us how you prevent your own sports injuries in the comments.

Related