I have been following the Olympic skiing events from Sweden's dramatic cross country victories to just recently Norway winning gold in Nordic team event. There is also a freestyle halfpipe skier, AnnaLisa Drew, from my hometown of Andover, Massachusetts.
Where I did not expect to come across skiing was doing research on a global hunger publication. But I did. In fact, in the darkest hours of World War II people used skis for their very survival: to find food.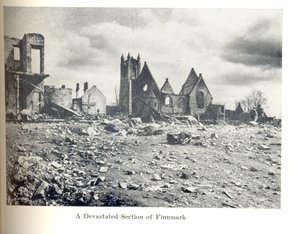 In 1944, as the Nazi German army retreated from Northern Norway (Finnmark) they set homes ablaze forcing thousands out into the cold. Civilians were deported from the area. Some managed to escape the Germans into the mountains. According to the book Children of Europe, "they lived, hunted, among the snow-covered mountains, moving about on skis."
If they could just hang on till help arrived. Of course, they had know way of knowing when that might even be.
The Allied Forces did start to move aid into Finnmark after the German retreat. When British and Norwegian ships arrived it is said, "Down the snowy slopes on skis came the Norwegians, men and women, carrying babies and their few humble belongings and even youngsters were on skis."
It is so impressive their spirit and will to survive in brutal Arctic conditions. But at the same time we also saw spirit and goodwill from others who knew of the plight of Finnmark.
The charity American Relief for Norway sent 10,000 food packages to Finnmark. An Olympic gold medalist in figure skating, Sonja Henie, had donated in support of this charity. Save the Children and others took on an intense effort of fundraising and reconstruction of the war-devastated province.
That is the kind of goodwill we need to see at all times and goes hand-in-hand with the Olympic spirit. These great games we are seeing, nations coming together, is something we have to bring beyond the athletic field. It has to be with us 24/7 helping all peoples suffering from hunger or left out in the cold like Syrian war refugees today.
I hope the Olympics can generate some donations for the World Food Programme, UNICEF and other agencies helping the countries in the midst of war, natural disasters or poverty.
Two-time Olympic silver medalist Paul Tergat is an ambassador for the World Food Programme. He told me about running programs he was trying to set up in his home country of Kenya. So many children do not get to have these because they are caught up in disasters in their country.
Everyone can do a little bit to help them by supporting humanitarian aid. If you are an athlete, the easiest way is through Charity Miles in support of the World Food Programme.
Related
Popular in the Community