On a treacherously foggy afternoon at North America's number one alpine resort, I'm caught mid-mountain, fumbling in near white-out conditions to safely descend without taking a tumble, crashing into a snowboarder, or an even gnarlier fate I'd rather not contemplate.
This kind of alpine atmospheric pea soup can disorient even the most confident of skiers. But this time I know I'll make it down in one piece because I'm skiing with an Olympian.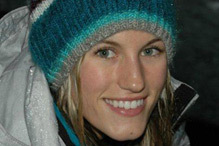 Best of the best
Cool as a cornice, World Champion medalist and 2010 Ski Cross Olympian Julia Murray shepherds me to safety below the fog line, where we let 'er rip for one exhilarating run after another.
Julia's job is to show me around the mountain this home-grown Whistlerite has skied all her life, where she achieved her lifelong dream to compete in the Olympics, and where she still calls home. My job is to follow in her tracks, glean as much as I can from observing her flawless technique, and soak up her racing stories.
The original plan was to finish the morning together on the hill with Julia leading me down the epic Dave Murray Downhill, named after her late father, one of the original "Crazy Canucks", a group of Canadian alpine ski racers who rose to prominence in the World Cup during the 1970s and '80s. Dave passed away in 1989, after a valiant fight against cancer. The run was named in his honour in 1990.
Unfortunately, the fog higher up the mountain isn't letting up, nixing our plan to ride the Dave Murray Downhill together. Instead, we head directly down to Whistler Village to grab lunch at the Garibaldi Lift Company, a legendary watering hole infamous for its après ski scene that flows long into the night.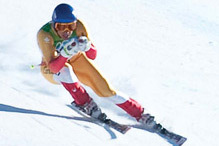 Olympian idea
Over burgers and beer, Julia, who retired from racing in 2012, tells me how the idea for Whistler Snow School's most exclusive program came about.
"I was trying to figure out what to do with my life post racing and one of my goals was to be an ambassador for Whistler," explains this 24-year old blonde beauty with a killer race coarse instinct.
"So I put together a proposal to promote the town, " she says. And together with Russ Wood of Whistler Blackcomb's ski school, I came up with the idea of the Ski With An Olympian program.
Now in its first full season, this unique program includes a full-day of skiing or riding guided by an Olympic athlete, with capacity capped at five people per group. Like all other Snow School lessons, it also gives guests lift line priority. Participating Olympians are based on availability and the program includes thirteen ski and snowboard athletes. Nearly all the Olympians originate from the lower mainland of BC, bringing with them superior instruction and in-depth local knowledge of Whistler Blackcomb.
"It's been a really fun experience for me," says Julia as we contemplate a few post-lunch runs. "My longest booking was 12 days straight. It's not only guiding but teaching as well since I have my level two ski instructor certification."
If conditions improve, Julia has promised to show me some of her 'secret spots' on the mountain. Meanwhile, while praying for the fog to lift, I ask this pocket alpine rocket what she enjoys most about her new venture.
"The program is a great way to show people Whistler and ski around with awesome clients who are excited to be here on vacation," she says. "It's all about showing them a great time."
I can't think of many skiers who wouldn't' have a great time skipping the lift lineups and riding from peak to peak with this charming local living legend. Not to mention following Winter Olympian Julia Murray down some of the most breathtaking runs this snow blessed corner of the continent has to offer.
If You Go
More information about Whistler-Blackcomb's Ski With an Olympian Program, including pricing and booking instructions, is available here.