Finding the right person with the right skills for the right job has never been easy.
But now it can seem overwhelming: intense competition for talent on a globally flat playing field; our US education system moving too slowly to meet the rising demands for high-skilled jobs in the technical and service sectors; many graduates often lacking in workplace basics like effective teamwork skills, oral and written presentation skills, and the self-direction to manage one's own learning and work.
Add to this an economic landscape vacillating toward an uncertain future: Manufacturing jobs constantly being offshored; service work on a steep rise, with more being outsourced; much more work demanding complex thinking and creative tinkering; high-tech tools used in almost all lines of work; never-before-seen jobs emerging in brand new industries; and practically everything becoming global - - global corporations, global products, global supply chains, global online marketing and sales, global customers, and, to make matters even worse, a slow climb out of a deep global recession where there are just fewer jobs to be had.
Across the globe, work is becoming increasingly bi-polar with jobs sorting out into two clusters -a low-wage, lower-skilled, routine work cluster, going to the lowest global bidder qualified to do the work, and increasingly to automation; and a fast growing, high-paying, creative work cluster requiring a combination of complex technical skills like problem-solving and critical thinking, and strong people skills like collaboration and clear communication, as illustrated here: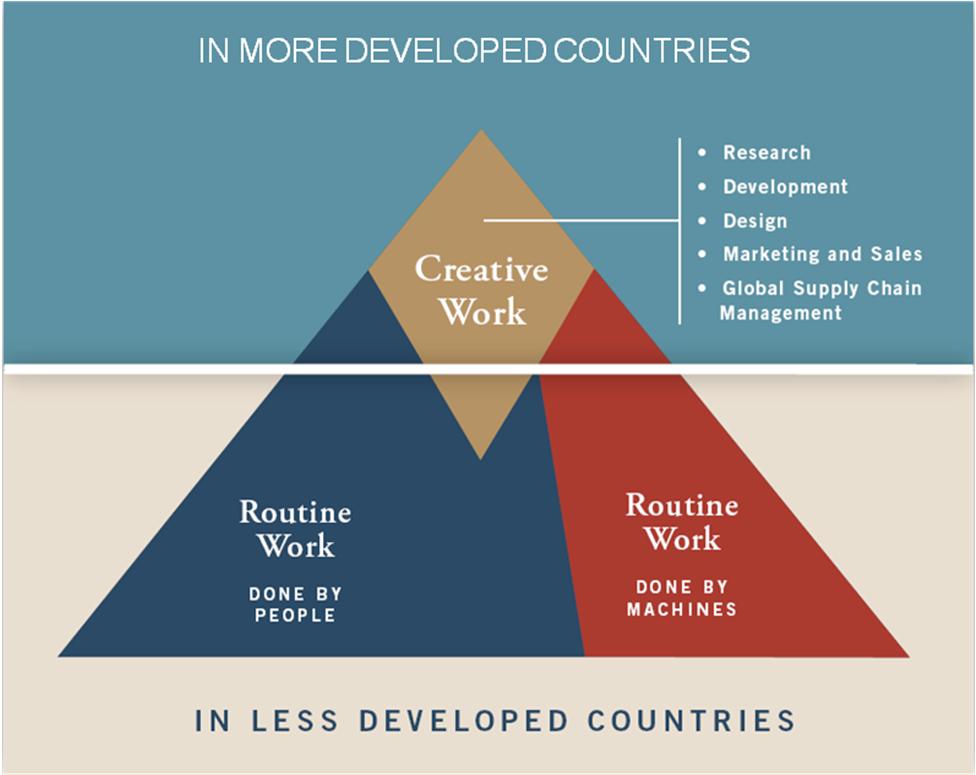 Source: "Tough Choices or Tough Times" 2007, National center on education and the economy
The demand for non-routine skills is rising fast, as the need for routine and manual skills falls: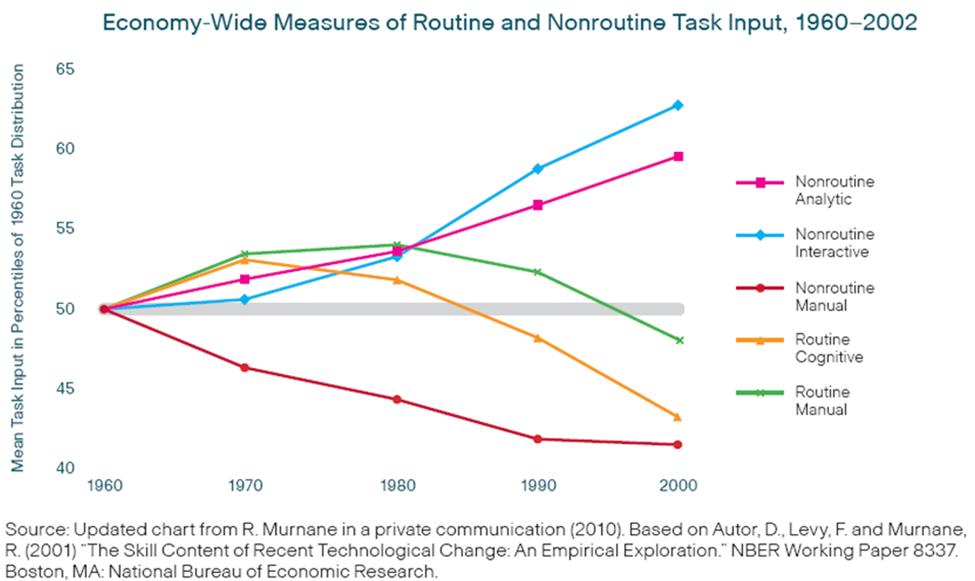 Indeed, in several surveys, employers list both basic and complex skill sets that are often lacking in the available pool of job candidates: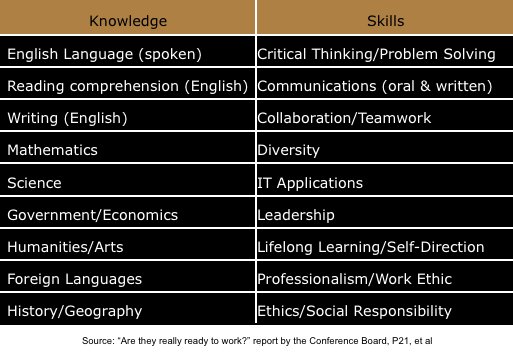 When business managers were asked, "Has your organization identified these skills as priorities for employee development, talent management, and succession planning?", the overwhelming majority responding to an American Management Association survey agreed that critical thinking, communicating, collaborating and creativity are essential skills for good managers: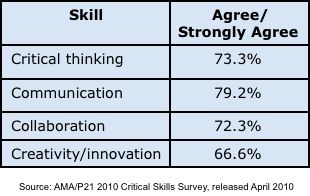 So what is being done to ensure that our workforce is skilled for 21st century success and our education pipeline is flowing with students skilled and work-ready?
Fortunately a global educational movement is in play, often called the "21st century skills" movement, that is helping move schools closer to learning designs that better prepare students for success in learning, work and life.
From Singapore to Sydney, Helsinki to Hong Kong, and the United Kingdom to the United States, schools are innovating learning as their students learn how to innovate.
One leading organization in that movement, the Partnership for 21st Century Skills (P21), has created a framework that identifies the key skills for success:
Learning & Innovation Skills
Critical Thinking & Problem Solving
Creativity & InnovationCommunication
Collaboration
Information, Media & Technology Skills
Information Literacy
Media Literacy
Information and Communications Technology (ICT) Literacy
Life & Career Skills
Flexibility & Adaptability
Initiative & Self-direction
Social and Cross-cultural Skills
Productivity & Accountability
Leadership & Responsibility
As a result, 16 U.S. States already have adopted this P21 framework and are working hard to transform their schools into 21st century learning environments.
Internationally, Cisco, Intel, and Microsoft have sponsored the Assessment and Teaching of 21st Century Skills initiative (ATC21S - - www.atc21s.org) to research and develop strategies that advance many of the skills identified by P21, with Australia, England, Finland, Portugal, Singapore and the USA signed up and deeply involved in this effort.
So what can you do to help this movement?
As a business leader, an HR professional, or a hiring manager, there are four important things you can do to help in this time of educational transition:
Rethink job requirements in terms of 21st century skills, not merely degrees - - for instance, call centers see tremendous churn when they hire merely based on 2-year degrees, while they should be focused on finding candidates with communication skills, social and cross-cultural skills, flexibility and, most importantly, empathy!
Establish a tracking mechanism for improvement, measuring the "before and after" effects of training, sharing of effective practices, and other improvement efforts, to learn what is really helping improve employee performance.
Embrace the concept of "microcredentialing," where employees can be assessed on the performance of specific skill sets important for success in their jobs, and over time accumulate a portfolio of proven and credentialed skills.
Support your local schools and universities in their efforts to make their learning more relevant and tuned to workforce needs through corporate social responsibility programs, student internships, scholarships, fellowships, etc.
As schools, universities and training programs become more responsive to the workforce needs of our time, students will increasingly focus on growing and applying essential 21st century skills and knowledge to real problems and issues, not just learning textbook facts and formulas.
This will raise levels of competitiveness, creativity, innovation and true economic security for everyone, and build a future workforce truly skilled for success.
Bernie Trilling, co-author of 21st Century Skills: Learning for Life in Our Times, is global director for the Oracle Education Foundation and the Foundation's board member of the Partnership for 21st Century Skills. Prior to joining Oracle, Trilling was a director for the Technology in Education group at WestEd.
Charles Fadel, co-author of 21st Century Skills: Learning for Life in Our Times, is global leader for education at Cisco Systems and the Cisco board member of the Partnership for 21st Century Skills. Charles and Bernie also co-chair the Partnership's Standards, Assessment and Professional Development committee.
© 2010 Bernie Trilling & Charles Fadel, authors of 21st Century Skills: Leaning for Life in Our Times

Related
Popular in the Community