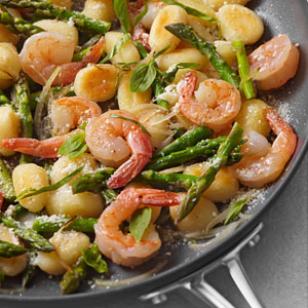 By Wendy Ruopp, managing editor of EatingWell Magazine
Like Johnny Appleseed setting off with a pocketful of hope and a saucepan for a hat, my children have begun to make their way in the world. They don't have to wear their pots -- but their kitchens are tiny enough that they have to choose carefully. Microwave or toaster? Saucepan or skillet? I say skillet -- a pan you can cook your whole dinner in. And it will do a better job of keeping off the rain.
The five recipes that follow make a good case for stocking your kitchen with two large skillets in particular: nonstick and stainless steel. For gingery, Indian-inspired Chickpea & Potato Hash, a nonstick skillet keeps the potatoes from clinging too tenaciously. Another night, cook tender gnocchi and shrimp using minimal oil. Steak for a beef curry browns nicely in a stainless-steel skillet and the flavors build as each ingredient joins the pan. And I'm especially glad for Garlic Chicken, a fabulous skillet version of the classic "chicken with 40 cloves of garlic," a dish my kids will come home for.
Either way, skillets are essential to making a quick, easy, only-one-pan-to-wash dinner tonight. Wear one proudly, and spread the word.
Here's are five simple skillet suppers you'll love: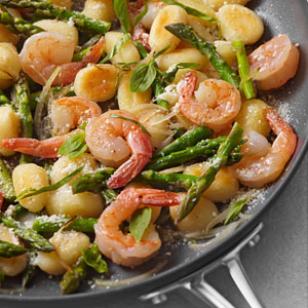 Skillet Gnocchi with Shrimp & Asparagus
Makes: 4 servings, about 1 1/2 cups each
Active time: 30 minutes | Total: 30 minutes
Cost per serving: under $5
The gnocchi cooks right in the skillet, along with shrimp, shallots, asparagus and Parmesan cheese, in this gnocchi recipe. Look for shelf-stable gnocchi near other pasta. Serve with baby arugula salad with vinaigrette and a glass of pinot grigio.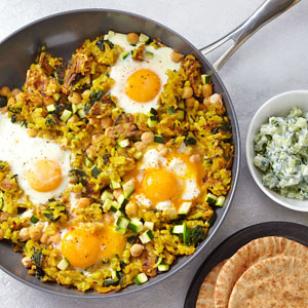 Chickpea & Potato Hash
Makes: 4 servings
Active time: 25 minutes | Total: 25 minutes
Cost per serving: under $2
The eggs cook right on top of this chickpea and potato hash -- cook them a few extra minutes if you prefer hard-set eggs. Serve with warm pita bread and a cucumber salad with mint and yogurt.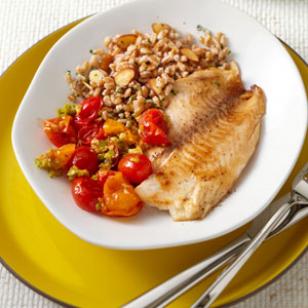 Tilapia with Tomato-Olive Sauce
Makes: 4 servings
Active time: 20 minutes | Total: 20 minutes
Cost per serving: under $2.50
Top tilapia fillets with a savory tomato-olive sauce that comes together in just 5 minutes. Look for tapenade near jarred olives in the supermarket. Serve with sautéed broccolini and farro tossed with toasted almonds.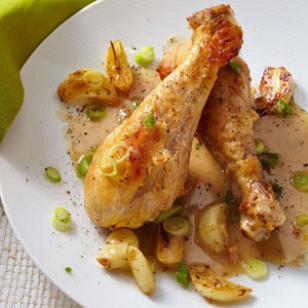 Garlic Chicken
Makes: 4 servings, 2 drumsticks & about 1/3 cup sauce each [Cooking for one or two? Make Garlic Chicken for Two.]
Active time: 40 minutes | Total: 40 minutes
Cost per serving: under $2.50
Whole garlic cloves are mild when simmered with chicken in a simple white wine-mustard sauce in this garlic chicken recipe. Serve with smashed potatoes with buttermilk and sautéed green beans.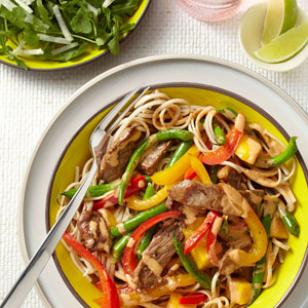 Bell Pepper & Beef Curry
Makes: 4 servings, about 2 cups each
Active time: 35 minutes | Total: 35 minutes
Cost per serving: under $4
A combination of green beans, red bell peppers and sweet mango makes this beef curry recipe colorful. The heat and salt level can vary widely in red curry paste depending on the brand -- taste as you go. Serve with noodles and a basil-and-jícama salad.
If you only had room for one pan in your kitchen, what would it be?
By Wendy Ruopp, Managing Editor


Wendy Ruopp has been the managing editor of EatingWell for most of her adult life. Although she writes about food for the Weeknights column of EatingWell Magazine, her husband does the cooking at home.