The sign on the entrance to Stage 7 at Hollywood's Sunset Gower Studios reads "Closed Set - No Photography". Filming of the third season of The Game Show Network's popular Skin Wars body painting contest is underway and the identity and progress of the contestants is a closely guarded secret until the ten episodes are screened. All the contestants are sequestered away during the six-week shoot without access to the potential distractions of cell phones and television until they are either eliminated or master the creative challenges to claim the $100,000 prize money.
Robin Slonina, Las Vegas-based artist and owner of Skin City Body Painting, has been a producer and judge for each Skin Wars series. She laughs, "We call it body paint boot camp, but we look after our contestants. They stay together in a house with a pool, barbeque and pool table, and the current group have been entertaining themselves by choreographing and performing song and dance routines."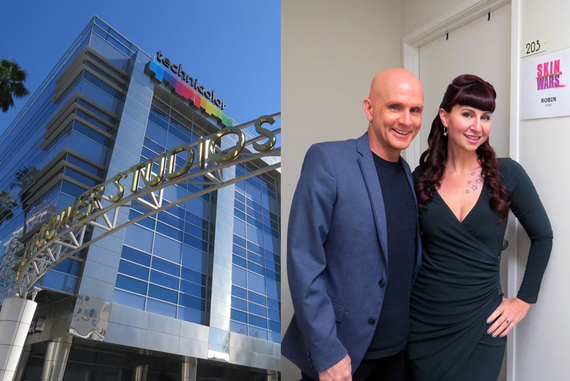 Taking a break from filming, Slonina and fellow expert body painting judge, New Orleans-based artist Craig Tracy share what they will be looking for in the winning contestant. "Our three main criteria are creativity, technique and the execution of the challenge, and the artists must be able to work under deadline pressure.
Skin Wars and the offshoot Skin Wars: Fresh Paint are building awareness of the body paint medium, which Tracy describes as the oldest form of painting in the world, with powerful, primal roots. Body art enjoyed a revival in the Western world in the era of the swinging sixties and surged in popularity when the 1992 cover of Vanity Fair magazine featured Demi Moore wearing a painted-on pin-stripe suit by New Zealand artist Joanne Gair. The World Bodypainting Festival in Austria has grown exponentially since its inception in 1998, and other festivals have sprung up around the world.
Crediting the Vanity Fair cover as a major influence in his decision to forge a career in body painting, Tracy also acknowledges the culture of New Orleans itself. "It's a very colorful city that allows for colorful bodies, and the carnival celebration is huge there. I have a family album full of photos of my family all dressed for carnival".
Slonina also sees her home city of Las Vegas as conducive to supporting a strong body art scene. "It so rarely rains and is hot enough year round for people to bare their skin. There are so many outdoor activities and it's a destination city for conventions and festivals such as Electric Daisy Carnival and Rock in Rio. Body painting is also popular at the Fetish and Fantasy Halloween Ball, and the Palms' Midsummer Lingerie Carnival." Private clients are often living out their fantasies through the paint. Slonina mentions the teacher from Iowa who was transformed into Wonder Woman, the middle-aged couple who chose to be married as matching painted zombies, and the young man whose bachelor party friends paid for a set of abs painted on his beer belly.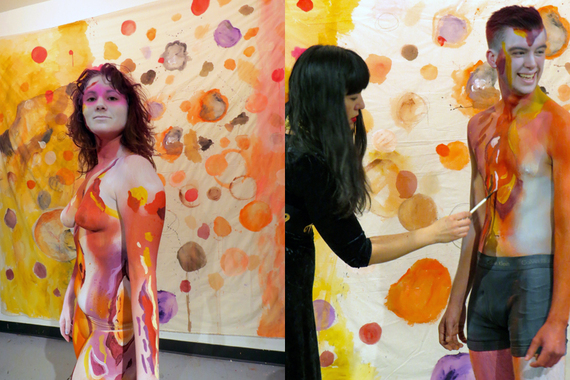 In the same way that Skin Wars: Fresh Paint invites artists from other genres to explore the medium of body paint, Slonina is also expanding the practice in Las Vegas. At each monthly First Friday art event, a local artist is invited to exhibit in the Skin City Body Paint gallery and a model and body paint supplies are provided, along with basic instruction in their use. One such participating artist is Cristina Natsuko Paulos, best known for her illustrative, cartoon style and use of charcoal and inks. Given the opportunity to work on skin, Paulos delves into her personal experience with skin graft surgery to interpret skin chart visuals on her two models.
A Las Vegas-based artist who has worked with body paint for a number of years is Rob Hester, aka Lord Gargoyle. He describes his process when working with live models as intuitive. Rather than working from detailed pre-planned drawings, he allows the shape of the model's body to dictate how the piece will develop. The forms that gradually appear are organic, suggestive of creatures emerging from the depths and often incorporate elements of skeletal structure and muscle tissue.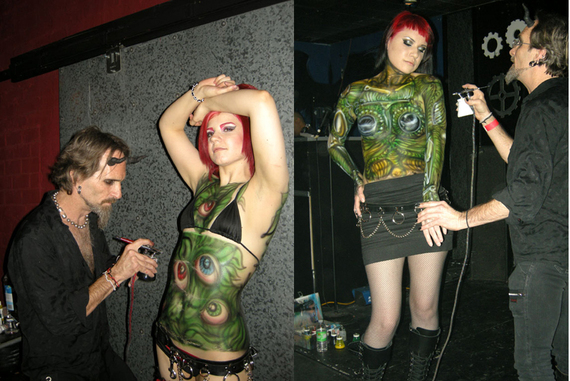 The interaction between body painter and human canvas is an integral component of both the process and the final result. For Robin Slonina who left a successful career as a mural painter to focus full-time on body painting, there is magic in the experience of seeing an artwork come to life. "When the person moves or changes facial expression, the work changes. As the artist you create something, but they embody it." She smiles. "We are also reminded that everything in life is temporary. Each masterpiece will eventually be washed down the drain".
REAL LIFE. REAL NEWS. REAL VOICES.
Help us tell more of the stories that matter from voices that too often remain unheard.