I just got back from Greece last week and if you've ever been there you know why I'm STILL thinking about their amazing food!
There's a reason people who live in Mediterranean countries are generally healthier, thinner and live longer than many other populations.
They eat seasonally, they eat locally and they use traditional cooking methods. A lot of their meals are community or family events.
This 7 Layer Dip offers up some of the best of the Mediterranean flavors. It's hearty, healthy and will be a hit at the party. A breeze to whip together too!
INGREDIENTS
8 oz. hummus **1 diced tomato** ½ cup diced cucumber** ½ cup Greek yogurt ( I like Fage 0%)** ⅛ tsp salt** ¼ tsp paprika** 2 artichoke hearts, chopped** 2 roasted red peppers (4 halves), diced** ¼ cup crumbled feta cheese** 2 tbsp minced parsley** Kalamata olives, chopped (optional), for garnish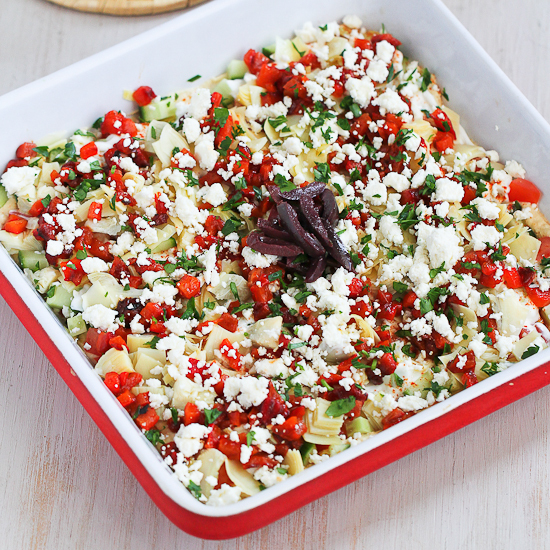 DIRECTIONS
In an 8 x 8 serving dish, spread the hummus evenly on the bottom. Layer the tomatoes and cucumber over top.
Gently spread the yogurt over the vegetables with a rubber spatula. Sprinkle the yogurt with salt and paprika.
On top of the yogurt, layer the artichoke heart, roasted red peppers and feta cheese. Sprinkle top with parsley and garnish with olives.
Serve with fresh vegetables cucumber rounds and pepper strips for dipping.
Bring a taste of the Mediterranean to the next party you attend. No one will even suspect it's healthy because it's so flavorful, creamy and filling.
If you want more yummy and easy to make recipes that are good for your body grab Danette's Bikini Body Recipes book.