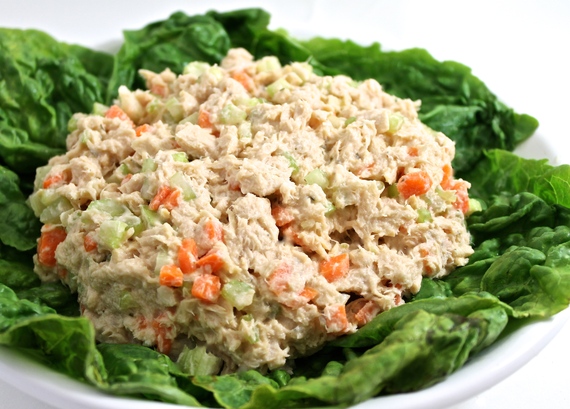 Make your tuna salad come alive with this fantastic buffalo ranch tuna salad! It has a bit of a kick but not too hot. So versatile, use it to make sandwiches, low carb lettuce wraps or as a dip with crackers. Each ½ cup serving has 78 calories, 2 grams of fat and only 2 Weight Watchers POINTS PLUS.
1 tablespoon hot buffalo wing sauce (I like Frank's Red Hot sauce), see shopping tips
A little cracked black pepper
2 (5 ounce) cans white meat tuna, packed in water and drained
¾ cup celery stalks, diced small
⅓ cup carrots, diced small
1. Prepare The Best Skinny Ranch Dressing or use your favorite store bought light ranch dressing.
2. In a medium bowl, add drained tuna. Mash with a fork until flaky. To the tuna, add ranch dressing, hot buffalo wings sauce, black pepper, celery and carrots. Mix well until completely combined.
3. Store leftovers in a covered container in the fridge.
Shopping Tips
I like to use sandwich thins when making sandwiches. Many brands can be found in most supermarkets. One sandwich thin has 100 calories, 1g fat, and 5g fiber.
I like Franks Red Hot Original sauce for this recipe. Many hot wings sauces are way too spicy for my taste. This one is just spicy enough. You'll find it in most supermarkets where Tabasco and other hot sauces are sold. Or, use your favorite sauce.
Serving Tips
To Make Sandwiches: Open each sandwich thin and spread ½ cup of tuna on the bottom of each. Top with 1 large slice of tomato. Top each with remaining half of sandwich thin. Makes 5 sandwiches, each ½ cup tuna salad.
To Make Lettuce Wraps: Top each lettuce leaf with ¼ cup tuna salad and spread a little over the leaf. Top each lettuce wrap with a slice of tomato. Makes 10 lettuce wraps, each ¼ cup tuna salad (If serving for a meal, 2 lettuce wraps per person).
You can also serve as a dip with crackers.
Weight Watchers (old points) 2
Weight Watchers POINTS PLUS 2
SKINNY FACTS: for ½ cup buffalo tuna salad
78 calories, 2g fat, 2mg chol, 11g prot, 4g carbs, 1g fiber, 446mg sod, 1g sugar