Cookies, blondies in particular, are one of my guilty pleasures. I couldn't resist creating a healthy blondie recipe with less sugar and more fiber. I am not a fan of dry and crumbly cookies. To avoid this, I included applesauce as an ingredient, which creates a moist texture. To my surprise, even my kids thought they were good. I decreased the sugar content and added honey to provide just enough sweetness. The oats and chia seeds add a healthy amount of fiber. Chia seeds also offer omega-3s, protein and calcium, making these decadent cookies a healthy snack or breakfast bar on-the-go.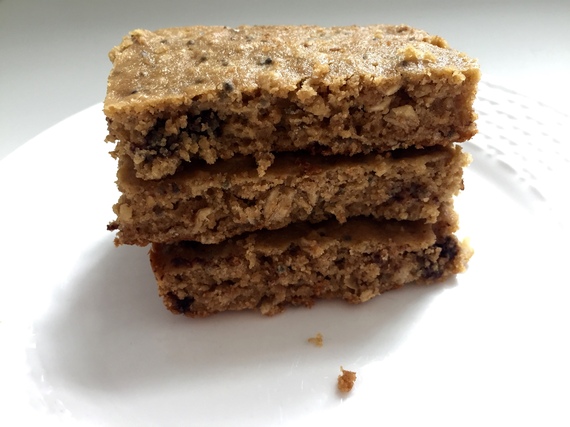 4 tablespoons butter, softened
½ c dark brown sugar
1 c applesauce, unsweetened
1/3 c honey
2 eggs
1 teaspoon vanilla
1 c oat flour
¼ teaspoon salt
1 teaspoon baking powder
1 c rolled oats
2 teaspoons chia seeds
1/3 c semisweet mini chocolate chips
1. Preheat oven to 350 degrees. Line a 9x9-baking pan with parchment paper and lightly coat with cooking spray.
2. Using an electric mixer, blend together the butter and sugar until smooth. Add the applesauce, honey, eggs, and vanilla, and beat until combined.
3. In a separate small bowl, whisk together the oat flour, salt, baking powder, and oats.
4. Add oat flour mixture to the wet ingredients until just combined. Then fold in the chia seeds and chocolate chips.
5. Transfer batter to the prepared baking pan.
6. Bake until golden (approximately 25 minutes) or until a toothpick inserted into the center comes out with just a few moist crumbs.
7. Allow pan to cool completely before cutting into squares.