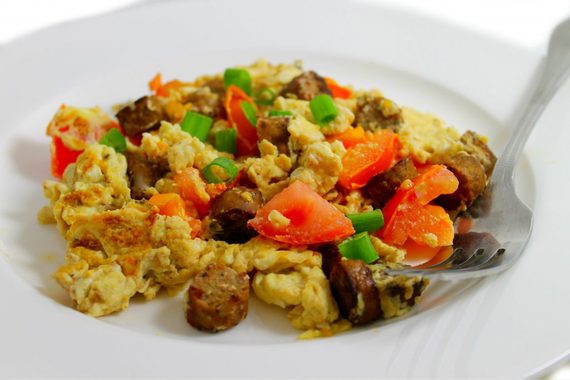 Here's a really great, high protein breakfast and very easy to make. So quick, you can enjoy it any day of the week. It's much skinnier since using a combination of one egg and 2 egg whites plus 70% less fat breakfast turkey sausages. It's also gluten-free, Paleo and dairy-free. Each serving has 202 calories, 8 grams of fat and 3 Weight Watchers SmartPoints.
2 breakfast links, Johnsonville breakfast turkey sausages, sliced into pieces, see shopping tip below
1 egg, I like Egg-Land's Best
1 cup tomatoes, chopped with liquid drained
Salt and pepper, to taste
1 tablespoon scallions, for topping (optional)
1. Coat a small, nonstick pan with cooking spray. Add sausage pieces and cook, stirring often, until browned. About 3 minutes.
2. In a small bowl, whisk together egg and egg whites. To pan of browned sausages, add eggs and tomatoes. Scramble together until eggs are cooked. Season to taste with a little salt and pepper. Sprinkle scallions on top, if desired.
3. This recipe serves 1 but it can be easily doubled, tripled and so on.
Shopping Tip
I love Johnsonville fully cooked breakfast turkey sausages. They have 70% less fat, no fillers or msg. Each link has only 35 calories and 2 grams of fat. You'll find them at most supermarkets in the same section where other sausages and bacon are sold. They can be stored in the freezer, if you aren't using them very often.
Weight Watchers SmartPoints 3
Weight Watchers POITS PLUS 5
SKINNY FACTS: for 1 serving
202 calories, 8g fat, 2g sat. fat, 205mg chol, 23g prot, 11g carbs, 2g fiber, 576mg sod, 0g sugar
FACTS: for SmartPoints
164 calories, 2g sat. fat, 0g sugar, 21g protein
Note:
1. The nutrition facts were calculated on Spark People.com.
2. The Weight Watchers SmartPoints and Points Plus were calculated on CalculatorCat.com.
For more Skinny Kitchen recipes, please join me at: http://www.skinnykitchen.com
Follow Nancy Fox on Facebook: https://www.facebook.com/SkinnyKitchen
Follow Nancy Fox on Twitter: www.twitter.com/skinnykitchen
Follow Nancy Fox on Pinterest: http://www.pinterest.com/skinnykitchen/
Follow Nancy Fox on Twitter: www.twitter.com/skinnykitchen
Popular in the Community