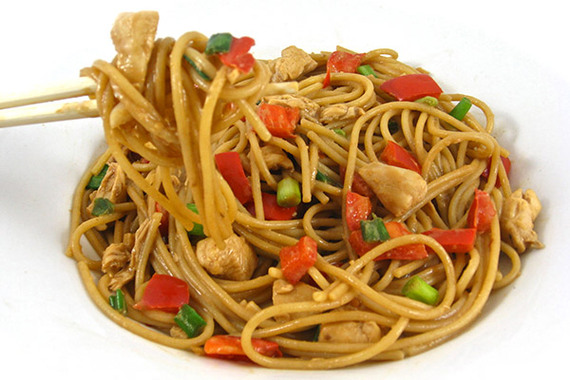 I'm sharing one of my all time favorite dishes and it's so popular on Skinny Kitchen! I love any kind of Asian noodle dish, especially a Thai one that includes peanut butter. It's very filling and satisfying when added to a noodle dish. The skinny for each fiber rich serving, 290 calories, 8 grams of fat, 7 grams fiber and 7 Weight Watchers SmartPoints. It's simple to make and simply amazing!
Prep Time: 15 minutes
Cook Time: 15 minutes (including pasta)
6 ounces whole grain or whole wheat dry spaghetti
¼ cup reduced sodium soy sauce
¼ cup reduced-sodium chicken broth
3 tablespoons peanut butter, I used natural, chunky
1 tablespoon fresh lime juice or vinegar
2 teaspoon ginger, from a jar, see shopping tips
½ teaspoon crushed red pepper flakes
1 cup cooked chicken breast, shredded or chopped, see shopping tips
1 red bell pepper, cut into thin bite-size pieces (1 cup)
3 green onions, bias-sliced into ½-inch pieces
2 tablespoons finely chopped peanuts (optional)
1. Cook pasta according to package directions; drain.
2. Meanwhile, in a large pan, combine soy sauce, broth, peanut butter, lime juice, garlic, ginger, and crushed red pepper. Cook and stir over low heat until peanut butter melts. Add chicken, red bell pepper and green onions. Mix well and continue to cook until chicken is heated. Add cooked pasta and toss to coat.
3. Divide among 4 plates. If desired, garnish with chopped peanuts.
Makes 4 servings (~1½ cups each serving)
Shopping Tips
Trader Joe's sells packages of cooked, sliced or chopped chicken breasts that are really tasty. If you buy a cooked chicken from the supermarket, be sure to remove the skin before chopping and adding to this dish.
Chopped or crushed ginger, in a jar, can be found in the produce section near garlic, in a jar.

Vegetarian Tip
Leave out the chicken and use vegetable broth in place of the chicken broth and this dish becomes a yummy vegetarian dish.

Weight Watchers SmartPoints 7
Weight Watchers POINTS PLUS 7
Weight Watchers (old points) 6
SKINNY FACTS: for 1 serving (about 1½ cups) not including chopped peanuts
290 calories, 8g fat, 1g sat. fat, 23mg chol, 20g protein, 38g carbs, 7g fiber, 675mg sodium, 2g sugar