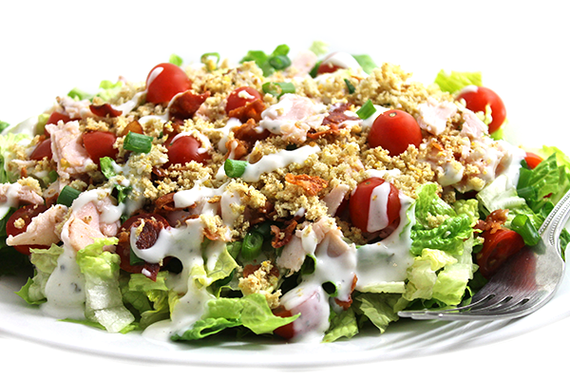 The delicious flavors of a bacon, lettuce and tomato sandwich in this huge, main course salad. To make it heartier, I've included lean turkey in addition to the bacon, tomatoes and lettuce. It's topped with my skinny ranch dressing and toasted, homemade bread crumbs. Pure yumminess!!! Each salad has 247 calories, 5 grams of fat and 5 Weight Watchers SmartPoints. This has become my "go-to" salad!
2 bacon strips, see shopping tips
½ slice multi-grain bread or whole wheat bread, see shopping tips
4 cups romaine lettuce, chopped
2 ounces cooked turkey breast (luncheon meat), diced
1 tablespoons scallions, chopped, if desired
1. Cook bacon-Line bottom of a microwave safe plate with paper towels. Place bacon on top and cover with paper towels. Cook in microwave for about 2-3 minutes, until bacon is crispy. Cool slightly and crumble.
2. To make bread crumbs-Toast bread. Add toasted bread to a blender and grind into crumbs.
3. Add chopped lettuce to a dinner plate. Top with turkey, tomatoes, scallions, and crumbled bacon. Drizzle dressing over salad and sprinkle bread crumbs on top.
Makes 1 main course salad. This recipe can easily be doubled, tripled and so on.
Shopping Tips
I've combed the supermarket shelves looking for one of the leanest regular bacon choices and Oscar Meyer Center Cut Bacon is my favorite, compared to most regular bacon. It's much lower in fat and calories. Once cooked on paper towels, the fat is even lower. I calculated my Skinny Facts using this bacon.
In addition, I recently discovered a fantastic bacon called Applegate Farms Natural Sunday Bacon. It's low in fat and calories, uncured and contains no nitrites! Many supermarkets sell it. I bought mine at Vons/Safeway and Whole Foods. http://www.applegate.com/products/natural-sunday-bacon
I love Milton's multigrain bread and used ½ slice for this recipe. Most supermarkets sell it in addition to Trader Joe's and Costco. I used it to calculate the Skinny Facts. Or, use your favorite.
Weight Watchers SmartPoints 5
Weight Watchers Points Plus 6
Weight Watchers (old points) 5
SKINNY FACTS: for 1 main course salad
247 calories, 7g fat, 2g sat. fat, 35g chol, 24g prot, 26g carbs, 7g fiber, 902mg sod, 5g sugar
FACTS: for SmartPoints
198 calories, 2g sat. fat, 5g sugar, 21g protein