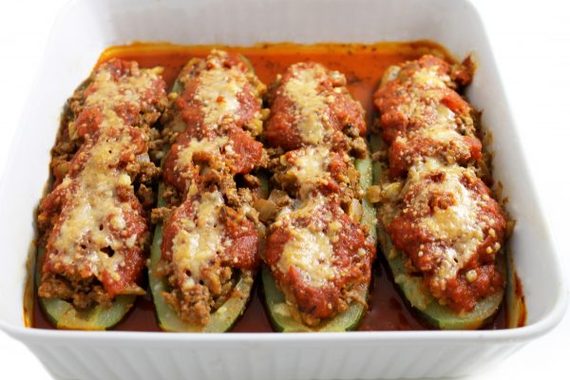 These are fantastic! One bite and you'll know why. The filling is a wonderfully flavorful, bolognese sauce. These boats are perfect for zucchini season, fresh and filling without being overly heavy. Each serving has only 187 calories, 4 grams of fat and 5 Weight Watchers SmartPoints.
2 (16 oz total) medium zucchini
1(14 oz) jar pizza or pasta sauce (divided) I used Classico traditional pizza sauce (about 2 cups)
½ pound extra lean ground beef or ground turkey
¾ cup onions, finely diced
2 teaspoons garlic, minced
½ teaspoon Italian seasonings
Salt and pepper, to taste
4 teaspoons Parmesan cheese
1. Preheat oven to 400 degrees.
2. Cut zucchini in half lengthwise. Place on a microwave-safe plate and heat in microwave for 2 minutes, to soften a little. Using a spoon or melon baller, scoop out flesh. Be sure to leave ¼ inch thick inside zucchini boats. Chop scooped out zucchini in small pieces. Set aside.
3. Place ½ cup sauce in bottom of a 9 x 9 inch baking dish. Place zucchini boats cut side up in pan.
4. In a large, nonstick pan, add ground beef, chopped and scooped out zucchini filling, onions, and garlic. Cook until beef is browned. Pour into a colander and drain any fat. Add beef mixture back to pan. Stir in ½ cup sauce. Season with Italian seasonings and a little salt and pepper. Miix well. Continue to cook about 2 minutes.
5. To fill zucchini boats: To each, add a rounded ⅓ cup beef filling, press down to set. Top each with 2 tablespoons marinara sauce. Sprinkle each with 1 teaspoon Parmesan cheese. Repeat for remaining zucchini boats. Cover with foil and bake 35 minutes until zucchini is cooked and soft.
6. If desired, top each with 1 additional teaspoon of Parmesan cheese and serve. Be sure to use a spatula to scoop out each zucchini boats to place on each plate. Add some sauce to each from the bottom of pan.
Makes 4 servings. Each serving, 1 stuffed zucchini boat.

Weight Watchers SmartPoints 5
Weight Watchers POINTS PLUS 5
Weight Watchers (old points) 3
SKINNY FACTS: for 1 stuffed zucchini boat
187 calories, 4g fat, 1g sat. fat, 15g prot, 23g carbs, 5g fiber, 646mg sod, 12g sugar
FACTS: for SmartPoints
145 calories, 1g sat. fat, 9g sugar, 13g protein
Popular in the Community