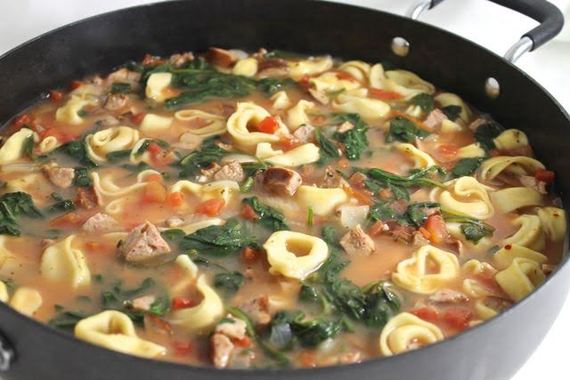 This is a really good Italian, main course soup. It comes together very quickly so you can enjoy it any night of the week. Very hearty and healthy, each huge 2 cup serving has 245 calories, 6 grams of fat and 6 Weight Watchers SmartPoints.
2 teaspoons garlic, minced
1 (12 oz) package fully cooked Trader Joe's chicken and herb sausages, cut into small pieces (or your favorite), see shopping tips
1 (48 oz) container Swanson's reduced-sodium chicken broth
1 (14.5 oz) can diced tomatoes, undrained
1 (9-10 oz) package refrigerated cheese tortellini, see shopping tips
1 (6 oz) bag fresh baby spinach
⅛-¼ teaspoon crushed red pepper flakes, to taste
Grated Parmesan cheese, optional topping
Instructions

1. In a small microwave safe bowl, add onions. Cook in microwave for 2 minutes, to soften.
2. Coat a large, nonstick pan or pot with cooking spray. Add sausage pieces, cooked onions and garlic. Cook and stir over medium heat for 2 minutes. Stir in all broth and tomatoes. Bring to a boil.
3. Stir in tortellini and return to a boil. Cook for 5 minutes until pasta is almost tender. Stir often. Reduce heat, mix in spinach, basil, black pepper and pepper flakes. Cook for 2 minutes until spinach is wilted and tortellini is tender.
4. Ladle into bowls. Top with a little Parmesan cheese, if desired. ThIs soup freezes great, too. Since the pasta absorbs some of the liquid, when reheating, you might need to add a little more chicken broth.
Makes 12 cups total, 6 main course serving. Each serving, 2 cups.
Shopping Tips
I love Trader Joe's chicken and herb sausages. They are fully cooked. So lean, they're all natural and gluten-free. Each has only 7 grams of fat. If you don't have a Trader joe's, use any lean chicken or turkey sausage. Make sure they are fully cooked.
I used Trader Joe's Cheese Tortellini. It's fresh pasta and found in the refrigerated section. Most supermarkets carry a few brands, such as Buitoni.
Weight Watchers SmartPoints 6
Weight Watchers POINTS PLUS 6
SKINNY FACTS: for 2 cup serving
245 cal, 6g fat, 2g sat, fat, 61mg chol, 21g prot, 24g carbs, 3g fiber, 989mg sod,3g sugar
Popular in the Community