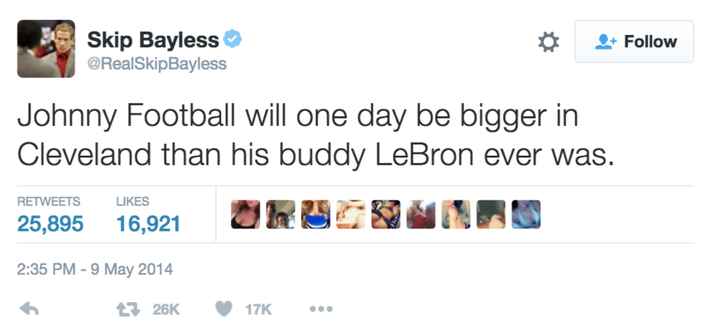 His takes weren't always first, but they were always fire. To call them simply hot, to imply they were just a tad above warm, would be to do a disservice to what Skip Bayless did, day in and day out. No: Fire. Third-degree-burn-inducing fire.
Bayless feared no opinion during his time at ESPN. He enjoyed the solitude of the island on which he sat -- he and his takes the closest analog the world has ever seen to a real-life version of Chuck Noland and his volleyball, Wilson. 
He's leaving us today, heading off into a distant planet known to many as FS1. Perhaps we will still hear what amounts to a whimper of his voice from time to time. Perhaps. But believe us when we say that he is gone now, for all intents and purposes. Cut off from his comrade-in-takes, Stephen A. Smith, and the world's largest sports microphone, ESPN. Cut off, in effect, from the cold world. 
Perhaps it is fitting that he is leaving now, fewer than 48 hours after LeBron James, the man on which Bayless built his reputation as a fire-starter, unambiguously solidified his reputation as everything Bayless believed he was not. Whereas Bayless built a career out of opinions, LeBron James has built a career on facts. And on Sunday, the fact was that James had systematically dismantled the greatest regular-season team in history to finally bring Cleveland the title he promised the city when he came home to his state of Ohio in 2014. He is beloved in Cleveland now. The true savior. Streets will be named after him. Keys to the city provided. Statues built.
Then there is this: Somewhere else in the world, whether it be in Los Angeles, or Las Vegas, or New York, or the Bay, Johnny Manziel is sitting quietly in a club, disgraced. He is not a quarterback anymore, nor currently a football player. He is only a drinker. The city of Cleveland cannot forget their former quarterback quite yet. But, oh, how it wishes it could. That is the beauty of what Skip Bayless tweeted on May 9, 2014. That is the beauty of "Johnny Football will one day be bigger in Cleveland than his buddy LeBron ever was." It is Skip Bayless' finest moment. It is his most fiery take.
Without a doubt, the only remaining question about those 15 words, strung together so lyrically for the world, is this: Do you have any doubt that Skip still thinks he could be proven right?
Calling all HuffPost superfans!
Sign up for membership to become a founding member and help shape HuffPost's next chapter
BEFORE YOU GO
PHOTO GALLERY
LeBron James Through The Years