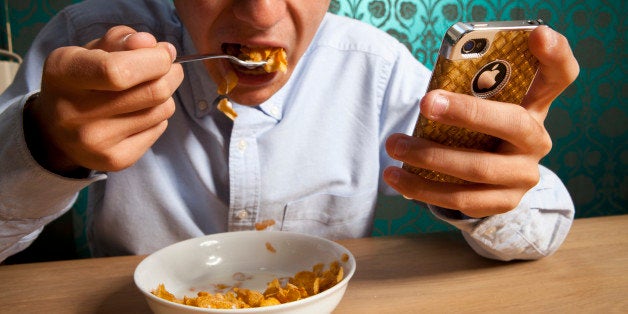 Now new findings from two randomized controlled trials are poking holes in our common acceptance of the morning meal as a panacea.
Most of the research on breakfast comes from long-term observational studies, which collect a large amount of data on the habits of individuals within the context of their daily lives. For example, researchers have discovered that people who report eating breakfast also tend to test for higher IQs -- but that's not because they did a targeted, controlled study on the connection between breakfast habits and smarts. Instead, they ran an analysis of those two data points, finding a correlation, though certainly not a causal relationship.
But in two recent, well-powered trials published in the American Journal of Clinical Nutrition, researchers directly tested the effect of breakfast on the body. They randomized the study subjects to either eat or skip breakfast while tracking things like weight loss, metabolism and cardiovascular health along the way. The difference between the eaters and the skippers? Not much.
The first trial, conducted by Emily Dhurandhar, Ph.D., of the University of Alabama's Nutrition Obesity Research Center, studied 309 overweight and obese participants who were trying to lose weight.
Over the course of four months, researchers found that both the breakfast-eating and control groups lost weight. But both eating and skipping breakfast had "no discernable effect on weight loss." One caveat: researchers didn't measure body composition -- the proportions of lean muscle mass versus fat -- which could have provided a clue about potential metabolic changes going on in the body.
The second study, conducted by James Betts Ph.D. of the University of Bath, U.K., randomly assigned 33 "lean" people to either eat breakfast (defined as a meal of 700 calories by 11 a.m., half of which should be eaten within two hours of waking) or engage in "extended fasting" (zero calories until noon).
This trial, which lasted six weeks, measured participants' metabolic rate, energy intake and other markers and found that neither eating nor skipping breakfast changed participants' resting metabolism. Their cardiovascular health was also unaffected. However, researchers did find that people who ate breakfast were more physically active overall. Breakfast eaters also maintained more stable blood sugar levels in the afternoons and evenings.
Both trials took place over relatively short time periods, and more research is needed to establish a long-term effect when it comes to breakfast. But taken together, the two studies reveal some holes in the so-called "most important meal of the day."
"This study is so simple, it's almost shocking it hasn't been done before," wrote Dhurandhar about her research, in an email to HuffPost.
"There is a widely-held cultural belief that breakfast is somewhat of a 'miracle meal,' perhaps since it does tend to pack in a lot of essential nutrients and is associated with many healthy outcomes," Dhurandhar continued. "But I think our results highlight the importance of not relying on observational evidence and testing our recommendations using methods that can determine causation, such as randomized controlled trials."
To build off her results, Dhurandhar said next research steps could include testing whether certain types of breakfast foods make a positive difference. She also said other measures like weight maintenance or metabolic health could also be taken into account in future studies. But the one thing she knows for sure now is this: "A very general 'eat breakfast' recommendation isn't adequate to have an impact on weight loss."
Nutrition researcher Leah Cahill, Ph.D., of the Harvard School of Public Health, praised the studies for opening up a dialogue about breakfast, but cautioned against people changing their morning routine based on the findings.
Skipping a meal could be dangerous for certain types of people, like children or people with hypoglycemia, said Cahill. Secondly, both studies had very short trial times, especially in the context of diets and weight loss (most people who lose weight end up gaining it back, which highlights the need for long-term studies).
Cahill herself published a correlative breakfast study in 2013 showing that eating breakfast was associated with significantly lower coronary heart disease. Cahill's study observed more than 26,000 men over 16 years, and she doesn't feel that the two new trials necessarily negate her findings.
"These two studies show that this is an area of research for which there is great interest and much need," said Cahill. "For example, we still do not know what the optimal number of times in a day to eat is!"
Betts, the researcher of the second study, agreed with Cahill: just because his trial may fly in the face of some widely held assumptions or correlative study findings, that doesn't mean the correlations will turn out to be incorrect.
"I'm not surprised when a randomized controlled trial such as ours may not be entirely consistent with or explain correlations," wrote Betts to HuffPost. "However, I don't think the findings of this paper are necessarily inconsistent with cross-sectional observations either."
For instance the fact that his breakfast-eating participants were more physically active than the other group could turn out to be more healthy in the longer term, despite the fact that they were also taking in more calories because of their morning meals, said Betts.
Betts plans to do more research experimenting with different types of breakfasts: high or low fat, more or less carbohydrates and protein, or eating in certain feeding patterns.