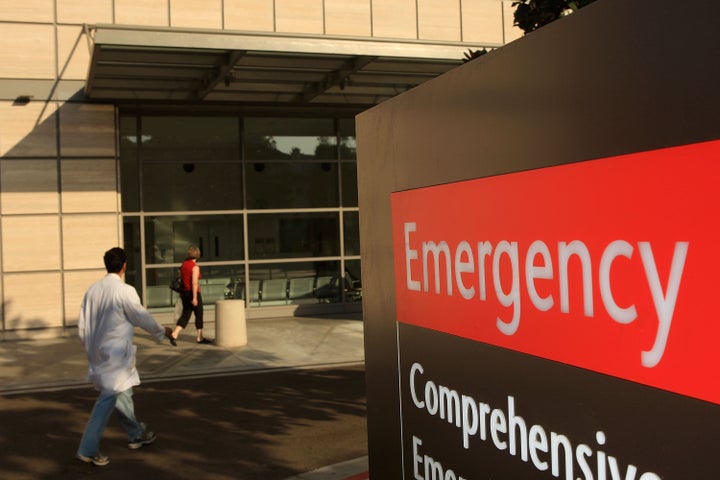 This summer's heat wave in NYC follows what was, on the medical front, a searing spring. In April, St. Vincent's Medical Center in Greenwich Village, a Catholic hospital that provided care to downtown Manhattan residents since 1849, shut its doors. In May, the city's Health and Hospitals Corporation admitted a serious lapse at Harlem Hospital Center.
The problem is that thousands of patients at that public hospital underwent echocardiograms -- specialized heart tests based on ultrasound technology -- without a doctor's formal review of the studies. The pattern of missed reports started in 2005 when hospital administrators, dealing with a dwindling number of cardiologists at the uptown facility, OKed a system by which technicians would flag tests for a physician's immediate review only when they noticed an abnormality. Otherwise they'd store the images -- pictures of the heart's contractions, wall thickness and size, valves and some large vessels -- for analysis, later.
The pile of unexamined results grew until May, 2010. According to an agency press release, that's when the situation surfaced during a routine review by Columbia University-affiliated staff. Then, a squad of cardiologists, collected from around the city, scrambled to review the images. Meanwhile, approximately 200 patients had died with tests results uncertain.
Not to worry -- officials have checked other hospitals and found no evidence for backlogs elsewhere; the problem was isolated to the cardiology section at Harlem Hospital. Key administrators and physicians there were fired or demoted, immediately. The New York State Health Department is on the case, and the state's Office of Professional Misconduct is investigating at least two cardiologists.
Since this story was first uncovered, largely through Anemona Hartocollis reporting in The New York Times, there's been relatively little said on the matter. A few commentators have voiced concern that the incident reflects the vulnerability of Harlem's poor population. Some cardiologists and others have decried the events as inexcusable. Not surprisingly, medical malpractice lawyers have expressed dismay and eagerness to help the victims.
But I think we're missing a greater point -- that the skipped heart tests mark the failing of our overburdened, financially-strapped health care system. Based on my experiences working in busy hospitals, and as a patient who's spent too much time waiting for all kinds of non-reasons, I'm doubtful that this sort of failure is limited to one department at one Harlem hospital. Rather, the incident serves as a red flag for administrators, doctors and patients throughout the country, at both public and private hospitals.
After the backlog was discovered, some doctors at Harlem Hospital said they had complained of understaffing to the administration but had been ignored. At one point, they said, the hospital was down to one cardiologist, who could not possibly review all of the echocardiograms.

Most doctors I know work long days, weekends and nights. Administrators, always with an eye on the bottom line, may not be sufficiently sympathetic to their concerns. A stressed system -- with fewer clerks, secretaries, escort workers, physical and respiratory therapists, phlebotomists, aides, nurses and other workers -- is a setup for rushed or frankly skipped work by physicians who spend too much of their time handling tasks that could be accomplished by assistants or for which additional physicians should be hired.
What's more, the kind of error that was reported -- a delayed review of a complex medical study -- doesn't just apply to cardiologists' interpretation of echocardiograms. It relates to how physicians evaluate other kinds of specialized tests. For example, it can take a while for experienced doctors to carefully review CT or MRI scans, pulmonary function, pathology results, bone marrow biopsy findings, nerve conduction tests and other studies. In the context of hectic weekday clinics, onerous weekend call schedules and residents working fewer hours, senior physicians may find themselves putting off the dictations or final reports on studies that don't seem urgent.
To avoid these sorts of errors, administrators should heed physicians' expressed concerns about their workloads. But that doesn't mean that doctors should be off the hook.
All else aside, what's striking is that thousands of tests were ordered apparently without sufficient reason that either the doctor or the patient cared enough to find out the results. Despite their daunting workloads, doctors are responsible for the tests they order. As I've said before, if doctors could think more and order less, we'd save our country's health care budget billions of dollars and spare patients from lots of unnecessary, pointless testing.
Finally, what happened at Harlem Hospital reflects, among other things, a lapse in communication between patients and their physicians. These days, most doctors do or should expect that patients will enter into discussions about their medical care and needed evaluations. If those expectations differ at a medical center such as Harlem Hospital, which serves a relatively poor and uneducated population, those separate standards reflect another problem equally demanding of our attention.
Popular in the Community