A Wisconsin town was seeing red after hundreds of thousands of Skittles ― all red ― were found Tuesday night dumped along a highway.
Now authorities say they know the cause behind the sticky mystery, but many find it hard to swallow.
In a Facebook post Wednesday, the Dodge County Sheriff's Office shared that the candy fell off of a flatbed truck. But that's not the weird part.
"It is reported that the Skittles were intended to be feed for cattle as they did not make the cut for packaging at the company," the sheriff's office shared, to mixed reactions from readers.
"Somebody must have left the unicorn's stall open!" one Facebook user wrote.
"Seriously? They feed that junk to our cattle?" wrote another.
Strangely, feeding candy to cattle is not a new idea.
During a 2012 drought in the Midwest, one rancher shared how he mixed unwanted candy with an ethanol by-product and a mineral nutrient before serving it to his animals.
The candy is said to substitute the starchy sugar content that the animals would otherwise get from corn.
"I think it's a viable (diet)," John Waller, an animal science professor at the University of Tennessee, told Live Science back in 2012. "It keeps fat material from going out in the landfill, and it's a good way to get nutrients in these cattle. The alternative would be to put (the candy) in a landfill somewhere."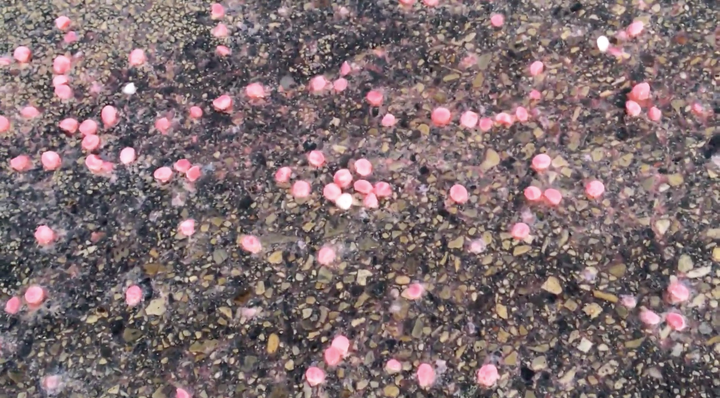 The College of Agricultural and Life Sciences at the University of Wisconsin at Madison also acknowledged the practice in a 2008 report on by-product feed. The report states that the candy ― notably chocolate ― provides "economical sources of nutrients, particularly fat." 
Ki Fanning, a livestock nutritionist with Great Plains Livestock Consulting, Inc. in Eagle, Neb., also defended the sugary feed.
"It has been a practice going on for decades and is a very good way to for producers to reduce feed cost, and to provide less expensive food for consumers," he told CNN Money.
A request for comment from a spokeswoman for Wrigley's, which produces Skittles, was not immediately returned Thursday.
Calling all HuffPost superfans!
Sign up for membership to become a founding member and help shape HuffPost's next chapter
BEFORE YOU GO