This article is part of HuffPost's Reclaim campaign, an ongoing project spotlighting the world's waste crisis and how we can begin to solve it.
America's cows are getting serious sugar highs, and there's nothing sweet about it.
On Jan. 18, hundreds of thousands of red Skittles spilled out of a truck on a highway in rural Wisconsin, CNN affiliate WISN reported. It was revealed later that the candy had been on its way to a local farm to be turned into cattle feed, instead of getting destroyed. Though this practice of feeding excess candy to animals is fairly common, a prominent food waste advocate was outraged to learn about the Skittles incident.
"Red skittles are an alarming selection for cattle feed," said Nicole Civita, a professor and director of the Food Recovery Project with the University of Arkansas School of Law and assistant director of the Rian Fried Center for Sustainable Agriculture & Food Systems at Sterling College.
"While feeding candy to livestock might reduce waste and increase economic efficiency in the food system, we have to look at what it does to the internal systems of the animals that are forced to feed on it," Civita added.
A Skittles plant in Yorkville, Illinois, chose to discard all those red candies because the signature "S" wasn't printed properly on the sugary pieces. But the plant wasn't authorized to send the candy to the Wisconsin farmer, according to Denise Young, vice president of corporate affairs for Wrigley Americas, which owns Skittles. However, other Skittles plants often do sell excess product to processors who use it to make animal feed.
"I don't have specifics, we are in the middle of investigating," Young told The Huffington Post of the incident in Wisconsin. "[The candy] was supposed to be destroyed."
Destroying excess product in incinerators, or selling it to processors are part of the company's efforts to send zero waste to landfills.
Breaking down excess baked goods and candy and feeding them to livestock actually has been common practice among farmers for a while. In 2012, corn prices surged, which drove up costs of grain-based feeds, Civita noted. Cows find the sugar in candy highly palatable, and farmers argue that it's a natural substitute for the sugars in corn.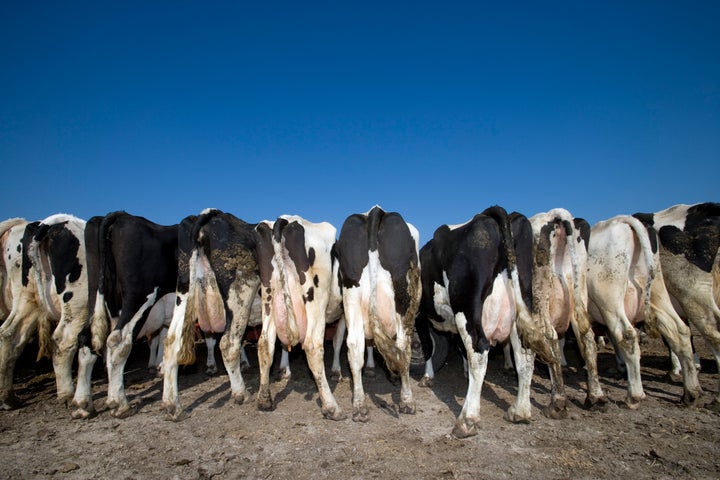 Advocates have long been encouraging incorporating more food waste into animal feed to keep it out of landfills, a process that is highly regulated by the Food and Drug Administration.
One-third of all food produced for human consumption goes to waste. That means all the resources that went into the food's production ― the water and time, for instance –- are squandered. And, when food waste decomposes in a landfill, it releases methane, an extremely potent greenhouse gas.
But Civita emphasized that even though it's important to rescue viable food, we still need to be discerning with what we feed animals. She noted that there have even been cases where animals were fed candy that was still wrapped.
"Food waste fighters might be inclined to applaud what looks, at first blush, like a legitimate food conservation practice," Civita said of repurposing the Skittles. "Suitability of using leftovers for livestock depends on the type of food, how it is processed, what it is mixed with and what type of animal it is fed to."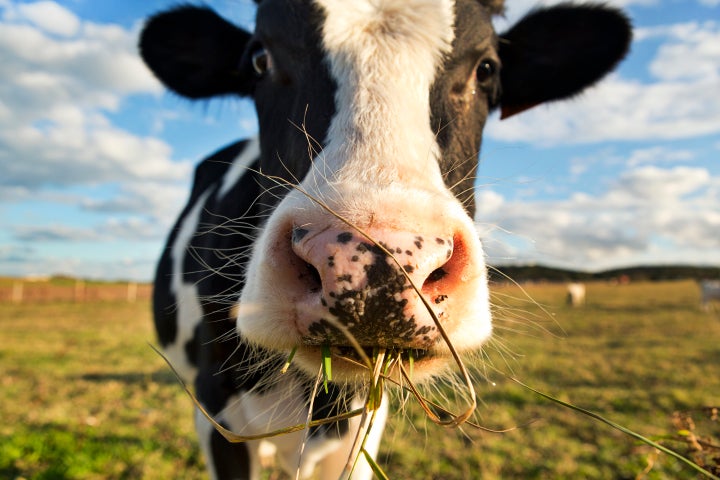 Young, on the other hand, added that Wrigley ― which also produces pet food ― would "never do anything that would put animals at risk."
While Civita hasn't seen any studies that examine the effects of candy on cows, she said it's not all that difficult to extrapolate how processed sugar could harm the animals.
It's well known that feeding cows high-energy, grain-based rations has had deleterious results, and affects their gut ecology "dramatically," Civita said. It creates an acidic pH inside cattle, which enables pathogens to adapt and survive in their bodies. Those pathogens include the "very scary" E coli, Civita noted. These pathogens can persist in the resulting food products made from cows and can survive inside the human digestive tract.
But not all experts were up in arms about the trend of incorporating candy into a cow's diet.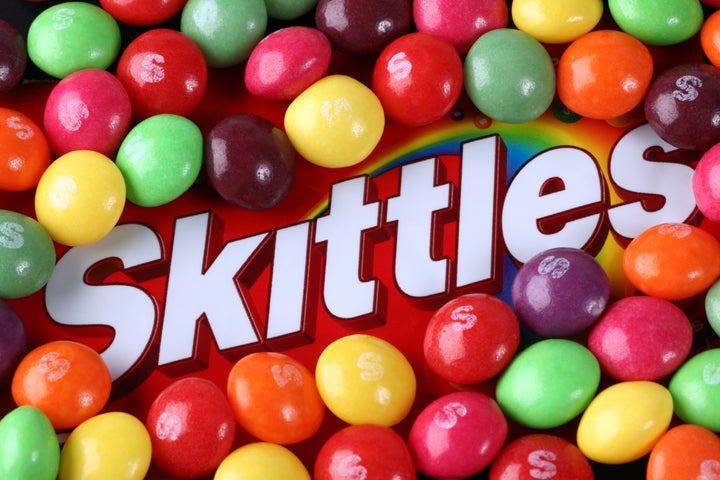 "You might think, 'Oh my gosh, they might be eating a Skittle,'" Josh Cribbs, a cattle nutritionist and director of commercial development for the American Maine-Anjou Association, told the AP. "In reality, that piece of candy is being broken down," he said.
Food52, a blog that brings together cooks to share recipes, wasn't all that concerned either about the practice.
"Historically, cattle feed can be much of anything, so long as the feed provides adequate nutrition that makes cows healthy and hearty," Mayukh Sen wrote on Food52. "Their diets can consist of citrus rinds or gummy bears, candy corn or limestone, crab guts or marshmallows."
Civita said that opinion failed to recognize the main issue at hand.
In addition to feeling concerned about the cattle's health, Civita also pointed to a number of other concerning issues this spill brought up. Hundreds of thousands of Skittles were dismissed for a measly defect, which is just one example of the abundance of excess candy in our food system.
"This raises a key question no one is talking about: What level of imperfection should companies be willing to accept in their product in service of food waste reduction at the source?," she questioned. "If the safety, taste, and texture of a product are uncompromised by a processing defect, why not sell it as is?"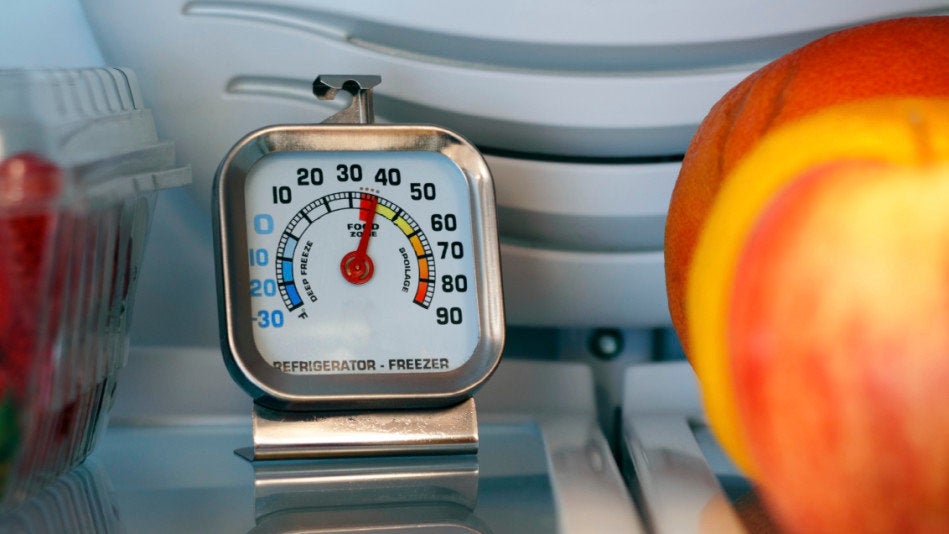 6 Tips for Eliminating Food Waste at Home
Support HuffPost
The Stakes Have Never Been Higher
Related
Popular in the Community