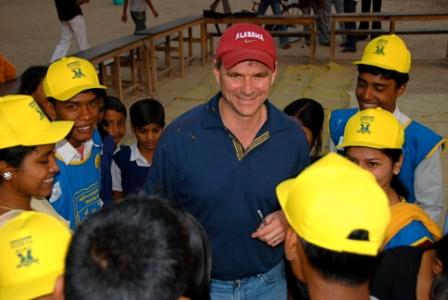 As a young girl in an African village, Esperanca became a victim of drive-through humanitarianism. Well-intentioned groups came and installed life-saving, safe water projects -- but went away and never monitored those projects to make sure they were working. So, Esperanca's source of clean drinking water, like tens of thousands of other water projects across Africa, broke and was abandoned. So were Esperanca's dreams.

She dreamed of being a nurse, but couldn't stay in school enough after hours of fetching water from open and polluted streams. Now Esperanca's not ministering to the sick; she's a barely-literate prostitute in the shadowy underworld of home brew in her Mozambique village.

Esperanca had the misfortune of living near one of the failed water projects strewn across the developing world. Even after millions of dollars of investments, about 50,000 water points, or up to 60 percent of the projects in Africa, are broken or abandoned. Throughout Asia and Latin America, it's the same.

Thank goodness those bleak statistics and Esperanca's story have become deeply personal to Ned Breslin, a lightning rod in the water world. Breslin and his young daughters knew Esperanca during the years they lived in Mozambique. "This story has always had a powerful influence on me," said Breslin.

Breslin is the CEO of Water For People, and he and his organization just received the prestigious Skoll Award for Social Entrepreneurship. Breslin spent close to 20 years doing development work in Africa, followed by five years at Water For People. Water For People has been a water and sanitation leader for 20 years and now is in 11 developing countries.

Throughout Africa, Breslin saw water pumps and projects break down, fall into disrepair, and lay like a "constant reminder of our inability to escape from poverty," as one African woman observed.

Too many of these water-to-wasteland tragedies now compel Breslin to hold up a bright -- sometimes uncomfortably so -- torch in the world water community. He's holding Water For People's feet to the flow, and has been calling for greater honesty, accountability and monitoring throughout his entire career.
"The real measure of success is whether investments last. Do water and sanitation investments lead to real and lasting change, or do they fall into disrepair once the cameras have gone and the donor reports filed?" Breslin asks. "Philanthropists can really change the world by asking harder questions like, 'Is the water system that you put in 10 years ago still working?' If you do not know, then you really can't make claims that your work is sustainable or saving lives. But if you work at it, creatively building capacity and decreasing support over time -- well after the infrastructure was installed -- then the potential for lasting change improves dramatically."
To rigorously and openly answer those questions, Breslin and Water For People have activated game-changing innovations, such as FLOW. Utilizing Android cell phones and Google Maps, FLOW helps Water For People track the status of its water projects, capturing a view of how a project is faring and how many people are adequately served.

FLOW, or Field Level Operations Watch, shares data on whether a water project is working or failing. Data from thousands of water points around the world is displayed on Water For People's online global map to signal whether a project is up and running, broken or on the verge of disrepair and needs quick action.

Donors and foundations can now see their investments in action. And drive-through humanitarianism is replaced with follow-through humanitarianism.

It's wonderful and appropriate to celebrate a water project success in any village, Breslin says. It's absolutely gratifying to see people enjoy their first drink of safe water.
"But what happens when we leave? What happens when that system has to run for a while? Are the children still smiling? Are the girls back in school? Is water flowing?" Breslin asked in a PopTech talk last fall. "Good monitoring and creating an organizational culture that focuses on lasting results, while innovating to improve the impact of the work over time, can lead to transformative change on the ground."
Breslin recently accepted the Skoll Award at Oxford University in the UK.
"For the last 20 years, Water For People has been working toward solving the global water and sanitation crisis affecting nearly two billion of the world's population," said Sally Osberg, president and CEO of the Skoll Foundation. "Ned Breslin has led the organization to become one of the most innovative NGOs tackling the challenge. By putting transparency and accountability at the heart of its programs, Water For People is demonstrating its commitment to long-lasting water and sanitation solutions and changing the business-as-usual approach to development."

There are billions of Esperancas around the world: would-be nurses, doctors, political and business leaders and humanitarians in their own right. They're calling out for a radical shift in "business-as-usual." For their sake, let's work so water flows to them far longer than at a ribbon-cutting ceremony.
REAL LIFE. REAL NEWS. REAL VOICES.
Help us tell more of the stories that matter from voices that too often remain unheard.