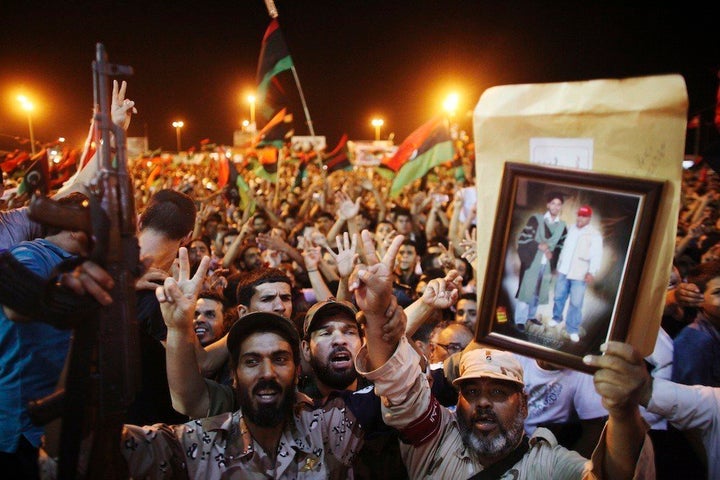 NEW YORK -- Before U.S. cable networks broke away from taped programming on Sunday, news junkies glued to Twitter for Libya updates discovered that one TV network had a correspondent reporting on air with the rebels as they headed into Tripoli: Britain's Sky News.
"Can you hear the sound? That's the sound of people celebrating," said Sky News correspondent Alex Crawford, donning a helmet and flack jacket as she reported from a moving pick-up truck.
Crawford, who had been covering the rebels in Zawiya, was the first TV correspondent to arrive in Green Square, which was quickly referred to once again as Martyr's Square, its name before the start of Gaddafi's brutal 42-year rule. Al Jazeera English's Zeina Khodr and CNN's Sara Sidner also headed into Tripoli and later reported live from the city's center, as network correspondents staying in Tripoli's Rixos hotel remained stuck inside for fear of snipers and Gaddafi loyalists still holding onto that area of the capital. Some correspondents, like CNN's Matthew Chance, appeared on air later from inside the hotel via Skype.
But it was Crawford who was able to first cover the jubilation on the ground, which U.S. viewers could watch via livestream of the UK broadcast. "This is going to be the biggest party Tripoli has ever seen," she told anchors back in London.
Crawford received heaps of praise online as the momentous story unfolded -- even from competitors. "I know I work for a rival network, but Alex Crawford's live reporting for Sky News from a rebel truck inside Tripoli is heroic journalism," tweeted CNN host Piers Morgan.
So how did Crawford do it?
Sky News executive editor Chris Birkett told The Huffington Post that the correspondent had made very good contacts with Libya's rebels while covering them in Zawiya last March, before Gaddafi's forces regained control of the western coastal city. She returned as rebels recently took over Zawiya once again.
"She had better contacts, I think, than any of the other broadcasts," Birkett said, adding that those rebel sources allowed Crawford "to make an assessment whether it was safe to go in with the rebel convoy into Tripoli."
On Sunday night, Birkett said the network was able to "lash together old technology and new technology" in order to broadcast images of Crawford live en route to Tripoli. Her cameraman, he said, used an Apple MacBook Pro that was connected to a small satellite dish plugged into the truck's cigarette lighter. "In order to keep a stable signal," he continued, "the producer sat with a compass and moved the satellite dish around" as the truck moved. "We got a constant signal for about 45 minutes live into the town."
Not surprisingly, Birkett watched his TV competitors and didn't seen any others broadcasting from the trip into Tripoli's center. "It seemed apparent to us we were the only people doing it," he said.
During the 5 p.m. EST hour on Sunday -- as Sky's livestream gained traction online, with links on the front page of The Huffington Post and other sites -- both CNN broke into taped programming to focus on Libya. Fox News, which had been live, began to also shift its focus to Libya during the 5 p.m. hour. And while MSNBC provided some updates in the early evening, the network stuck with regular weekend programming -- "Body Snatchers of New York" and "Caught on Camera" -- until 8 p.m., prompting ample mockery on Twitter. (The cable network, however, has since devoted a lot of coverage to Libya, with star NBC correspondent Richard Engel on the ground in Tripoli).
Al Jazeera English offered compelling coverage from Tripoli and Benghazi, the second-largest city in Libya and center of the six-month uprising. But since AJE is only available on cable providers in a handful of U.S. cities, viewers in the nation would have more likely been watching events unfold online.
A Sky spokeswoman said there were over 1,000 U.S. viewers watching the network's livestream -- certainly not a huge number compared to the cable networks, but one that likely included media figures and opinion makers who helped generate additional buzz online. The spokeswoman said there were over 30,000 visitors to the general site from the U.S. on Sunday and that more than half of the hits were for Libya-related stories, including videos of Crawford's reports.
But livestream aside, U.S. viewers may have also caught a glimpse of the British network's coverage on broadcast and cable networks. CBS News and Sky have a content-sharing agreement and Crawford's report appeared on the top of Sunday evening's newscast. And Fox News, a News Corp. sibling of Sky News, later took the network's feed live (although with Fox News analysts at times talking over the images).
Sky's coverage of the Iraq War aired on Fox News, too, and some of the network's coverage of the 2008 U.S. election ran on C-SPAN.
Lately, British newspapers and networks -- such as BBC's 24-hour news channel -- have stepped up efforts to increase their presence in the U.S. media landscape -- a significantly larger market than the one across the Atlantic. Birkett said he'd be pleased if Sky could attract some U.S. viewers interested in international news.

"We'd really like to make an impact in the U.S. and we've been working hard at it," Birkett said.
Correction: Fox News was live when the network shifted its focus to Libya and had not been coming out of taped programming. The change is reflected in the text above.
Calling all HuffPost superfans!
Sign up for membership to become a founding member and help shape HuffPost's next chapter