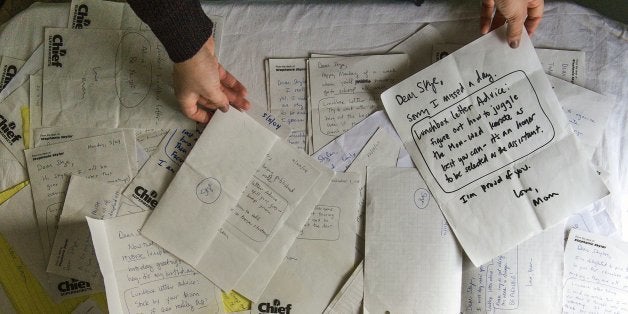 The only thing sweeter than finding a cupcake in your lunchbox is finding a loving, handwritten note.
When Skye Gould, 23, was in the sixth grade, her mother sent her to school each day with an inspiring note packed in her lunch. The notes varied in their message, but always contained a piece of "Lunchbox Letter Advice." More than a decade later, as her master's thesis for Ohio University's School of Visual Communication, Skye compiled dozens of the letters to create the website "Advice From My Mom," ABC News reported. The site shares the notes and encourages others to think about impactful advice they've received from loved ones.
"It was important to me and I loved getting them," Gould told the news outlet about the letters. "Rereading them for the first time [for the project], there were things that stuck with me that I didn't realize stuck with me."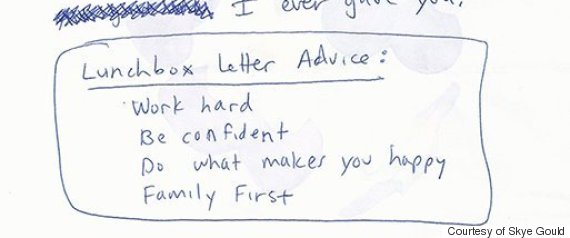 Stephanie Skylar, Gould's mom, wrote her daughter more than 100 notes from 2003 to 2004, Gould said on her website. During this period, Skylar was working full-time and the notes allowed her to feel connected to her 12-year-old daughter when they were apart, and give her confidence and advice.
"It's a vulnerable time in any girl's life. I wanted to implant positive messages in Skye's head without sounding like a nagging mom," Skylar told Today.com. "I didn't want her to fall into the pack with the others. I wanted her to be independent, strong and happy."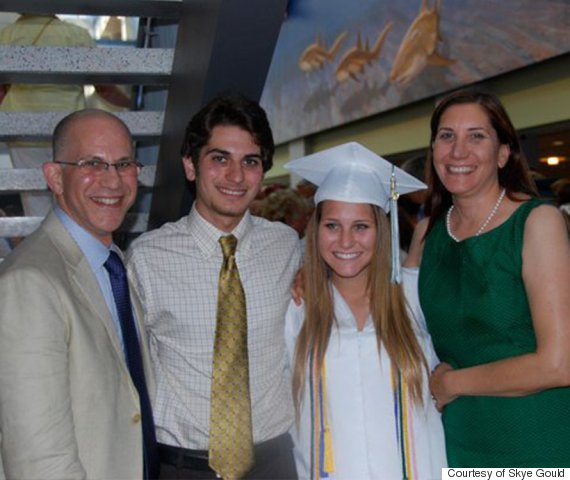 The letters were successful in their mission. Gould earned her master's degree earlier this month, according to the news outlet, and shared on her website that she is now working as a graphic designer in New York.
"She's kind and funny and it just turned out great," Skylar told ABC about her daughter's project. "Obviously those messages sunk in at some point; it just took 23 years to get it there."
REAL LIFE. REAL NEWS. REAL VOICES.
Help us tell more of the stories that matter from voices that too often remain unheard.
BEFORE YOU GO
PHOTO GALLERY
Letters from mom