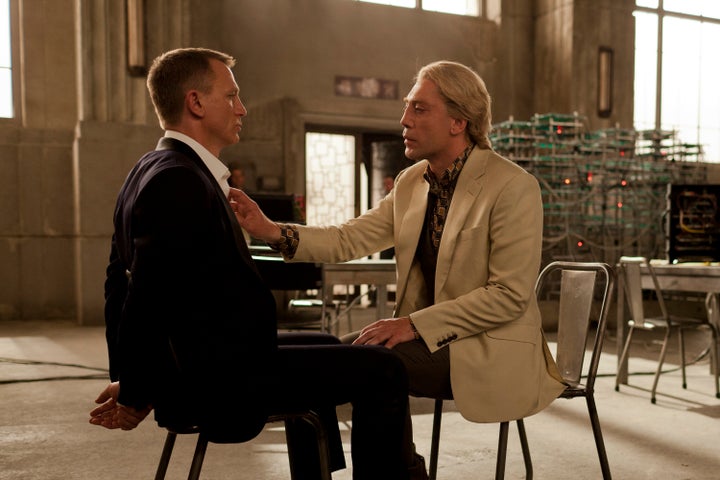 WARNING: This piece discusses the ending of "Skyfall."
Welcome to For Your Consideration, HuffPost Entertainment's weekly breakdown of all things Oscar. Between now and Feb. 25, 2013, executive arts and entertainment editor Michael Hogan and entertainment editor Christopher Rosen will chat about awards season and which films will make the most noise at the 85th annual Academy Awards.
Rosen: Well, it's official: We're now less than two months away from the 85th annual Oscar nominations. Are we having fun yet? ("Party Down" references never die.) This week felt like the calm before the storm, with "Lincoln" opening in limited release and "Skyfall" crumbling box-office records. ("Skyfall" is already over $100 million in North America.) Starting on Nov. 16, however, we're off to the races: "Lincoln," "Silver Linings Playbook," "Life of Pi," "Hitchcock," and the forgotten "Killing Them Softly" close out this month, while "The Hobbit," "This Is 40," "Zero Dark Thirty," "Django Unchained" and "Les Miserables" all arrive in December. Yet at this point, the state of the race isn't that much different than it was back in September: "Argo" is the front-runner for Best Picture, and we're all still waiting for Ben Affleck's film to falter. (I think "Lincoln" is a very strong contender, but as fellow Oscar-watcher Tom O'Neill has said, I'm not sure if many Academy members love Steven Spielberg's film as much as they respect it as an estimable achievement.)
So, what can we talk about? How about "Skyfall": There was a smattering of Oscar buzz when it first screened for critics back in October, but having finally seen the film myself, it doesn't feel like an Oscar movie. Cinematographer -- and nine-time nominee -- Roger Deakins is probably the film's best bet for a nomination, but it's hard to imagine the man behind the look of "No Country for Old Men," "True Grit," "A Beautiful Mind" and "Shawshank Redemption" winning his first Academy Award for James Bond. Stranger things have happened, though, and even "Skyfall" detractors (of which I'm one) can't fault the cinematography: This film is straight-up beautiful. (For what it's worth, Deadline.com's Pete Hammond wrote about a "Skyfall" Academy screening where the film went over like gangbusters. As the great William Goldman once said, nobody knows anything.)
The week's big news from a gamesmanship perspective was that The Weinstein Company is planning to run Christoph Waltz in the Best Actor category for his as-yet-unseen role in "Django Unchained." Couple of things here: (a) Waltz in the Best Actor category basically knocks Jamie Foxx off the list, as it's hard to envision a scenario where they don't siphon votes off each other (not that either were going to get nominated anyway in one of the most crowded categories in recent memory) and (b) TWC must be very confident in Leonardo DiCaprio's work in the film, as moving Waltz -- a previous winner for Best Supporting Actor in a Quentin Tarantino film -- clears the road for DiCaprio to earn his first Supporting Actor nomination since "What's Eating Gilbert Grape?" in 1994.
Last week, we discussed Best Supporting Actor, and the more I think about it, the more I think Oscar watcher Joe Reid was dead-on right: John Goodman is going to get nominated this year, and it will probably be for "Flight." (I saw "Flight" at an Academy screening over the weekend and Goodman's part killed in the room.) Assuming both he and DiCarpio make the cut, that leaves Robert De Niro, Tommy Lee Jones, Alan Arkin and Philip Seymour Hoffman fighting for three spots. So, does TWC put its eggs in the Leo basket at the cost of PSH?
Hogan: I think your analysis of the Waltz move is correct. The Weinstein Company is clearing a path for Leo, whom they believe has a strong chance of winning Best Supporting Actor. They'll focus their efforts for "The Master" on Joaquin Phoenix, who, despite his anti-Oscar comments and the film's general lack of buzz, still has a real shot of warding off Daniel Day-Lewis and Denzel Washington to take Best Actor.
As for John Goodman, I believe it was our own Mike Ryan who pointed out that he doesn't have a whole lot of screen time in "Flight." And do you really think the wind at his back is strong enough to toss Philip Seymour Hoffman overboard altogether? To my mind, Goodman's Harling Mays is less a character than a (very effective) device for comic relief. Whereas you really do feel for DeNiro in "Silver Linings Playbook" and, to a lesser degree, Alan Arkin in "Argo."
With regards to "Skyfall," while I agree with you that Deakins gives the most successful Bond movie ever its best chance for Oscar recognition, I have to wonder about Judi Dench. Since she plays such a big role in the film and -- SPOILER ALERT -- dies in the end, now would seem to be the time to recognize her contribution to the franchise. If enthusiasm doesn't pick up for any of the contenders for that fifth Best Supporting Actress slot, I could see dear old M sneaking in there. There's also a nascent groundswell of support for Javier Bardem as Silva, the film's flamboyant villain, but I just don't think there's room for him in the Best Supporting Actor category.
Speaking of Judi Dench, I finally watched "The Best Exotic Marigold Hotel," and I'm not exactly sure why, out of all the phenomenal actors in that impossibly accomplished cast, Maggie Smith is being singled out by so many Oscarologists. Is it because, after conditioning us to view her as a posh lady of the manor in "Downton Abbey" and the Harry Potter movies, she plays against type as a racist old bat with a Cockney accent? Or does this have more to do with her continuing awesomeness as the Dowager Countess on "Downton," which 60 percent of Academy voters presumably count as their favorite TV show?
Rosen: I get the feeling Maggie Smith is to the 2013 Academy Awards what Melissa McCarthy was to the 2011 Emmys. You'll remember that McCarthy, at the height of her "Bridesmaids" success, was a surprise choice for Outstanding Lead Actress in a Comedy for "Mike & Molly," defeating Tina Fey, Edie Falco, Amy Poehler, Laura Linney and Martha Plimpton in process. The victory felt more like a win for McCarthy's work in "Bridesmaids," however, than for her work on that junky multi-camera sit-com on CBS. So, you're right: If Smith gets nominated, it'll have as much to do with rewarding her for "Downton Abbey" as it does for "The Best Exotic Marigold Hotel."
Best Supporting Actress is a tricky category: Anne Hathaway, Helen Hunt, Amy Adams and Sally Field feel like complete locks; if those four aren't nominated, it will be one of the big surprises (and snubs) of the year. After that, it's a complete mess of "yeah, maybe her?" performances. Smith is in the "lead," I guess, but your comments about Dench have me thinking twice. She doesn't actually do a whole lot in "Skyfall" -- even her death scene is kind of meh -- but she's Dame Judi Dench, and only a fool would discount the name value she has for Academy members. (I wonder if her role in "The Best Exotic Marigold Hotel" will wind up hurting her; competing against herself and all.) Otherwise, I get the feeling we're all sleeping a bit too much on Kelly Reilly in "Flight." She's got a lot of scenery to chew with her small role, and while she unfortunately disappears in the third act, I think Reilly does hit a few big benchmarks for potential Supporting Actress nominees: She's playing an addict, she has an overdose scene and she goes toe-to-toe with Denzel Washington, whom we all assume is locked in for a nomination. If "Flight" gets a wave of support from the actor's branch -- and it might; the film is loaded with a lot of respected actors giving good performances -- maybe Reilly gets that last slot.
Speaking of "Flight": Here's why I don't think screen time matters with regard to Goodman's chances: Beatrice Straight (5 minutes, 40 seconds), Judi Dench (8 minutes), David Nivin (15 minutes and 38 seconds), Anthony Hopkins (less than 16 minutes). The Academy Awards have a history of rewarding actors for small roles (there are no small parts after all), and while Goodman only has two scenes in "Flight," what a pair of scenes! If anything, his role feels a little like Michael Shannon's in "Revolutionary Road." Shannon was nominated at the 2009 ceremony; I think Goodman turns the trick next year.
Last questions from me: Field, Daniel Day-Lewis and Tommy Lee Jones are the expected "Lincoln" acting nominees. Do you see anyone else who could break out of the pack? And is everyone discounting "Lincoln" as a Best Picture favorite when, in fact, it could have the most support of any film from the Academy's largest voting block: the acting branch?
Hogan: So, I finally saw "Lincoln" on Sunday and I would like to revise some of my earlier statements. I think Joaquin Phoenix is toast, I think you're right that Sally Field is a lock and I think the film is a definite contender for Best Picture. I also don't know what to say about Best Director, because I don't want to live in a world where Spielberg doesn't get nominated for this.
I wrote a post yesterday about the film's uncanny resonance for our political moment, but that's far from the only thing it has going for it. The ensemble cast is fantastic -- apparently, being killed off on an AMC drama is a great way to get a sweet role in the next Spielberg flick -- and the visuals are breathtaking. I'm not sure I see any other acting noms here -- are you fishing for something? -- but I think Tony Kushner's script, which had the dramatic heft and intellectual zing of the best New York theater, deserves major consideration.
And how about Daniel Day-Lewis? Maybe it was the jet lag, but I literally felt honored to be in old Honest Abe's presence. Intelligence, wisdom, humor, kindness and bone-deep sorrow emanated from his pores.
But back to Best Supporting Actress: I like your reasoning concerning Kelly Reilly. I just didn't think her performance was that strong. Though I do think she's probably better positioned than Emily Blunt, currently holding down the last slot in my confused vision for this category.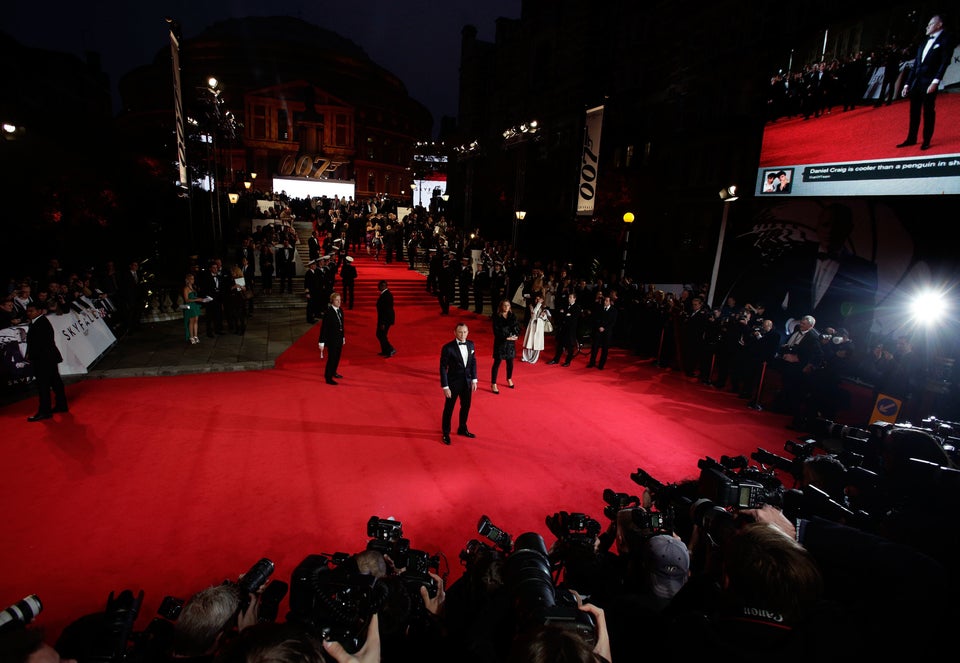 Skyfall London Premiere
Popular in the Community