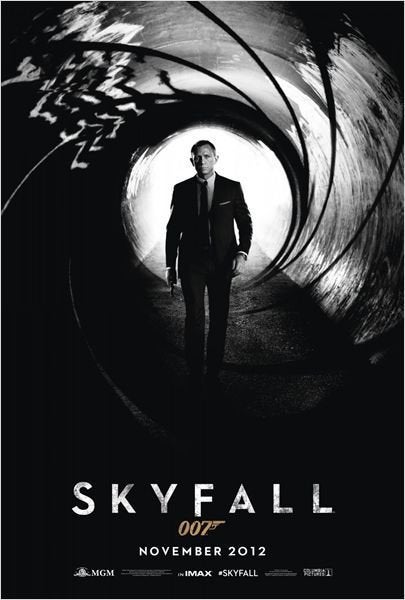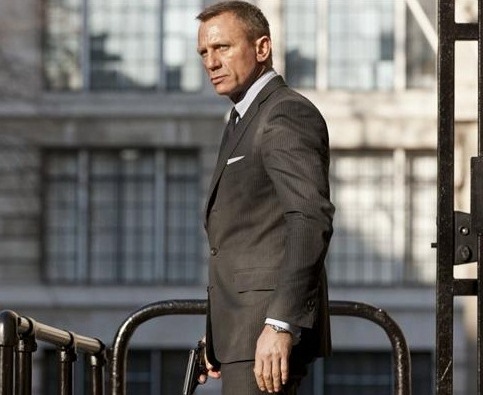 Daniel Craig looks craggier than ever in Skyfall, which is part of the film's sly, obvious-yet-effective theme. Without slowing down the intricate, explosive action that defines a Bond movie, director Sam Mendes and a sharper-than-usual screenplay create a story in which Bond is feeling his middle-age; gizmo-happy Q is a young computer-whiz played by Ben Whishaw; and in this new world where terrorist threats arrive on your hacked laptop, M -- played once more and quite touchingly by Judi Dench -- is considered an old fart.
Ha! It's not shocking to find that Bond and M still have their edge, but there are other, better surprises. Mendes handles the action expertly, but he is a character-driven director (American Beauty, Revolutionary Road) and the relationships in Skyfall are so much richer than in previous Bonds that we actually get to see his childhood home -- an isolated old pile in Scotland. In a suitable tribute to the 50-year-old franchise's own middle age, all this attention to the hero's longevity and creakiness adds a huge jolt of fresh energy. (The screenplay is credited to regular Bond writers Neal Purvis and Robert Wade, and John Logan; it's a good guess that the rewrite from Logan, who wrote Gladiator and Hugo, is what made it sparkle.)
The film sets its more somber tone with a visually striking, animated title sequence full of skulls, shadows and omens of death. Then comes the de rigeur chase sequence to open the film, with Bond racing after a villain through the streets of the Grand Bazaar in Istanbul and beyond, while his MI6 colleague Eve (Naomie Harris) drives in pursuit. Bond rides a motorcycle over rooftops, and engages in that old standard, the fistfight on top of a moving train. But the film's originality kicks in during this sequence when M has to make a crucial decision - is she willing have Eve take a desperate gunshot at the terrorist tangling with Bond, and possibly hit Bond instead?
Whatever her decision, we know that Bond is a survivor. And although Skyfall offers glimpses of his old womanizing style, focused on Berenice Marlohe slinking around a casino, it may be the least Bond-girlish film in the series' history. His real girl here is M. Theirs is a subtle, eloquently unstated relationship, in which they protect and care for each other. Craig and Dench show the value of having substantial actors, and not pretty mannequins, in the roles.
Even the major villain, Silva -- in a dazzling, eccentric turn by Javier Bardem, wearing yet another conspicuously wacko wig -- is part of the relationship story. He's the man who can lead them to a stolen thumb drive exposing the names of MI6 agents undercover in terrorist cells; he is also a former MI 6 agent frustrated at not having been valued enough by M. As he acknowledges, he and Bond are competing for Mother's affection. In a playful episode when Silva captures Bond, he also adds a gay subtext; maybe Silva desires his handsome enemy, but Bond gets the hilarious last word.
If M is Bond's surrogate mother, at his childhood home they find Albert Finney, playing the caretaker and his surrogate father. These revelations add layers to the man lurking behind the bland numbers 007.
The film gains great strength from its supporting characters, including Whishaw and Ralph Fiennes as the Chairman of the Intelligence Committee overseeing MI6, who has a few surprises of his own. (No offense to Craig, but I can easily see Fiennes as a suave Bond.) And the film looks fantastic - boldly colored yet crisp -- largely because Mendes brought along his frequent collaborator, the great cinematographer Roger Deakins.
Although some hyperbolic early reviews somehow made this sound like the new Citizen Kane, don't expect something other than a Bond film. But at a time when Mad Men and '60s nostalgia is common, Skyfall is terrific, entertaining proof that Bond can age and thrive in the world of today, even while dusting off and driving his now-vintage Aston Martin.
And if you missed Craig on Saturday Night Live with some lesser-known Bond girls -- including Fred Armisen as Penny Marshall - catch it here.
Calling all HuffPost superfans!
Sign up for membership to become a founding member and help shape HuffPost's next chapter