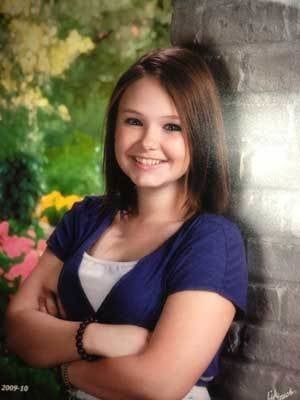 Family and friends of a teenage girl missing more than two months from Star City, W.Va., are starting to fear the worst.
The FBI joined the search Monday for 16-year-old Skylar Neese, as her loved ones tried to remain hopeful.
"She has a lot of friends and is big into social networks but has not been online since she disappeared. There has been no bank activity and her cell phone has not been turned on," Neese's cousin, Rikki Woodall, told The Huffington Post.
"She loves school. She's a great, 4.0 student who is in honors classes, so when school started and she was not in class, people started to really question whether something might seriously be wrong."
Neese was last seen on the night of July 7, when she came home from her job at Wendy's. She told her parents she was tired, hugged them goodnight and went to bed. The following morning she was gone.
When officers with the Star City Police Department took the missing person report, they acquired surveillance footage from the James Place apartments, which provided the last known picture of Neese.
In the footage, the teen climbed out of a window around 12 a.m. and got into a sedan. Authorities later determined the vehicle belonged to one of the girl's friends.
PHOTOS: (Story Continues Below)
PHOTO GALLERY
Skylar Neese
"The police interviewed the friend and she admitted she picked Skylar up that night but swears she dropped her off an hour later. The girl said Skylar was insistent that she be dropped off down the street so her friend's car did not wake anyone," Woodall said.
According to police, there is no surveillance footage of Neese returning to the apartment complex.
"We know she left voluntarily from the surveillance tape, but we have not been able to account for her whereabouts since then," Star City Police Chief Vic Propst told HuffPost.
"My department has close to 400 man hours in on this already. We have followed up on over 160 pieces of information so far and we have still not turned up any concrete leads."
Family and friends have put up posters and set up a Facebook page dedicated to finding the teen. Police have examined her online activity but have yet to comment on what, if anything, they found. The FBI joined the investigation today and is reportedly at Neese's school interviewing her friends.
According to Woodall, authorities investigated one reported sighting in North Carolina recently, but the tip turned out to be a case of mistaken identity.
"Police tracked the girl down but it was not Skylar. It ended up being a runaway that police were able to reunite with their family," she said.
Woodall said her family's concern is growing because they feel the teen would have made contact with someone by now.
"We just want to know she is safe," she said. "If she needs help, she's got people ready and willing to help her with whatever she needs."
Propst said his department is also very concerned for Neese's safety.
"The FBI, state police and every local department is in on it," the police chief said. "We're all aggressively working on it everyday."
Neese is described as a white female, 5'4" tall, 135 pounds, with brown hair and blue eyes. Anyone with information on her whereabouts is asked to contact the Star City Police Department at 304-599-3550. Neese's family is offering a $3,100 reward for information that leads to her safe return.
Calling all HuffPost superfans!
Sign up for membership to become a founding member and help shape HuffPost's next chapter
BEFORE YOU GO