Beautiful. Bright. Bubbly.
Take a glance at Skylar Stecker, and those may be the first words that come to mind.
But don't be mistaken. This fresh-faced singer/songwriter/pianist is an ambition-fueled machine, brimming with passion and ready to make herself known. Skylar's racked up nearly 300K YouTube subscribers and over 26.5 million views. Not impressed? She doesn't care. Her motto, "Go hard or go home," resonates throughout her songs, empowering other teens to do the same. In a world where image is everything and social media rules all, Skylar breaks the mold -- she's unapologetically fearless and ready to take on the world.
Skylar began writing songs around the same time she began singing, which was at the age of 9 when she entered a school talent show in her hometown of Madison, Wisconsin. She had already been playing the piano since she was five-years-old and entered the show intending to do just that.
However, the teachers encouraged her to sing instead. It was then that she discovered she actually could sing (and quite well, considering she received a standing ovation). Since then, Skylar's explored the art of songwriting, taken time to develop her voice, and has taught herself how to write soulful, beat-driven songs, often reflective of issues in her own life.
Skylar is gearing up to release her debut full-length album, out September 25th, entitled This is Me -- a mix of hip-hop-inspired beats, electro-pop synths, and R&B-laced grooves that showcase her natural grasp of melody, dynamic vocal presence, and thoughtful, yet uplifting lyrics. Her first single, "That's What's Up," sends a positive, empowering message about the importance of independence, even at a young age.
I had the pleasure of chatting with the lovely, charismatic Skylar Stecker about her debut album, her love of Queen Bee, and how a certain Mr. Cherry Cherry Boom Boom launched her singing career.
You are the youngest artist to sign with Cherrytree Records/Interscope, joining powerhouse artists like Feist, Ellie Goulding and Robyn. Pretty impressive. How did the opportunity with Cherrytree come about?
I actually had a show at The Roxy -- I was performing in L.A. at The Roxy, and it was my first concert. Martin [Kierszenbaum, Chairman of the Cherrytree Music Company, also known by his pseudonym of Cherry Cherry Boom Boom], came to watch our show and was very passionate about how much he believed in me and that he really meant it.
We had meetings with other labels, but I just knew he was the one and that Cherrytree fit me as an artist. They really get who I am -- it's the perfect match.
[Martin has been quoted as saying, "When I first met Skylar, I was immediately struck by her extraordinary vocal timbre, intonation and control. Her poise and talent for songwriting were just as remarkable. I don't think I could be more excited to welcome her to our boutique Cherrytree roster."]
That's really great that you were able to sign with such a supportive label, and have that kind of mentor to support you and your work. I understand why they were so passionate about your talent -- you definitely have an impressive vocal range.
Thank you! When producers give me beats, I'm always looking for something that builds. There needs to be a peak where I can hit those high notes and let everybody know what I can do with my voice.
And it is great to have that support, everyone's been amazing.
Is there anyone you've been compared to in the industry?
Well. I'm definitely different than most artists out there right now, especially since I'm 13. I don't think I really compare to everyone. Although I am sometimes called a "little girl with a big voice." [Laughs.] But that's not quite a comparison.
You're definitely unique, and sometimes it's hard to believe you are 13 when watching some of your videos or listening to your songs. Naturally, you gained popularity pretty quickly. In what ways has your life changed since you've discovered your talent?
Well, I grew up in Wisconsin so when I found out I could sing, I really wanted to move out to California because that was always a dream of mine. There are so many more opportunities and I knew I wanted to be a singer the rest of my life. I knew that this is what I wanted to do for sure.
We [my family] decided to move to L.A. about 4 years ago, so that was the biggest change. A change for the better. I absolutely love it here now. I started out putting covers on YouTube, but now we're trying to move away from that, converting my songs into original music, writing my own songs. It's what I've always wanted to do, so I'm glad everything's taking off so quickly! The album comes out September 25th and I'm just really excited to debut my original work.
Are you at the point where you and your label are thinking about tour dates?
We're thinking about it... We've been doing promotions here and there. We had a concert in L.A., one in New York at Webster Hall. I had a performance in Madison, Wisconsin (where I grew up) at the Overture Center, which was amazing. That was actually just a week ago.
But we're thinking about it! I hope so -- I'd love to do my own tour, or it would be amazing to be an opening act or addition to someone else's tour. So it's in discussion, but nothing's been confirmed.
What's your favorite part of the creative process? Writing, recording, performing?
I love to write. I write a lot of my own music too, so I definitely love writing. I also really love performing, because I can let loose and interact with the fans that are at my concerts.
What artists inspire or influence you as a singer? Who do you admire?
I love Beyonce. Beyonce is definitely one of my favorite artists. She's an amazing performer. I love Bruno Mars -- I think he has amazing vocal skills. And I also really love Alicia Keys. I'd say those are my top three.
What do you enjoy doing in your spare time? (Assuming you have some!)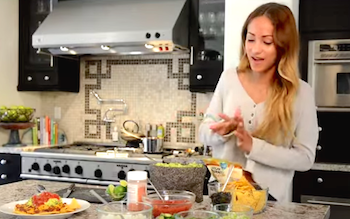 I like to cook every once in awhile, when we're not so busy. If I do have an hour or something [laughs], I like to cook for my family. I really enjoy that. I also really like to write, as I mentioned earlier. And I love to read.
Skylar making vegan nachos for Peta2.com (right)
What's your favorite book, and what are you reading at the moment?
I really like the Hunger Games, but right now I'm finishing up the Divergent series.
Do you have a favorite song from your album? One you love singing or performing the most?
Yeah! There's a song called "Golden Touch," which is really fun and upbeat. I also love "Bring Me Life." I did that song with two guys called Kalin and Myles. But I think they're all amazing, so it's hard for me to choose!
I'm sure, as you've put so much work into each song! Skylar, thank you for taking the time to chat today -- you are such a talented singer and I look forward to hearing your album!
Thank you so much, Lauren!
Check out Skylar's lyric video for "That's What's Up" below or listen on iTunes!
Special thanks to ID-PR and Cherrytree Records/Interscope for the opportunity.
Calling all HuffPost superfans!
Sign up for membership to become a founding member and help shape HuffPost's next chapter