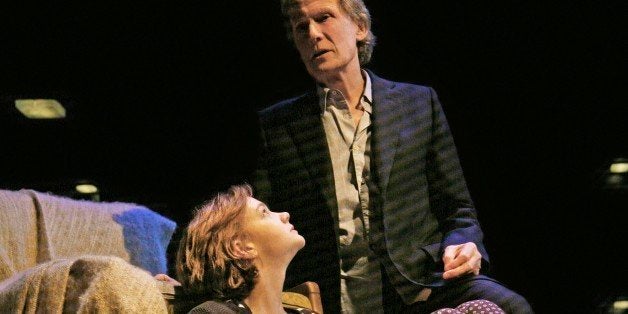 Breaking up may be hard to do, but getting back together is near impossible, though Bill Nighy and Carey Mulligan give it a game try with searing performances in a spirited and caustic revival of Skylight, David Hare's one-night stand of lovers' recriminations.
At the time of the play, the early 1990's, Kyra Hollis is living in squalid flat in a housing project from the 60's in the northern London ghetto district of Kensal Rise, teaching kids of welfare parents in a rough and rowdy school in East Ham. It was not always thus for Kyra.
As her story is teased out over the course of one cold and snowy night, she was for six years the live-in mistress of Tom Sergeant, a successful restauranteur, best friends with Tom's unsuspecting wife Alice, and surrogate big sister to his two children, a boy named Edward and his sister. Then one day Alice discovered the affair and Kyra left the next day.
The lights come up on Kyra, superbly and subtly played by Mulligan, arriving home from another frustrating day in the classroom with a pile of blue books to grade and a couple of bags of groceries. To her surprise she is followed in by Edward, now 18, whom she has not seen since she walked out on his dad three years ago.
Edward has brought Kyra some beer and several CD's of the new rap music that is becoming so popular, and through a ferocious and strained diatribe against his father, during which it is learned that Alice died a year ago, manages to get out the one question he wants to ask Kyra after all these years: "Why did you leave?" Kyra evades it with the aplomb of a politician.
No sooner has she seen Edward out the door than her buzzer frantically rings. This time it is Tom himself, in an intense and energetic performance by Nighy, and he arrives with a bottle of Scotch and a swagger. He has some questions of his own, though he may not like Kyra's answers.
Hare is one of the theater's more literate writers and Skylight is almost a staged debate on issues ranging from socio-economics to the welfare state to what was once called the generation gap, and he gives each side its point and counterpoint. The dialogue is brimming with wit and passion and full of clever lines everyone wishes he or she could come up with in the heat of argument. But at the heart of Skylight is the nature of love and the foundation on which it must be built if it is to last.
The structure of the play is like that of a Romantic sonata, scored mainly for cello and violin but with a viola in the first and last movements. Even the direction of this new staging could have musical notations in the margin.
Stephen Daldry, the brilliant director who now has two plays running next door to each other on 45th Street (the other being The Audience with Helen Mirren), raises and lowers the tempo from scene to scene - furioso in Nighy's lengthy outbursts to adagio in Mulligan's and Nighy's reminisces. Even the volume ranges from fortissimo to pianissimo as their quarrels wax and wane.
There are some incongruities in Skylight. Tom's daughter, whose bicycle accident provided the catalyst for Kyra joining the family, is hardly mentioned again. It is certainly convenient that Krya has not acquired a boyfriend or even much in the way of friends in the three years since her break-up with Tom, and the timing of Edward's and Tom's visit on the same night is dramatically expedient if not entirely credible. But Daldry's cast makes one forget, or at least overlook, such problems.
Mulligan is in full control of her character from her first entrance, sniffling and blotting her nose from the cold. She is polite but cautious when she finds Edward in her flat, almost nonchalant as she listens to him rant about his dad and her former lover. She is even more circumspect when Tom shows up. In Mulligan's performance it is easy to see why Tom would want Kyra back, and she makes it easy to understand why Kyra finds a vocation in teaching kids who have little hope.
Nighy is like a caged animal as Tom, pacing Kyra's flat as he delivers one tirade after another against whatever pops into his mind. No one does glib with quite the panache as Nighy, nor can anyone be sarcastic with quite as much charm. He even pronounces the final "e" of his words. Nighy has one bit of business in pulling a chair out from under a table with his foot and then pushing it back in that virtually defines his character. It's a gesture that Mulligan brilliantly parodies later in the play.
Matthew Beard is excellent as Edward, turning a role that basically serves at the start as provider of background information into a sensitive young man for whom one immediately feels pity. He races through the opening scene like he was on speed, but by the end the audience knows he is a troubled adolescent in need of love, something he is not going to get from his father.
Bob Crowley's design, including a dismal flat with a two-gallon, wall-mounted water heater and a tiny four-hob cooker (on which Mulligan whips up a great-smelling spaghetti sauce) adds to the sense of futility that hangs over the play. There is even a small space heater much like the one Queen Elizabeth has at Balmoral in The Audience next door. It doesn't give off much heat, but Mulligan and Nighy make up for that.
Calling all HuffPost superfans!
Sign up for membership to become a founding member and help shape HuffPost's next chapter