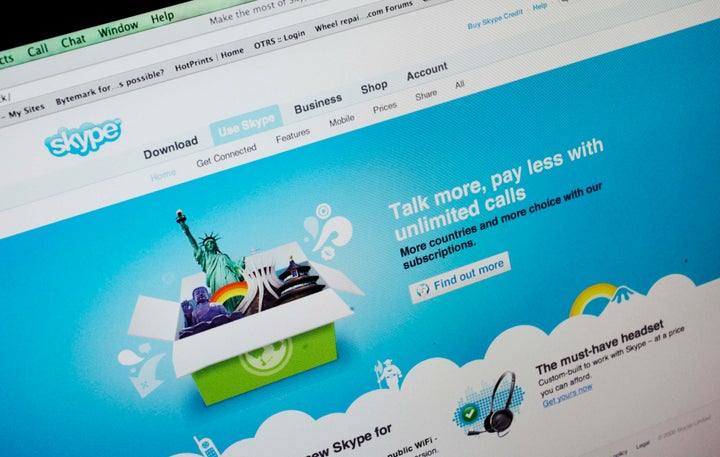 In 2003, I was visiting some business colleagues in the Netherlands when I heard of a new technology with a funny name: Skype. It was like a telephone, but you plugged it into your laptop and you could "call" other people that had the same software. I was blown away and remember quite clearly scouring the land of windmills and wooden shoes with one of my senior executives for the Dutch equivalent of Best Buy. When we finally found it I think we bought three each and flew them back safely to Canada. I bet they were the first Skype phones ever in this country.
Skype was created in 2003 at a company founded by Niklas Zennström and Janus Friis. Originally called "Skyper," it was later shortened to Skype when it was discovered that Skyper wasn't available with all internet domains. What's not widely known is that that these two guys also co-founded Kazaa, one of the first music sharing sites -- and much of the Skype code was based on this. The first public beta offering of Skype software was released in August 2003, and led quickly to updated versions for Windows, Macintosh, Linux and even the Sony PlayStation portable game device. Skype added videoconferencing options with its January 2006 Windows and Macintosh releases and forever changed what we wear in front of the computer. 136 years after Alexander Graham Bell patented the telephone, he could finally see what Watson was wearing!
Basically, Skype converts voice signals into data, sends it over the Internet from the host computer, and then restores the audio on the receiving computer. You might hear people refer to it as "VoIP" which stands for "Voice over IP". The system is free between two Skype-linked computers, and has only a small fee if the person on one end is using a conventional phone. Like standard telephones, Skype has convenience features, such as voicemail and call forwarding. Unlike standard telephones, Skype adds video -- and that's where the fun really begins.
In 2005, the world was shocked (well I was anyway) when internet behemoth eBay bought Skype outright for approximately $2.6 billion dollars. Not bad for a company with essentially no revenue. Then in May of last year, heavy hitter Microsoft came knocking to the tune of $8.5 billion dollars and snapped it up and its reportedly huge user base. I am still surprised that this wasn't a Google purchase -- signs that maybe Microsoft isn't asleep after all. Techie Buzz says that Skype claims to have 663 million registered users today but the numbers vary widely. All I know is that my mom has Skype and it has changed her world.
My mom has relatives in New Zealand that we visited in 1983. At that time, this was the only way you could actually see someone that lived half way around the world. Now they video chat all the time. Many of her snowbird friends have Skype too and regularly keep in touch although the varying time zones can be a wardrobe challenge. She is closer today with her family around the globe than ever and it has truly enriched her life. When the earthquakes hit New Zealand, she was very relieved to get a call from her cousin Faye saying that no one was hurt and she could see the relief in their faces. More and more families keep in touch with Skype than ever and it is a stellar example of a truly disruptive technology.
Now if I could only secure my mom's camera better so I don't keep seeing only the top of her head.
Related
Popular in the Community