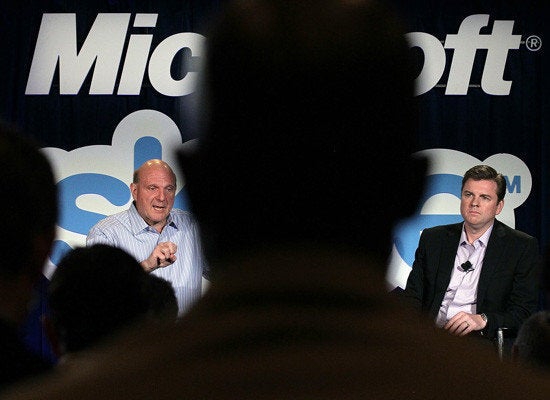 By Megan Davies
NEW YORK (Reuters) - Skype's owners, led by private equity firm Silver Lake, will make more than three times their investment - a total capital gain of more than $5 billion - on sale of the company to Microsoft Corp, a source familiar with the deal said on Tuesday.
Private equity firms can make spectacular returns on investments if timed and executed right. Such high returns can reap substantial rewards for the executives running the funds -- which typically take 20 percent of the profit.
The Skype return was made in around 18 months, a particularly short turnaround for private equity which typically invests with a time horizon of three to five years.
The internal rate of return -- a key measure for private equity investors -- was 70 percent to 80 percent, the source said. That is far higher than a typical private equity return.
Other deals which have reaped high rewards for investors include the sale of power producer Texas Genco in 2005 by TPG Capital, Kohlberg Kravis Roberts & Co, Blackstone Group and Hellman & Friedman, where the private equity firms stood to make five times their money.
The Silver Lake-led investor group bought a majority stake in Skype from eBay in 2009 -- during the credit crisis -- for $1.9 billion in cash and a $125 million note. EBay retained about a third of the company.
EBay said that it made a total return of $1.4 billion on its original investment in Skype.
"It took a lot of conviction to invest in the summer of 2009," said Egon Durban, managing director of Silver Lake. "We made the biggest investment in our firm's history and had the courage to invest. But I also believe Microsoft has a real shot at making this business worth three to four times more than even they've paid for it."
Microsoft plans to buy Skype for $8.5 billion.
Durban said that Skype fit at the "intersection of three very powerful macro trends" -- social, video and mobile communications.
He said that over the past 18 months, Silver Lake and the other investors had made achievements such as acquiring the Skype intellectual property, resolving litigation with the company's founders, recruiting a new management team, and signing up strategic partnerships with companies like Verizon, Citrix, Samsung, Panasonic, Sony and LG.
The Skype investment is one of the largest capital gains made on a private equity investment, the source said.
Improved IPO markets have meant private equity firms have had success exiting investments via the public markets, and have also found more willing buyers for businesses bought during more difficult times.
However, the higher equity markets have pushed up valuations of assets private equity firms have been trying to buy, making clinching new deals difficult.
(Reporting by Megan Davies; Additional reporting by Jennifer Saba and Phil Wahba; Editing by Derek Caney and Tim Dobbyn)
Related
Popular in the Community