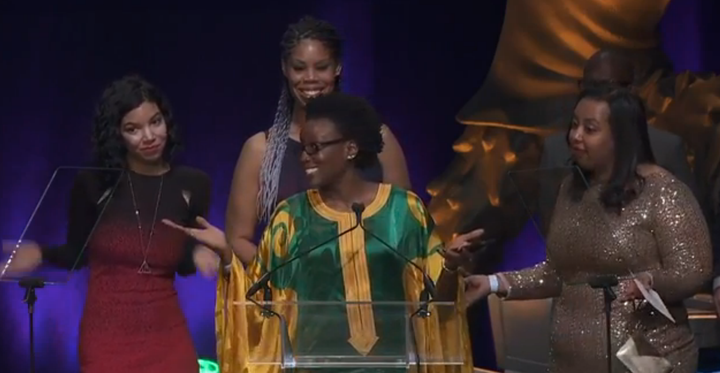 In San Francisco Tuesday night, four black female engineers from the group-messaging company Slack stood before a crowd and accepted an award on behalf of their company for fastest-rising startup of the year.
For anyone who cares about diversity in tech, it was an awesome sight to behold. 
"There are many things that are major keys to the success of Slack, not least of which are diversity and inclusion," Kiné Camara, Slack engineer and former Skype engineer, told the crowd at TechCrunch's awards show, the Crunchies. (TechCrunch's parent company is AOL, which also owns The Huffington Post.)
When it comes to hiring people of color, Slack is doing much better than most tech companies -- something Camara took care to highlight on Tuesday.
"The idea that diversity helps companies improve culture and the bottom line may be somewhat controversial," she said.
But, she noted, 9 percent of Slack's engineering team is made up of women of color -- "four of whom are up in here tonight in formation," Camara said, in a reference to Beyonce's latest anthem. "And we're the fastest-growing enterprise software startup of all time, so..."
Camara, and her colleagues Megan Anctil, Erica Baker and Duretti Hirpa, then smiled and shrugged, making their beautiful point wordlessly.
Baker, a former Google engineer and an outspoken proponent of diversity in tech, later offered up the inside story on what happened, tweeting as @EricaJoy.
Basically, she asked Stewart Butterfield, Slack's chief executive and co-founder, if he was going to the award ceremony. When he said he'd be otherwise occupied ("doing V. IMPORTANT CEO THINGS," in Baker's telling), she asked if she could accept an award on the company's behalf. Butterfield said yes.
Plenty of tech executives talk about the need for workplace diversity, but Butterfield is rare in that he actually follows through. This is evident in both the company's internal demographics and its honesty about how it can do better.
By stepping aside and letting these women speak for Slack on Tuesday, Butterfield made a strong statement about who is important at his fledgling company. He also got people talking about diversity, one of those topics that's never not relevant.
"Talking about diversity and inclusion keeps the issue front of mind for ourselves and our people," he wrote last week on the company's blog. "So we are going to keep talking about it." 
According to internal data, 43 percent of the managers at Slack are women. Nearly a quarter of its engineering staff are women, and 7 percent are black people. These are relatively impressive numbers for the industry. At Twitter, for example, only 13 percent of the tech staff are women, and black employees account for just 1 percent.
Meanwhile, 9 percent of Slack's total 370 employees are black, and 7 percent of its tech staff is black.
At Google, a much larger company, just 2 percent of the employees are black.
Even more interesting, as Camara noted, 9 percent of Slack's engineering team consists of women of color. That's a statistic that the other tech companies don't even bother reporting.
Still, Butterfield acknowledges that the company needs to do better. There aren't any women or people of color on Slack's board. "When we begin to add outside directors," he recently wrote on the company's blog, "addressing this will be an important priority."
Calling all HuffPost superfans!
Sign up for membership to become a founding member and help shape HuffPost's next chapter