Slack, the increasingly popular app for sending GIFs to your colleagues and occasionally discussing work, just made a tweak to its design.
Private and public channels are now lumped together in the column at the left-hand side of the app -- just above the list of users whom you can privately message.
"Private channels will be shown mixed in with your existing open channels alphabetically, with small lock icons next to the private ones," the company wrote in a blog post. "When the time comes to create a new channel, you'll find a new public/private toggle on the configuration screen."
The move came in response to a separate change, allowing you to privately message up to eight other people at once. 
"In Slack, there wasn't an easy way to rope in a third (or fourth, fifth—the world is your oyster. Up to eight. The world is your octo-oyster) people into a direct message conversation until now," Slack said. 
In a fast-paced work environment, you need to be able to jump quickly between different channels where your opinions are needed to enrich a conversation about a hilarious Giphy image or to help draft a daily memo. 
But the proximity should also be a reminder to slow down. You need to be careful about choosing the right channel. Happy hour discussion is hardly fit for the Greek sovereign debt crowd -- two of my channels that are now listed directly on top of one another.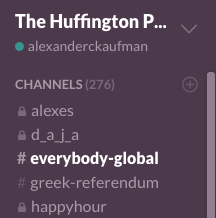 Popping the wrong message into the wrong Slack channel could be as embarrassing as, say, sending a private message to the wrong Damon. We've all been there.

Calling all HuffPost superfans!
Sign up for membership to become a founding member and help shape HuffPost's next chapter