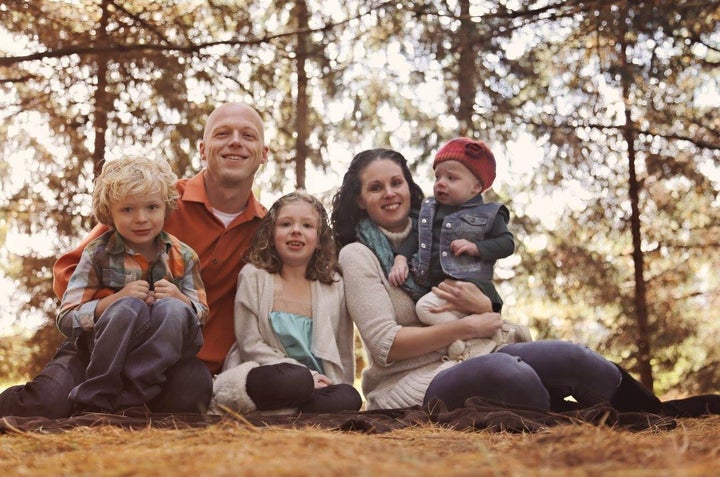 A Pennsylvania woman who was found dead alongside her three children and her husband was planning on leaving the marriage, her neighbor told The Reading Eagle.
On Saturday, police discovered the bodies of Megan Short, 33, her husband Mark Short, 40, and their three children: Willow, 2, Mark, Jr., 5, and Liana, 8. All of them had been shot, as had the family dog.
A handgun was recovered near one of the adults, as well as an apparent murder/suicide note.
Angie Burke, a neighbor who lives near the deceased family, said Megan Short had posted on Facebook about needing help moving out of her house on Aug. 6 ― the same day police uncovered the grisly scene during a welfare check. A family member had contacted police after Short failed to appear for a lunch date.
The Berks County District Attorney Office said there was a history of "domestic issues" between the married couple, but did not confirm the identity of the suspected shooter. An autopsy of the father is scheduled for Monday afternoon, and the investigation is ongoing.
"This is an apparent tragic domestic incident," the office said in a statement.
Burke said that last month, she posted a story to her Facebook wall about emotional abuse. Short commented on the link, Burke said, writing that it was the reason why she was leaving her marriage.
As The Huffington Post has previously reported, the majority of mass shootings in the U.S. are related to domestic violence. Fifty-seven percent of mass shootings ― defined as incidents in which four people were fatally shot, not including the shooter ― involve a perpetrator targeting a family member or intimate partner, according to five years of data compiled by Everytown For Gun Safety.
The New York Times analyzed mass shootings in 2015, using a broader definition of violent episodes in which four or more people were killed or wounded by a firearm, including the shooter. In 2015, it found that 31 percent of all mass shooting deaths were related to domestic violence.
Around three women a day are killed in domestic violence homicides. Advocates warn that the most dangerous time for an abused woman is when she is attempting to exit the relationship.
Melissa Jeltsen covers domestic violence and other issues related to women's health, safety and security. Tips? Feedback? Send an email or follow her on Twitter.
Popular in the Community