Katinka Herbert is an East London Based Photographer and has been documenting a very interesting subject of the Lucha Libre for an 8 year period.
Having seen Katinka's work her individual images and shoots on the subject of the Mexican wrestlers, i was driven to find out more about the girl behind the camera and about the series of images that caught my eye.
I had a chat with Katinka pre exhibition about her work and career.
You can view Katinka's Exhibition "SLAM" at the below location on the dates stated.
July 9th - July 12th
10 am - 5pm
Studio 2
31 New Inn Yard
EC2A 3EY
How did you start your career in photography ?
"I started my career chasing natural disasters - photographing the aftermath of Hurricane Mitch in Honduras for Dazed and Confused and globe trotting with my camera for newspapers (Guardian/Newsweek/Telegraph/Observer/Arise/Trace)- I continued with documenting Burning man festival in Nevada, reburial ceremonies and circumcision rituals in Madagascar.
The subject of the Lucha Libre is a jump away from the regular photo series how did you come to shooting them ?
"I was initially drawn to the sport through visual references in magazines and posters, there's something compelling about a masked wrestler. They are also phenomenal athletes and know how to work a crowd.
When I embarked on this journey to track down the first generation of Luchadores there was very little reference material available, online or in books and virtually no images of the wrestlers outside of the ring.
So, most of the knowledge I gained was first hand. On and off for 8yrs I travelled to Mexico, I stood ringside at Arena Mexico, The Coliseo, and smaller rings throughout the country, photographing the fights and dodging the luchadores as they flew above my head, out into the audience.
I watched the wrestler's train in their gyms, spent time with the kids ; the future generation of luchadores as they tackled complicated series of gymnastic moves in preparation for their careers ahead of them."
You have worked with some great names and faces - what has been the most memorable shoot ? 

"Evel Knievel in Butte, Montana, have always been a massive fan of Evel the stuntman. Was invited to the Knievel family bbq we sat outside his huge RV parked up in a trailer park foothills of the Rocky Mountains is one of my fondest/memorable times.
And also Blue Demon. He's fantastic to watch in the ring. I like to think I can be persuasive, but it took 4yrs before Blue Demon finally
agreed to let me photograph him, it was a pivotal moment for the project."
Some of the images seem to be in a personal encounters level tell me about how you came to be in those situations. 

"Haha, presume you are referring the portrait of Fabian El Gitano, I was fascinated by the levels the luchadores go to to hide their identities,
Wearing a mask propels them to superhero status, it gives them a larger than human appeal. The man or woman behind the mask is unrecognizable, a new identity can be created. They can also become whoever you wish them to be. The shot recreates a post coital scene and another where you can see the wrestler in bed getting it on still wearing his mask. I wanted to illustrate a post wrestling match pick-up/ intimate scene."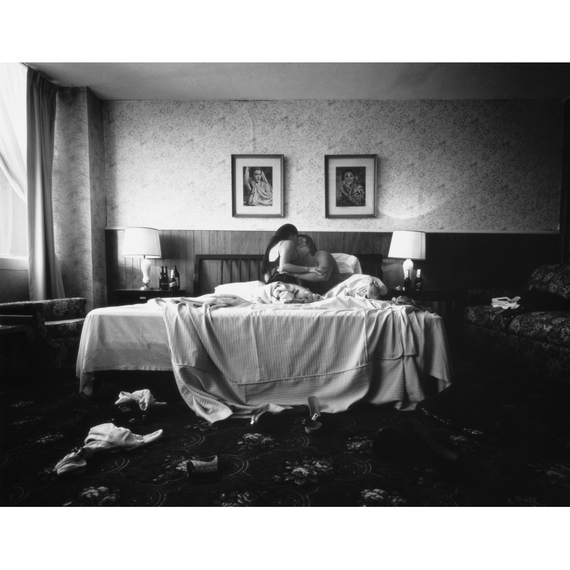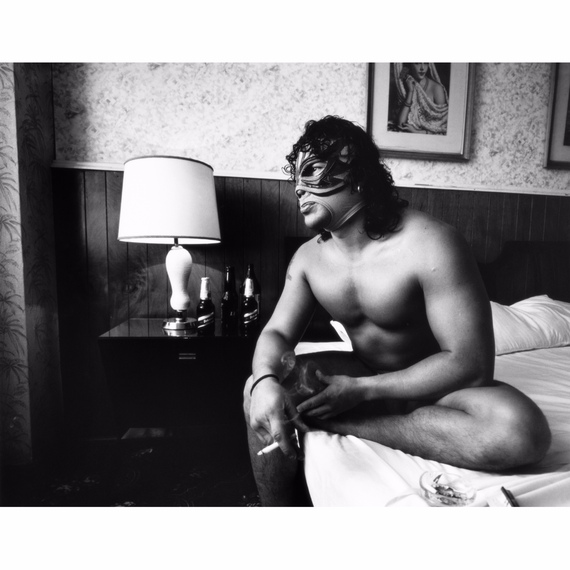 On your website you have such a range of different shoots out of all of them what is your personal favourite style to shoot ? 
"I am a fan of working on location, telling a story through an image."
Whats the time scale on the slam project from start to finish ? 

"It was a slow process, eight years. Took this long for a combination of reasons. I live and work in London, and I only managed to escape to Mexico for an average of one week per year, so you could say the images for the book were photographed over two months.
The other reason, many of the wrestlers took a lot of convincing, for them being photographed in the ring was acceptable, to be asked to do a shoot on location, to be shot masked driving a 70's muscle cars or at home in a domestic setting was an alien concept."
Out of all the 'Slam' images which one stands out to you and why ? 
"Villano IV and V playing cards in L'opera, a luchador in a mask and suit is a classic combination, wanted to create an image that was filmic and evocative of the 60's/70's."
Whats next on the agenda for you, anything people can look out for that you could give us a little insight ? 
"I Am a fan of American muscle cars and men in tights, slightly limits my choice of subjects!"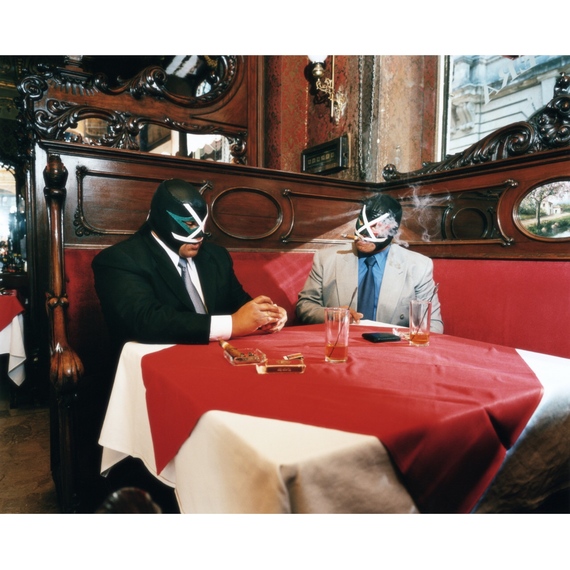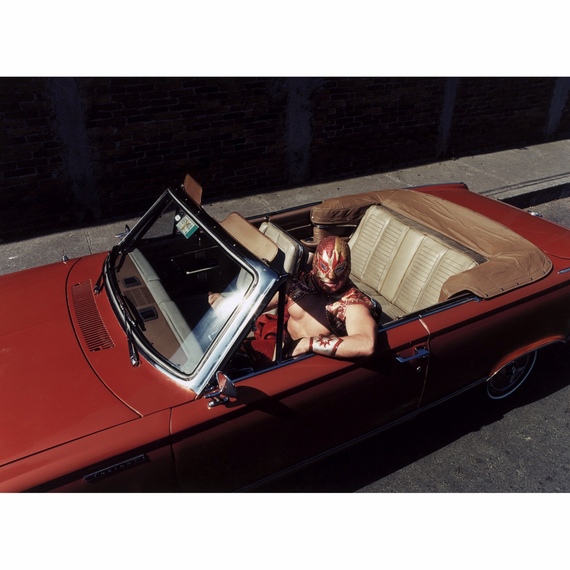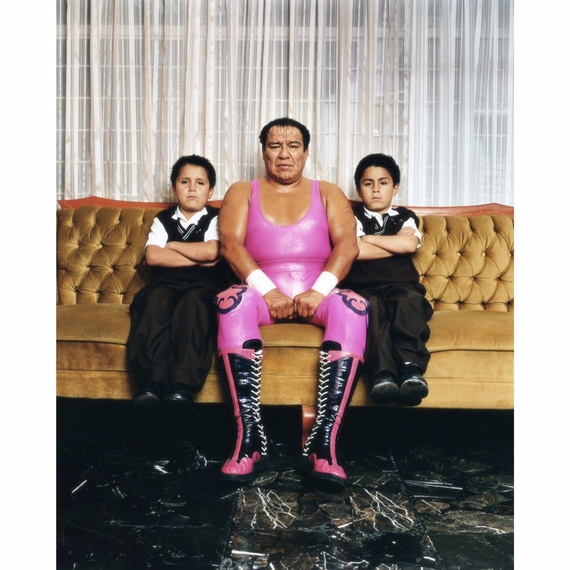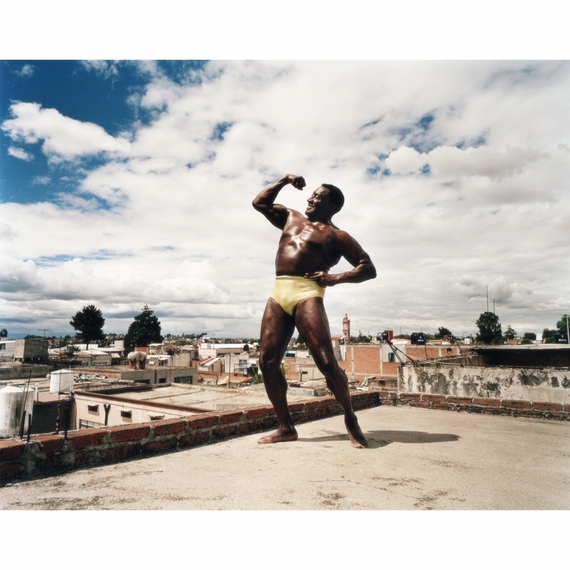 You can view more of Katinka's work on the below links.
Calling all HuffPost superfans!
Sign up for membership to become a founding member and help shape HuffPost's next chapter