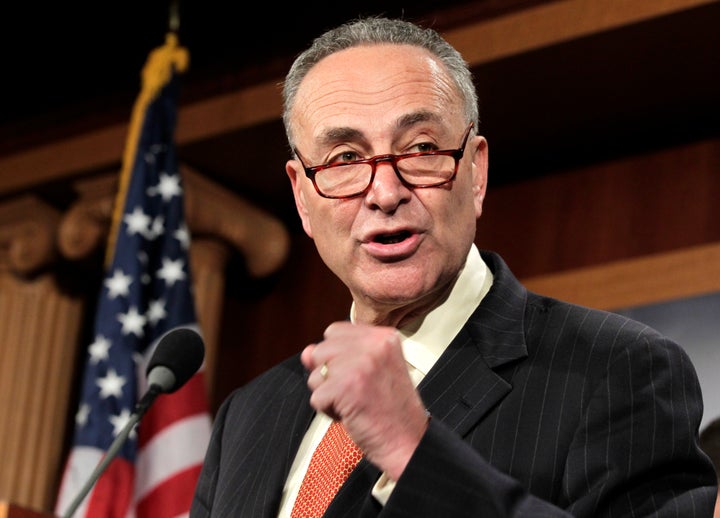 WASHINGTON -- Republicans may be slowing the recovery on purpose to hurt President Obama's reelection chances in 2012, Democratic Sen. Chuck Schumer said in a speech on Thursday.
The speech made explicit a message Democrats have been hinting at for weeks: Republicans are hurting the recovery with their focus on spending cuts, and it may be an attempt to slow "down the recovery on purpose for political gain in 2012."
"Now it is becoming clear that insisting on a slash-and-burn approach may be part of this plan -- and it has a double-benefit for Republicans," Schumer (D-N.Y.) said. "It is ideologically tidy and it undermines the economic recovery, which they think only helps them in 2012."
As proof, Schumer referenced remarks by Senate Minority Leader Mitch McConnell (R-Ky.), who said last year his main aim was to make Obama a one-term president.
"Republicans aren't just opposing the president any more, they are opposing the economic recovery itself and all that means for America's working and middle class families," Schumer said.
Republicans are doing nothing of the sort, according to a senior GOP aide, who pointed out that Obama said in a speech yesterday that "deficit reduction is important to grow the economy and to create jobs."
"While Sen. Schumer and his caucus are calling for even more deficit spending, Republicans are focused on balancing the budget and reining in the record deficits created by Sen. Schumer's caucus over the past few years," the aide said in an email. "According to the President, what Republicans are focused on will 'grow the economy.' "
Schumer laid out an alternative to the "cut, cut, cut" plan presented by Republicans, arguing Congress should take a "jobs first" approach that includes a highway bill, energy plan and national infrastructure bill. He also said Congress could create jobs by reforming the employment-based immigration system, which business leaders say is ill-equipped to attract workers.
Part of that plan would be an extension of the payroll tax cut, which the White House has floated as a possibility. Schumer said that proposal is "another example of just how far the Democrats remain willing to go to work across the aisle."
Schumer said that Democrats could take back the message if the public began to think the Republican plan was not working, which he said was already happening, using as proof the Democratic special election victory in New York congressional district 26.
"Republicans find themselves caught between a rock and a hard place, between their ideology and the reality," he said. "If the public comes to believe that Republicans are deliberately sabotaging the economy, it will backfire politically."
On the debt ceiling, the congressionally-authorized level of debt that can be taken on by the Treasury, Schumer said he thinks Democrats have an advantage over Republicans. He said House Republicans do not have the votes for a final deal to raise the debt ceiling in exchange for spending cuts, which is being hammered out between the White House and Congress.
Republicans have said they will not support a final deal if it includes revenue-raising measures, which Democrats insist must be part of a final debt-reduction deal. Schumer remained vague about the exact level of revenue-raisers, but said it was "more likely than people think" that revenues will be included.
"In the end, I think they are bluffing when they intimate they might take the economy over the cliff," he said. "So we have a good opportunity to prevail on our critical priorities down the stretch."
Popular in the Community