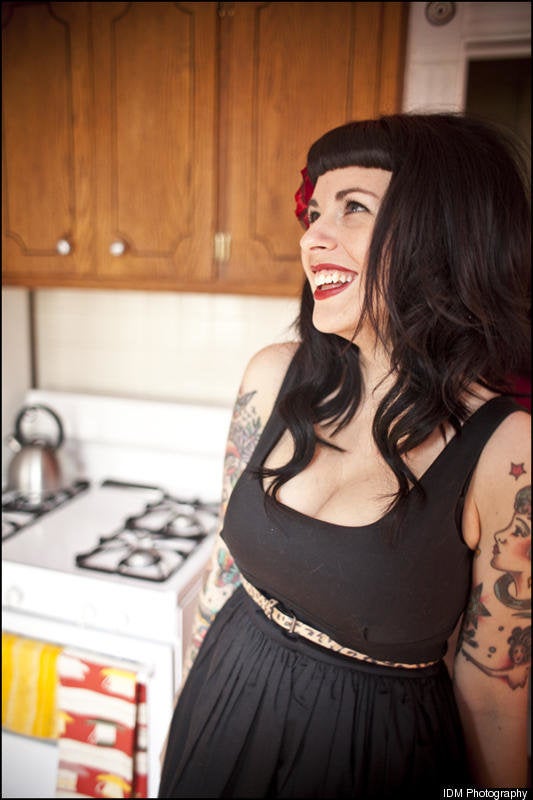 On Monday, hairstylist, food blogger and horror movie enthusiast Shannon Bucaro made some news when her boyfriend proposed marriage while standing in line at Hot Doug's. She said yes, and we found ourselves wanting to know more about the woman behind "Slash and Dine," a blog that combines cooking with horror films on BrutalAsHell.com.
Bucaro set aside some time during her busy (and exciting) week to tell us a little more about herself, her awesome Chicago wedding plans and what horror movies we need to check out before Halloween.
HP: Tell me a little about Slash and Dine. How did you get started?

SB: Well, I wish I could say Slash and Dine came to me in a dream, or more appropriately a nightmare. However, someone I used to know used to write for the column but simply didn't want to anymore. I had helped her with one of her columns in the past, so naturally I was the first person she thought of to pass the torch to. After some talking with Marc Patterson who is the editor/founder of www.brutalashell.com (the site I write for) we both agreed I was the perfect fit for the Slash and Dine column. I don't have a journalism degree, I am not a writer, I am just a girl who has a boat load of passion for the things that are important to her, two of them being the horror culture and food.
Have you always enjoyed cooking? Where do you get your recipes?

SB:Growing up in a typical Italian household there was always cooking going on. However, as a typical child I was smart about stuff. I always was intrigued by the idea of cooking and baking from scratch, but I could never let my mom know that. I mean come on now, I had bands I wanted to go see. The thought of sitting in a kitchen and making spaghetti for family dinner sounded too much like chores to me. Fast forward to adulthood, cooking has become a huge part of my day to day life. Like most people, I'll look at base recipes and then add my own swirl to it. On occasion, I'll open my cabinents and go "well that may not go together, but let's try it anyways". Some things turn out amazing . . . some the cat shudders at. In the end, there's nothing better than zoning out, going to your happy place, and making a dish come alive.
Photo by: Mike Windle Photography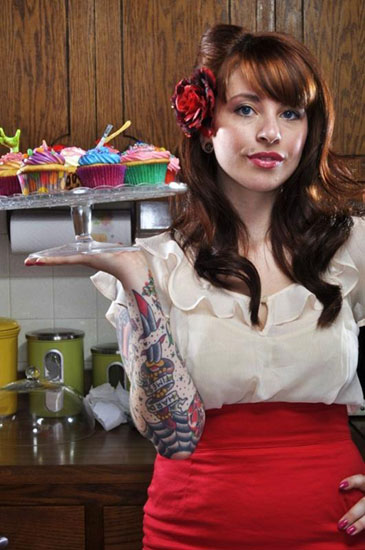 What are your five favorite places to eat in Chicago?

SB: Ooh this is always a tough one, but there are places I do frequent like it's my sole purpose in life. 1) Hot Dougs- This is an every Monday tradition come rain or shine. I have never brought anyone here who has left unhappy. 2) La Madia- A tasty Italian place that specializes in pizza downtown. I will go on the record saying I hate mushrooms, but this place must cook theirs in gold before they put it on the pizza because it is just unreal. 3) Fritz Pastry- Now, this place has a small very fresh menu and a ton of pastries both Vegan and not. It is also owned by a husband and wife team who are as cute as pie...no pun intended. 4) Chicago Diner- This is a staple for anyone who doesn't eat meat, and a place all my meat eating friends still seem to love. 5) Dawali- This is my little gem tucked away in Albany Park that does the best Mediterranean food your heart could desire.
Tell us a little about your Hot Doug's engagement (if you don't mind!)

SB: Well, I'm honestly still in shock over all of this. It was an average Monday. We both got up, Pete went to his staff meeting, and when he got home we would do our Monday tradition of meeting up with friends and going to Hot Dougs. There would be encased meats bought, and time spent harassing Doug at the counter. I guess Pete had other plans. So we're at the counter, and I'm about to order. Pete reaches in his coat and is like "Oh man I forgot something". I'm thinking, "Oh great this jerk forgot the money at home." A second later he is on his knee, ring box open, asking me to marry him. I started freaking out, turned ten shades of red, and just started yelling at him to "shut up." Poor guy had a speech planned and everything but I just kept yelling. Tears were shed, people clapped, and of course I said Yes. For those who are thinking "Proposel in a hot dog line?". Well first off, this is not just any hot dog line...this is THEE hot dog line. Also, this is the place Pete and I had our first "official" date at. The news that hasn't been shared yet though, he already has the wedding planned out too! That's right, we are getting married this Halloween at the Metro . . . in the secrect vintage auditorium. Oh, and get this, he had Doug ordained to marry us. Now let's see if I can keep my mouth shut long enough for him to get his speech out this time.

Why do horror movies and food go so well together?

SB: Horror movies and food go so well together simply because well, have you ever tried to eat something while someones arm is getting cut off and blood is squirting everywhere? Chances are no, and that's what makes my column work so perfectly. I play on the irony, I test the boundries, and I give you fun filled treats that are practical and kitschy. I make your brain think in ways that it may not normally, and I shed some light on the classics, as well as, movies that have flown under the radar. At the end of the day, It's all in fun and everyone leaves smiling.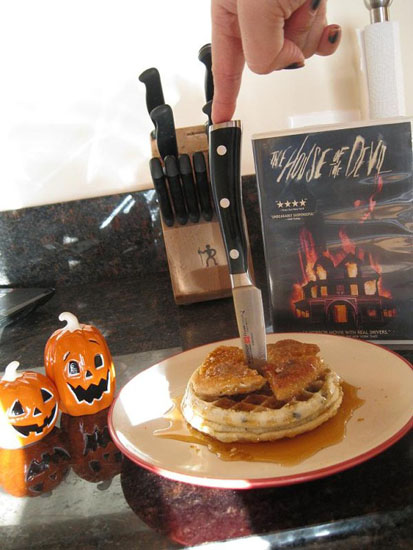 What horror movies should readers definitely check out before Halloween?

SB:That's easy. In my opinion, the two newest/best horror movies out right now are "House of the Devil" which you can find [in] my column this month. Think modern day "Rosemary's Baby." The second movie is called "Martyrs" which is a french horror movie that will just simply blow your mind. Word on the street is they are actually in the process of remaking this movie into an American version already. So do yourself a favor before they do and get your hands on the original!
Popular in the Community