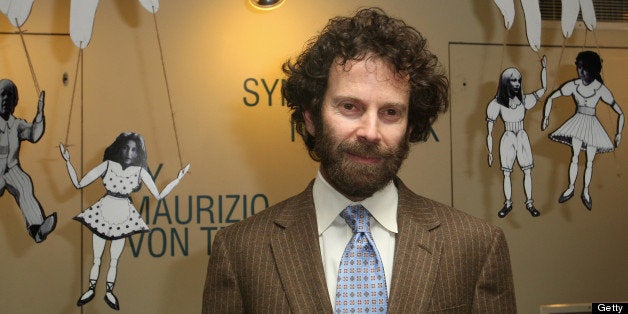 Billy Pilgrim is inching closer toward his big-screen revival, and now the long-gestating "Slaughterhouse-Five" adaptation may have found its writer in A-list scribe Charlie Kaufman.
The movie isn't quite on the horizon yet (so it goes). Director Guillermo del Toro originally hoped for a 2011 release but has been delayed because of his work on "The Hobbit: An Unexpected Journey" (he eventually left that project) and "Pacific Rim." But now, following brainstorming talks with Kaufman, the movie could be ready to move forward, pending financing from Universal.
Del Toro provided an update to The Telegraph (via IndieWire), saying:
Charlie [Kaufman] and I talked for about an hour-and-a-half and came up with a perfect way of doing the book. I love the idea of the Trafalmadorians [the aliens of 'Slaughterhouse-Five'] — to be 'unstuck in time,' where everything is happening at the same time. And that's what I want to do. It's just a catch-22. The studio will make it when it"s my next movie, but how can I commit to it being my next movie until there's a screenplay? Charlie Kaufman is a very expensive writer!
So while some details are clearly still up in the air, we're holding out hope that this will be one of film's next big dream teams. It seems a perfect fit for Kaufman, who's known for quirky scripts -- and Kurt Vonnegut is nothing if not quirky -- like "Being John Malkovich" and the Oscar-winning "Eternal Sunshine of the Spotless Mind." But it reflects a slight change of pace for del Toro, whose directorial résumé comprises entries like the "Hellboy" movies and the critically acclaimed Spanish horror film "Pan's Labyrinth."
Whatever ends up happening with the "Slaughterhouse" update, its mostly stagnant progress likely reflects the complexity that adapting the odd sci-fi story will entail. The 1972 version won the Prix du Jury award at the Cannes Film Festival and received the now-late Vonnegut's stamp of approval, yet failed to make waves at the box office upon its release. Whether del Toro's big-budget proclivities will mesh with Kaufman's idiosyncratic sensibilities as majestically as we hope is yet to be seen. Fingers crossed that everything will be beautiful and nothing will hurt.
Check out HuffPost Books' roundup of this year's page-to-screen adaptations to look for:
PHOTO GALLERY
Books to Read Before You See the Movie This Summer
Calling all HuffPost superfans!
Sign up for membership to become a founding member and help shape HuffPost's next chapter