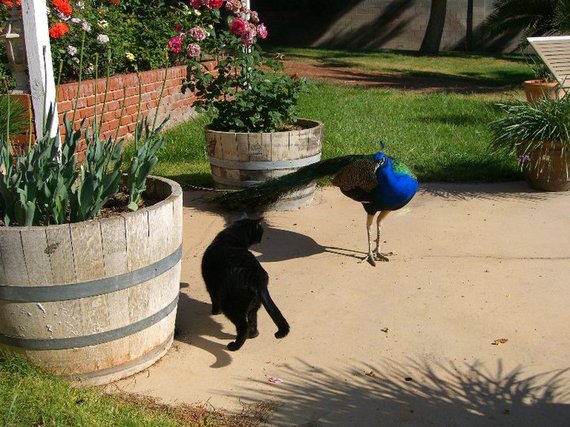 Explaining the photograph above is a good place to start. That was our peacock, Jack, coming face to face with our cat, Rasha, for the first time. We rescued Jack, as well as his peahen mother, Missy, and the result became a madcap adventure. It's not the first rescue my husband and I have been involved in, because birds, wildlife, and nature are big deals in our life. It's why the geese slaughter this past summer in Maryland still haunts us both.
In a conversation just this week the subject came up again. Someone talking about the Facebook post about the Dorchester geese slaughter that had been deleted. While people in the area are still talking about it today.
Mary Lou Simms wrote about the annual summer molt that brings so many Canadian geese into America. It is a wondrous event, especially if you're in an area where these creatures visit. Unfortunately, the geese also become vulnerable. The Dodo has written about it, too. Both of these articles focus on USDA's Wildlife Services' inhumane treatment of Canadian geese, which a 2011 McClatchy article called "an extermination program," which, by the way, taxpayers are subsidizing.
Wildlife Services is the little-known branch of the USDA deemed largely responsible for geese slaughters coast to coast. Buried under several layers of bureaucracy, Wildlife Services prefers to stay under the radar.

However, a copy of a 2010 report obtained through a Freedom of Information Act request indicates that U.S. taxpayers are subsidizing a $126.5 million program that exterminates more than 4 million wild animals annually, including thousands of geese.
When we moved from Virginia to Maryland, we picked a neighborhood that boasts of trees, paths, and lakes, including "nature areas." There are hawks, as well as ducks, and many, many geese.
In July, this past summer, when walking around the lakes, I couldn't help noticing that the geese we'd seen all spring were gone. Where were they? A few weeks later I was walking around the lakes again, this time with my husband, when a woman came out of her house trying to get our attention. She introduced herself then began a horrifying story, presenting pictures, which I recoiled from seeing because I got the message she was delivering.
Men had shown up and rounded up the geese and their goslings, ducks, and ducklings, at a moment when the birds were at their most vulnerable. The Dodo explains
Geese are models for strong family values. Canada geese are very loyal and protective to their family. They will put themselves in danger to protect the mate and their young. A goose will not leave an injured family member, and will guard the injured goose until he recovers or dies. Many people enjoy seeing the fuzzy babies -- always with the parents hovering nearby. As their habitats are destroyed by urban sprawl, massive golf courses, etc, geese families have settled in to life in the "concrete jungle."
The photo below shows a family of geese that visited us daily...until they were slaughtered.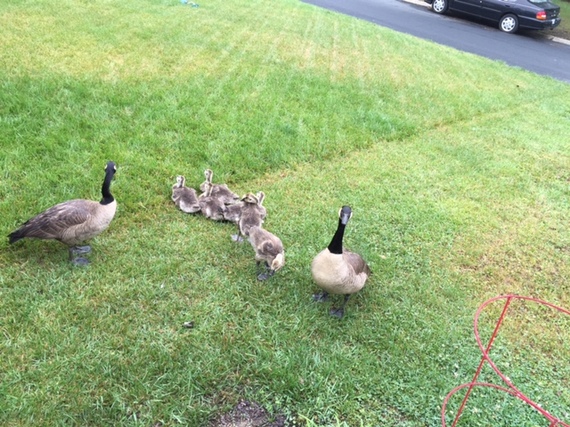 I've been reading the letters about killing the geese in Dorchester and agree with Ms. [Carolyn] Sweeney that the decision made by the St. Charles management was completely wrong ["Killing geese is setting a bad precedent," Maryland Independent, Sept. 18].

I feel sorry for the families of the community that lost such wonderful birds. The geese killed were made up of families also with male and female geese that mated for life and a brood of young geese that would follow the mother with the father following close behind as a protector...
The homeowners weren't notified and neither were renters in this area. It seems that someone gave the word, hired the crew, who came in during the workday when most people were at work and wouldn't know, rounded up the geese, goslings and duck families for slaughter, then worked to keep it as quiet as possible. Homeowners in the Dorchester community didn't rise up to any degree that I've seen, and the homeowner who had my information never got back in touch with me. In fact, once she found out we were not homeowners in the area she seemed to dismiss any effort I was showing as a journalist to expose the Dorchester slaughter.
There is something horribly wrong with a community that publicizes "nature" and "lakes," while quietly slaughtering the creatures this beautiful environment is meant to sustain.
It's not the same living in this part of "natural" Maryland.
It's beautiful, sure, but in that Stepford sort of way.
The geese are gone, and what's left to be heard through the silence is only sirens.
Calling all HuffPost superfans!
Sign up for membership to become a founding member and help shape HuffPost's next chapter