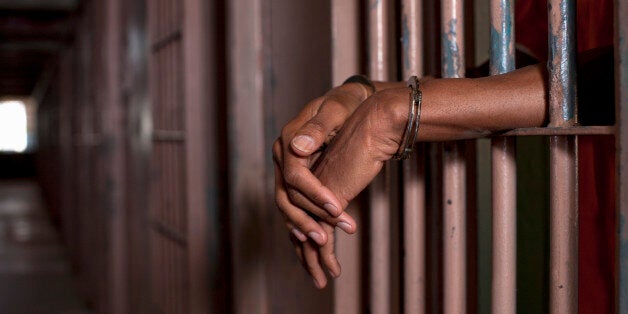 Bryan Stevenson, the nation's premier lawyer on mass incarceration and the death penalty, says slavery never ended. It just evolved.
I just spent two days with 50 other faith leaders at Stevenson's Equal Justice Initiative in Montgomery, Ala., where Bryan emphasized four basic essentials for criminal justice reform in America: 1) Proximity to those most impacted, 2) Changing the narrative, 3) Hope replacing hopelessness, and 4) Committing ourselves to uncomfortable things, because injustice is never overcome by just doing comfortable things.
We went deep underneath these issues to our foundational American history of how white supremacy served as justification for slavery, a white supremacy that continues to this day. We spoke of the narrative of racial difference, white supremacy, and the accompanying white privilege as a disease that we have all been infected with in America, and that only telling the truth about race in our country will set us all free.
Together, we made pilgrimages to two nearby sites where black men were lynched. We held memorial services in memory of their lives on the land where indifference to their humanity killed them. Under Bryan's leadership, the Equal Justice Initiative is planning memorials at every lynching spot across the country to help us remember the terrorist racial violence that sprung from and enforced white supremacy. A national museum is also being planned in Montgomery to remember and honor those untold thousands who were lynched. Soil from each site is being collected and memorialized in glass jars marked with each person's name, birth and death year, and the town of the lynching.
We pilgrimaged to a lonely spot on the outskirts of the city and another site in the town of Wetumpka. We dug dirt from the holy ground and placed it in those jars. We remembered and prayed for those lynching victims by name. It was a powerful and moving experience for all.
But perhaps the most impactful moment over our two days was a visit from Mr. Anthony Ray Hinton who spent 30 years in solitary confinement on death row in Alabama for a crime he did not commit. The story of one of the longest serving death row prisoners in the history of Alabama, despite the incredibly obvious evidence of his innocence, so clearly demonstrates the structural and systemic racial and economic injustice of our criminal justice system and its death penalty. Mr. Hinton told us his story. "I didn't do it," he told the officer who sat with him in the back of the police car. The officer replied, "Maybe not, but you'll do." Then he told the innocent man, "You're going to be convicted for five reasons: you're black, a white man will say you shot him, the prosecutor will be white, the judge will be white, and there will be an all-white jury." Hinton told us, "They knew I was innocent, but they didn't care."
Stevenson, who disproved the false evidence against Hinton, says this: "Race, poverty, inadequate legal assistance, and prosecutorial indifference to innocence conspired to create a textbook example of injustice. I can't think of a case that more urgently dramatizes the need for reform than what has happened to Anthony Ray Hinton."
As he exited the prison doors in April of this year, Hinton said: "The sun does shine." He told us that Mark 11:24 was his morning and evening coffee: "Therefore I tell you, whatever you ask for in prayer, believe that you have received it, and it will be yours."
Despite his tremendous pain and suffering over three decades, the survival and resilience of Anthony Ray Hinton demonstrates the power of God. I don't think I have ever met a man whose life better shows the reality of that power and that hope. Mr. Hinton's clarity, faith, perseverance, imagination, gift of humor, and almost unbelievable forgiveness ("I forgive those who knowingly oppressed me, not so they can sleep at night, but so that I can") were amazing to behold. His extraordinary and, I would say, miraculous story was an embodiment of the gospel that we all believe and preach. In a very special hour we spent together, Mr. Hinton showed us "the word made flesh."
In Montgomery, at the offices of EJI (in a former slave warehouse in the town that auctioned off more human lives than any other place in the South), we spent two extraordinary days of deepening and widening our understanding of "America's original sin" and how it still lingers on. It was confirmation for me that the message of our book of that same title is sorely needed throughout our nation today. It deepened my resolve to turn what would normally be a "book tour" into a "town meeting tour" to ask ourselves: What does this mean right here and right now for us in this nation and this local community?
In Alabama, we talked a lot about change and that it is never too late to do justice. As Bryan said to us all, "I have always had to believe in things I haven't seen." And that is the nature and power of Christian hope.
Popular in the Community