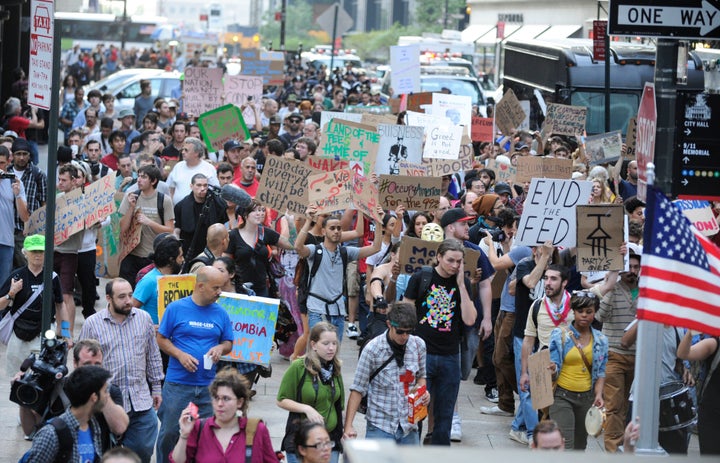 Occupy Wall Street got some Slovenian philosopher star power on Sunday, as Marxist academic Slavoj Zizek joined the movement.
"We are not destroying anything," he said. "We are only witnessing how the system is destroying itself."
Using the "Human Microphone" system, where protestors repeat back the words of the speaker so that others can hear, Zizek spoke for over an hour to the enthusiastic crowd, who whooped and cheered as he went on.
While in China, entertainment programming that depicts alternate reality and time travel has been banned, in the U.S., we have a different problem, according to Zizek.
"Here we don't think of prohibition, because the ruling system has even oppressed our capacity to dream, " he said. "Look at the movies that we see all the time -- It's easy to imagine the end of the world, an asteroid destroying a whole life, but you cannot imagine the end of capitalism. So what are we doing here?"
Zizek also advised the people to see the Tea Party as a sister movement -- "They may be stupid, but don't look at them as the enemy," he said.
But he warned the protestors against succumbing to the excitement of the immediate events instead of keeping their eye on the prize: True social change.
Carnvials come cheap," he admonished. "What matters is the day after, when we will have to return to normal life. Will there be any changes then? I don't want you to remember these days, you know like, 'Oh, we were young, it was beautiful.' Remember that our basic message is: We are allowed to think about alternatives. The rule is broken. We do not live in the best possible way. But there is a long road ahead. There are truly difficult questions that confront us. We know what we do not want. But what do we want?"
Zizek is just the latest of the prominent figures who have come to lend their voice in Zuccotti Park, alongside activists like Michael Moore, writer Naomi Klein as well as actors including Mark Ruffalo, Susan Sarandon, and Roseanne Barr.
Watch Zizek speak at Occupy Wall Street below:
Related
Popular in the Community