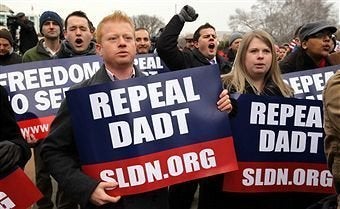 WASHINGTON -- Is it required to come out if you're a gay or lesbian service member? Is it safe for gay troops to confide in their chaplain? Which benefits will remain off limits to married same-sex service members? And if you were discharged under "don't ask, don't tell," can you now rejoin the military?
These and dozens of other questions are addressed in what is being called a "first-of-its-kind" guide to the laws and policies on military service by gays, lesbians and bisexual troops once the military's DADT ends this fall.
The 53-page "Freedom to Serve: The Definitive Guide to LGBT Military Service" was released Thursday by the Servicemembers Legal Defense Network (SLDN) and is available on the gay advocacy group's website.
But it also comes with a warning printed in bright red letters on every page. It reads, "IMPORTANT: This guide is effective upon repeal of 'Don't Ask, Don't Tell' on Tuesday, September 20, 2011. Until then, service members are cautioned about coming out publicly."
To help gay service members make the transition, the manual outlines standards of conduct, benefits that are and are not available for spouses and family members, rules for upgrading discharges made under DADT and veterans' benefits.
A recurring theme is how service members who marry their same-sex partners in the six states and the District of Columbia where gay marriage is legal are not eligible for all the benefits given to opposite-sex couples because the federal government forbids recognition under the Defense of Marriage Act (DOMA). The banned benefits for spouses includes health insurance, family separation allowances, higher housing allowances and surviving spouse benefits
The guide notes at least one "advantage" over straight married service members: "Because same-sex marriages are not recognized under DOMA, a service member who is married to a same-sex partner would not be subject to adultery charges for having extramarital sex with another 'unmarried' person."
In a section on "Transgender Service," which will still be banned after repeal, the guide offers "tips for serving in the closet."
Another section offers guidance for former service members expelled for being gay before or during DADT on how to have their discharge paperwork changed to remove negative re-entry codes that can hurt with future civilian employers and bar them from rejoining the armed forces.
SLDN, which was founded in 1993 -- the same year as DADT -- said by issuing the guide it was not signaling that its mission to overturn the policy meant its mission was accomplished.
"The work of advancing military equality marches forward after repeal," said executive director Aubrey Sarvis. "We will fight alongside those who may face harassment or discrimination as we oversee implementation; when necessary and timely, litigate in the courts to bring about full LGBT equality in America's military; advocate for legally married service members to receive the same benefits as their straight counterparts; and assist veterans to correct or upgrade their discharge paperwork."
Popular in the Community