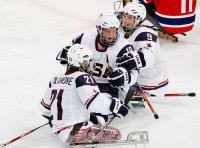 Taylor Chace is representing the United States in sled hockey at the 2014 Paralympics.
This past Friday, Feb. 28, I flew to Sochi, Russia, to represent the United States at the Paralympic Games. This will be the third time I get to wear the USA jersey as a member of the U.S. Paralympic Sled Hockey Team and it's such an honor to me. In 2006 we won the bronze medal in Torino, Italy, and four years ago we won gold in Vancouver. This year we're looking to become the first team ever to repeat as gold medalists at the Paralympics and I think we have the team to do it.
Ten years ago, I was a high school kid relearning how to walk and still coming to grips that my hockey career was over as I knew it. Thankfully, I was introduced to sled hockey, as well as the world of adaptive sports, and it changed my life. I'm now a strength and conditioning specialist at Northeast Passage in New Hampshire, which is an organization that helps disabled individuals enjoy recreation the same as anybody else.
I was injured while playing in an ice hockey game at age 16 for the New Hampshire Junior Monarchs. I was checked BACK FIRST into the lower portion of boards. I fractured two vertebrae at the T12 and L1 levels of the spine. However not only did I fracture my vertebrae but also, I suffered a spinal cord injury, which initially left me completely paralyzed from below my waste.
After major reconstruction of my spine using bone grafts and metal rods, I began rehabilitation. My initial goal was to learn to be independent in a wheelchair for everyday living. After several months of intense rehabilitation, consisting of standing, walking with assisted devices, including being harnessed over a treadmill, I slowly started to regain some use of my legs and enough to walk with a single cane.
Never in my wildest dreams, would I have imagined myself being a person in a wheelchair. I know that much of what drove me to work so tirelessly in rehab was my fear of living the rest of my life in a wheelchair. I never wasted a single minute in rehab, always pushing my body to its absolute limits. I was very angry and depressed in the initial stages, but I harnessed my emotions and injected them into my rehab and used them to my advantage.
Sled hockey has been more than just a sport for me. Sled hockey truly saved my passion for life and has allowed me to be thankful for so many reasons. I have used sled hockey as a tool to revitalize my family and our dreams, travel the world, meet two presidents, win a Paralympic gold medal and learn more about sport and myself than I thought was possible. I could have chosen to disconnect myself from the sport or thought of ice hockey forever. Instead I chose to dive even deeper into the game and look at the sport form a different view, I am grateful for the sport of hockey to have been a part of my life and I will never regret having a spinal cord injury.
This post is part of a series produced by The Huffington Post in conjunction with the Sochi 2014 Olympics. The series is part of our Impact Sports initiative, which examines the intersection of sports and social good. Many of the posts in this series critique the Russian government's draconian anti-LGBT laws, though other topics include climate change and censorship. Read all the posts in the series here.
Calling all HuffPost superfans!
Sign up for membership to become a founding member and help shape HuffPost's next chapter