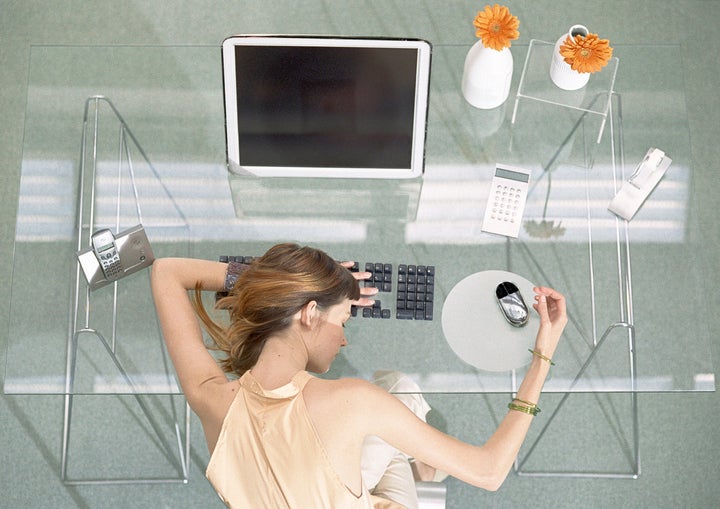 Leaders were rated as less charismatic when they weren't well-rested. But additionally, sleep-deprived employees were harder to inspire and less likely to view designated leaders as charismatic than well-rested individuals. In other words, not getting enough rest leaves everyone in a dysfunctional fog at work.
The findings suggest that bosses everywhere should be encouraging good sleep habits among their employees.
"Leaders and their teams are typically going to be better served by a good night of sleep than by working so much that they crowd out sleep," the study's author Christopher Barnes, an associate professor of management at the University of Washington's Foster School of Business, told The Huffington Post.
"Leaders and their teams are typically going to be better served by a good night of sleep than by working so much that they crowd out sleep."
Charismatic leaders are more effective leaders
Experts in management and psychology define "charismatic" leaders as those who inspire more reverence and a heightened sense of collective identity, compared to other leaders.
"We know that charismatic leaders tend to be more influential and more effective at leadership than leaders who are low in charisma," Barnes said.
It's ironic then that many leaders choose to push themselves to work longer hours, which may be hurting their own charisma, and also push subordinates to work those hours, which may also hurt the leader's perceived charisma, he explained.
Barnes said he is one of the first management professors to make sleep his area of primary interest -- and this study is some of the first research to look at how sleep affects perceptions of leadership.
"There are a scary number of sleep-deprived employees doing important tasks -- and as a field, [management research has] historically ignored the topic of sleep."
Well-rested leaders are more charismatic leaders
For the first part of the experiment, Barnes and his colleagues manipulated sleep for a group of 43 students by having the students wake up every hour between 10 p.m and 5 a.m. to complete a short survey. Another group of 45 students slept normally. That morning, all 88 participants went into the lab and were asked to deliver a mock a speech in a commencement ceremony. Everyone was given 15 minutes to prepare and was told the speech would be videotaped.
The researchers found that the students whose sleep had been disrupted the night before the speech were rated as less charismatic by an impartial panel of lab assistants who were unaware of the sleep conditions. On average, the sleep-deprived participants' scores were 12 percent lower than the scores of the individuals who had slept normally.
Additionally, the participants who gave the speeches were asked a series of questions to measure to what extent they "pretended to have the emotions [they] needed to display" and "faked a good mood." The responses showed that how well a participant was able to regulate their emotions was related to how charismatic they were perceived to be. That finding means the sleep-deprived leaders were less able to shape their moods to be positive, which could be a potential explanation as to why they were perceived as less charismatic, Barnes explained.
Well-rested employees perceive leaders as more charismatic
The researchers also recruited another group of students to watch three of the videos of the speeches from the previous experiment -- one for which the speaker had been deemed less charismatic, one who was deemed more charismatic and one right in the middle. The three videos each individual watched were randomly selected from each category. Of 109 students in the second group, 51 were deprived of sleep the night before the experiment by taking hourly surveys, and 58 slept regularly.
"All leaders should want to inspire their followers, and they will tend to be more effective in doing so if they get a full night of sleep."
The students were asked to rank on a 5-point scale how charismatic the speaker in each video was. On average, the sleep deprived student rankers perceived the speakers to be 14 percent less charismatic compared with the scores of the rankers who were not sleep deprived.
Sleep plays a bigger role in leadership than experts thought
Psychologists and other experts tend to think of leadership skills as being fixed and consistent, Barnes said.
"[This] research looks at how the same leader can be more charismatic or less charismatic on different days, and how sleep plays an important role in how that plays out. … We find that separate from anything the leader does, follower sleep deprivation influences the degree to which subordinates view their leaders as charismatic."
Though his research looked at leaders in work environments (i.e. bosses and managers), there are likely implications in other contexts as well, he said. "If school teachers want to inspire their students, a good night of sleep is likely part of that equation. If coaches want to inspire their athletes, the same principle applies. All leaders should want to inspire their followers, and they will tend to be more effective in doing so if they get a full night of sleep."
There are likely are some people -- and some leaders -- who may be more vulnerable to the effects of sleep deprivation on their charisma than others, Barnes said. Perhaps some leaders are more immune to the effect of sleep debt on their perceived charisma, but at this point more research would be needed to answer those questions, he said.
Until that research comes out, these studies make a good argument for why your boss should value your (and his or her) sleep -- and a good argument for that office nap space.
Sarah DiGiulio is The Huffington Post's sleep reporter. You can contact her at sarah.digiulio@huffingtonpost.com.
Related
Before You Go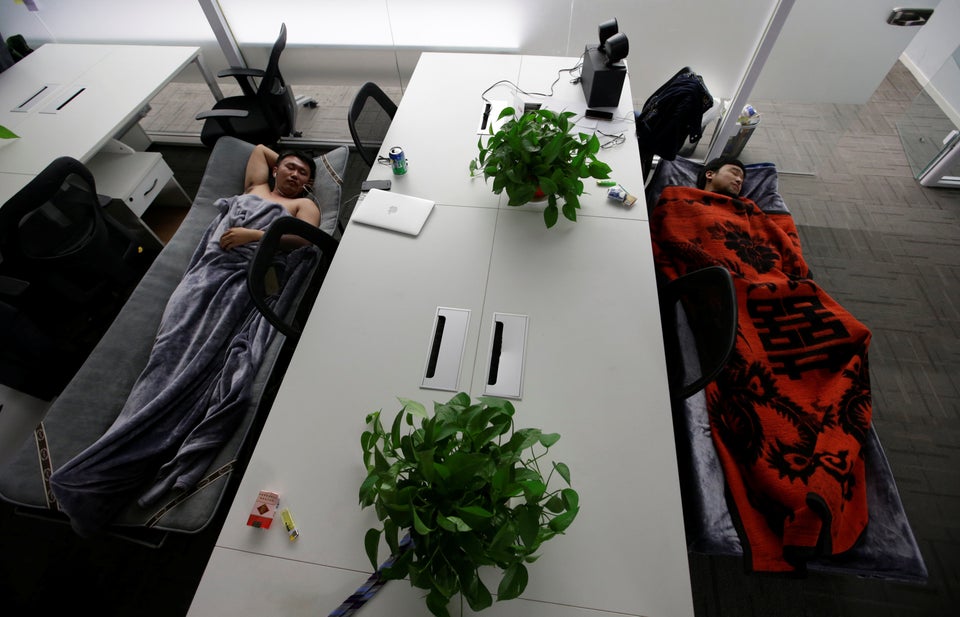 China's Tech Sector Takes Sleep Seriously