Let us set the scene: A hot breakfast enjoyed top deck amid a hot-pink sunrise ... or a night-time soak in a Jacuzzi as you watch the water lap at a pier lit with twinkling lights. Sound intriguing? We've trawled the thousands of listings on BedandBreakfast.com to find perfect seaside stays. But these aren't simply B&Bs by the beach. These inns are on motor yachts, barges and houseboats that you can actually check into for the night! So if you like your B&Bs more "oceantop" than "oceanside," read on.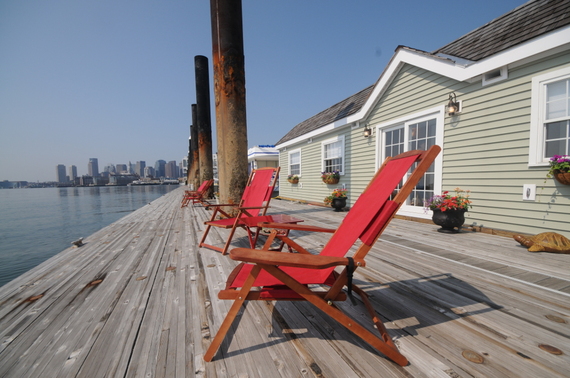 Green Turtle Floating Bed and Breakfast, Boston, Massachusetts
With three different choices of accommodation (one houseboat and two motor yachts), the Green Turtle Floating Bed and Breakfast is a surprisingly large and luxurious stay at sea--well, at harbor, anyway. Situated in a marina with skyline views, the Green Turtle's suites and yachts are filled with comforting amenities. Fresh breakfasts are delivered to guests' doors each morning, and rooms are airy and comfortable, with soft linens and cozy comforters (no cramped cruise-ship quarters here). What better way to see a whole new side of America's most history-packed city?
Must Do: Boston's museums are second to none. Check out the massive, newly expanded Museum of Fine Arts and the quirky Isabella Stewart Gardner for a day filled with cultural discovery.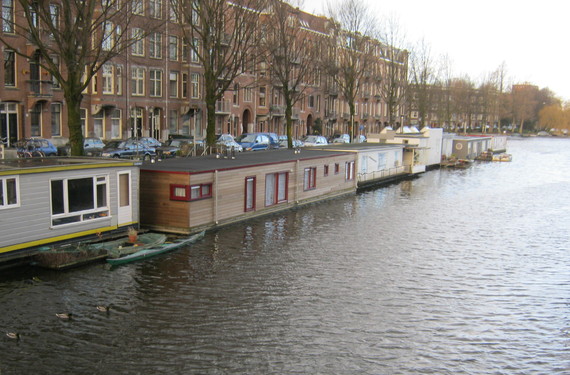 Houseboat Linda, Amsterdam, Netherlands
Amsterdam's winding, bridge-spanned canals are among its most iconic sights. So why stay in a characterless hotel when you can stay right on the water? The Houseboat Linda, a beautiful cedar-sided canal boat, is conveniently located within walking distance of Amsterdam's top attractions. Private bathrooms, light-filled guest rooms, cable TV, and even Wi-Fi make stays unbelievably comfortable, while the sights outside your window, of passing boats and passing bicyclists, add to the charm.
Must Do: After a day at the nearby Van Gogh Museum, hit the Leidseplein, a square filled with street performers, outdoor bars, and restaurants dishing up jazz brunches.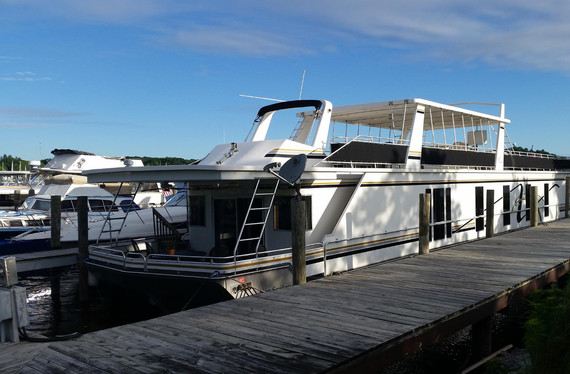 Sea Suites Boat and Breakfast, Saugatuck, Michigan
Saugatuck is a summery, tourist-friendly resort town on Lake Michigan, known for its artsy shops and long stretches of lakefront beach. Get up close and personal with the water from the Sea Suites Boat and Breakfast, a 105-foot luxury yacht that comes with four private staterooms, a long sky deck, and even a resident heron. What makes the Sea Suites so well-loved? Guests call out its signature breakfast of wild berry and cream malt waffles, served with a side of morning views over the lake.
Must Do: Hit Butler Street's shops, cafes, and restaurants or take a dune buggy ride through Saugatuck Dunes State Park and its two-and-a-half miles of perfect shoreline.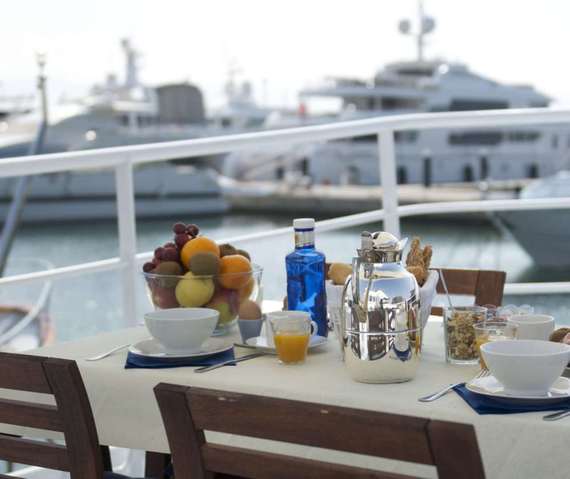 B&B Hotel Boat St. Katharine, Barcelona, Spain
If you've ever wanted to experience the cultural thrills and flavors of Barcelona, we've found the most novel way to do so: a stay on the former naval fleet tender St. Katherine. A luxuriously renovated 80-foot motor yacht docked right in the city, her seriously elegant decks are filled with amenities from sunbeds to private air-conditioned staterooms. Enjoy tapas on the top deck before hitting the city (the St. Katherine is just ten minutes from downtown). Return each night to a multicourse dinner with sunset views, a soak in the sundeck Jacuzzi or a walk along the nearby beach.
Must Do: Aside from eating every bit from Barcelona's buzzing gastronomic scene? Don't miss a tour of Gaudi's unusual buildings and a walk through Park Guell, an explosion of sound and colors.
Just off Anna Maria Island, your ride (and bed) awaits. The Dream Lover Boat and Breakfast, docked at Bradenton Beach, is a 56-foot nautical yacht done up with French Country flair. Compact and private, she features two cabins, a forward stateroom and the aft Captain's Cabin, plus a top deck perfect for sunning. Aside from the relaxation opportunities, eating is the big draw on this floating B&B, with your hosts dishing up sweet banana rum pancakes and fresh croissants each morning. What a way to kick off a sunshine-filled Florida day.
Must Do: Go parasailing, dolphin watching, Jet Skiing, boating, fishing, and more. After all, Anna Maria Island is one of the top water-sports destinations in the country.
This article originally appeared on BedandBreakfast.com. BedandBreakfast.com is the world's most comprehensive site for discovering unique accommodations and booking bed and breakfast getaways. With more than 10,000 properties and nearly 75,000 rooms, BedandBreakfast.com connects travelers with extraordinary B&Bs, country lodges, urban inns and small hotels worldwide.
Related